This is the alt-Right
Calling it neo-fascist is not hyperbole.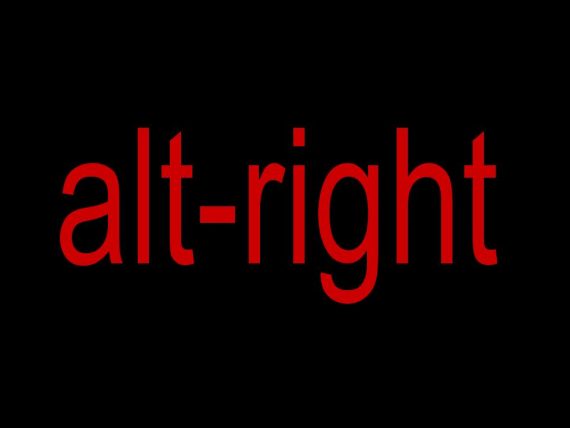 The term "alt-right" has been used quite a lot of late, although the level of understanding of the term is still low. It derives from a specific movement online of white supremacist thinking within the American far right. The name comes from the website AlternativeRight.com and one of its main intellectual fathers is Richard Spencer.
If one is unfamiliar with Specncer, here is an introduction via The Altantic: 'Hail Trump!': White Nationalists Salute the President Elect:
"Hail Trump, hail our people, hail victory!"

That's how Richard B. Spencer saluted more than 200 attendees on Saturday, gathered at the Ronald Reagan Building in Washington, D.C., for the annual conference of the National Policy Institute, which describes itself as "an independent organization dedicated to the heritage, identity, and future of people of European descent in the United States, and around the world."

Spencer has popularized the term "alt-right" to describe the movement he leads. Spencer has said his dream is "a new society, an ethno-state that would be a gathering point for all Europeans," and has called for "peaceful ethnic cleansing."
To get the full flavor, however, one has to watched the video clips from the event:
At first, it all seems like a clip from a bad movie about American neo-Nazis, until one realizes that, in fact, it is a real video of actual American neo-Nazis. Much of the rhetoric in these clips feel cribbed from Mein Kampf, and I do not say that out of hyperbole or overreach: "To be white is to be a striver…we build, we produce and we go upward. And we recognize the central lie of American race relations: we don't exploit other groups, we don't gain anything from their presence. They need us and not the other way around." This formulation is quite similar to what Hitler wrote about the Aryans in contrast to the Jews: that Aryans were creators and Jews were destroyers.
Spencer goes on to talk, regarding whites, about the "blood in our veins," being "children of the sun," and a "potential for greatness."
And, if one needs an on-the-nose reference to Mein Kampf he frames his talk in terms of "the great struggle we are called to." (On the off chance one is not aware, the English translation of the title of Hitler's book is "My Struggle").
Spencer also raises the question of whether some people aren't just "souless golems" and he also makes reference to some of the "most despicable creatures to ever populate the planet." Further, he casts white supremacy as "natural and normal." He stated that "America was, until this past generation, a white country, designed for ourselves and our posterity. It is our creation, it is our inheritance, and it belongs to us."
This is the alt-right. Understand what the terms means–and understand what one is affiliating oneself with if one cozies up to its promoters.
On that point, it is important to understand the Breitbart News has been promoting the alt-right under the leadership of Stephen Bannon. Stephen Bannon is now a chief adviser to the President-elect and will have, in that role, unfettered access to the Oval Office. Even if we assume that Bannon is not of the same mindset as Spencer it should be disturbing that a person who has worked to mainstream and normalize the alt-right is now a key player in domestic and global politics. The best case scenario that can be laid down for Bannon is that he is cynically using white supremacists as tools in his own political and economic machinations. As best case scenarios go, that is not a comforting one, since it means that ideas that had been reserved for the shadowy corners of American politics are becoming part of the more general discourse. Breitbart News has become a pretty major player in the conservative infosphere.
Indeed, here is Richard Spencer, in an interview in August, regarding the relationship between Breitbart and the alt-right (from a Daily Beast piece):
"Breitbart has elective affinities with the Alt Right, and the Alt Right has clearly influenced Breitbart," he said. "In this way, Breitbart has acted as a 'gateway' to Alt Right ideas and writers. I don't think it has done this deliberately; again, it's a matter of elective affinities."
Bannon has empowered the alt-right and Trump has empowered Bannon.
I am not arguing that Spencer's brand of politics is likely to become fully mainstream, although his ilk is now more empowered than they have been since the days of Jim Crow. At a minimum, the xenophobia and economic nationalism of the Trump campaign fuels these types of groups. Further, a number of Trump's appointees have views that are not exactly sympathetic to the plights of minorities (quite the opposite). As such, there are good reasons why persons of color or members of other minority groups are highly uncomfortable with a Trump administration.
Fundamentally, any politician whose campaign and victory emboldens, let along empowers, these types of people and ideas is a danger to the republic, plain and simple. It is one of several reasons why many have so many grave concerns about a Trump administration. At a minimum Trump is currently functioning in the "useful idiot" role for white supremacists. Beyond that, blatant economic nationalism, to which Trump has clearly given voice, has within it some racial and ethnic overtones as well. I am not sure exactly where all this is headed, but it behooves us all to be aware and to be wary. This goes double for supporters of the administration.