Clinton Hits Trump On Demagoguery, Ties To Extreme Right
Yesterday, Hillary Clinton pointed out truths about Donald Trump that his fellow Republicans were too scared to point out during the primary..
'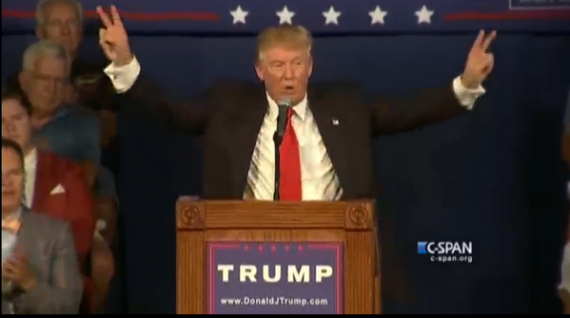 In a blistering speech yesterday in Nevada, Hillary Clinton sought to link Donald Trump to political and racial extremists who have rallied around his campaign as vindication for their own views:
RENO, Nev. — Hillary Clinton delivered a blistering denunciation Thursday of Donald J. Trump's personal and political history with race, arguing in her most forceful terms yet that a nationalist conservative fringe had engulfed the Republican Party.

In a 31-minute address, building to a controlled simmer, Mrs. Clinton did everything but call Mr. Trump a racist outright — saying he had promoted "racist lie" after "racist lie," pushed conspiracy theories with "racist undertones" and heartened racists across the country by submitting to an "emerging racist ideology known as the alt-right."

"He is taking hate groups mainstream," Mrs. Clinton told supporters at a community college here, "and helping a radical fringe take over the Republican Party."

Mrs. Clinton said that while a racially charged and "paranoid fringe" had always existed in politics, "it's never had the nominee of a major party stoking it, encouraging it and giving it a national megaphone, until now."

Mrs. Clinton's remarks coincide with a conspicuous shift in strategy from Mr. Trump, who has spoken with more compassion about people in the country illegally and expressed a desire to win African-American support. He has even suggested he might revisit his call to deport 11 million immigrants in the United States illegally, a pivot seen as an attempt to draw in moderate voters turned off by his views.

With Mr. Trump's rise, Mrs. Clinton has often struck a have-you-no-sense-of-decency theme in her critiques — warning sternly and repeatedly that the arc of his candidacy transcended standard political attack. But her effort on Thursday was remarkable for its exhaustive accounting of Mr. Trump's controversial racial history in business and in his presidential campaign.

Mrs. Clinton detailed the Justice Department's housing discrimination case against Mr. Trump during the 1970s, noting that the applications of black and Latino residents "would be marked with a 'C' — 'C' for colored."

She said state regulators had fined a Trump casino for repeatedly removing black dealers from the floor and reminded the audience of Mr. Trump's promotion of "birtherism," questioning President Obama's birthplace.

She recalled his opening salvo in the Republican primary, calling Mexican immigrants rapists and criminals when he announced his candidacy, and his more recent suggestion that a judge with a Mexican heritage could not be impartial in hearing a case involving Trump University.

"This is someone who retweets white supremacists online," Mrs. Clinton said, citing a posting by someone with the user name "WhiteGenocideTM. "Trump took this fringe bigot with a few dozen followers and spread his message to 11 million people."

By the end, Mrs. Clinton was quoting headlines from the Breitbart News website, which is overseen by Mr. Trump's new campaign chief, Stephen K. Bannon.

"I'm not making this up," she warned, before digging into the site's archives: "Birth Control Makes Women Unattractive and Crazy"; "'Would You Rather Your Child Had Feminism or Cancer?'"; "Hoist It High and Proud: The Confederate Flag Proclaims a Glorious Heritage."

The address came a week after Mr. Trump hired Mr. Bannon, who has eagerly described the site as "the platform for the alt-right" — a loosely defined and contested term often associated with white nationalist and anti-immigrant sentiment.

"The de facto merger between Breitbart and the Trump campaign represents a landmark achievement for the alt-right," Mrs. Clinton said.
For anyone who has been paying attention, none of what Clinton talked about yesterday should come as a real surprise. From a very early point in his campaign, the extent to which he was basing his campaign on appeals to anti-immigrant biases inside the Republican base, xenophobia, and outright hatred was readily apparent. After all, this is the man who started out his campaign branding immigrants from Mexico as rapists and criminals sent here by the Mexican Government as part of some deliberate plan on their part to flood the United States with their criminal element. He has encouragied his supporters to engage in violence against supporters, and demonstrated utter disdain for the Rule of Law and Freedom of the Press, He responded to an issue as serious as the terrorist attacks on Paris and San Bernardino with a proposal to ban all Muslims from entering the United States for some indeterminate period of time and suggesting that Muslim-Americans and their houses of worship should be placed under apparently permanent surveillance. More recently, he has attacked a Federal Judge who was born in the United States by suggesting that the fact that his parents were from Mexico meant that he could not be fair in the fraud trial against Trump University, suggested that "Second Amendment people" could be the only way to stop Hillary Clinton from repealing the Second Amendment, and made a series of odd appeals to the the African-American community that are clearly based in the racially biased view that every African-American lives in a dangerous, crime-ridden rundown neighborhood in the inner cities of America.
Beyond those examples from Trump's mouth, though, his campaign has also attracted some highly unsavory elements from within the GOP base and the dark corners of American politics. Both on the World Wide Web and on social media sites like Twitter and Facebook, Trump supporters have come out of the woodwork who represent something far worse than just someone you might disagree with. These are people who proudly display swastika's and images of Nazi and  KKK leaders on their home pages, and who openly attack African-Americans, Jewish-Americans, Catholics, and pretty much everyone else who doesn't fall within the WASP category. They gather on Neo-Nazi websites as well as in the comment section of "news" websites like Breitbart News, which turned itself into a Trump propaganda network virtually from the moment that he entered the race. And now it's CEO, Steven Bannon, who once described Breitbart as "the platform for the alt right," alt right being what these neo-fascist rascists now apparently call themselves.
For anyone who has been paying attention, the argument that Trump is a demagogue who has spent his campaign appealing to the worst aspects of American politics is hardly a revelation. Indeed, some of us have been pointing this out for the better part of a year now. It was an argument based in facts such as Trump's own words, but it was one that Republicans largely ignored either because Trump was saying things they agreed with or, in the case of his opponents for the nomination, because they were apparently afraid to take him on one-on-one. Whatever the reason, the fact that Trump was never confronted for a campaign that was blatantly mirroring the demagogic tradition of such poisonous political figures as Father Charles Coughlin, the Dixiecrats of 1948, and George Wallace will go down in history as one of the prime examples of political cowardice in American history. In the end, the only Republicans who seemed willing to take Trump on were Scott Walker and Rick Perry, who both waited until they were dropping out of the race for President to do so, and Mitt Romney, who wasn't even running. Perhaps it might not have made a difference in the end but it would have been admirable if one of Trump's opponents could have confronted him earlier in the campaign with the kind of speech Hillary Clinton made yesterday. At the very least, it would have shown that they recognized what he represented and had the courage to speak out against it. Instead of profiles in courage, though, we got cowardice and, as a result, this 'alt right' managed to take over the Republican Party.
In other words, Hillary Clinton is correct to point out what Trump represents, even if her motives are entirely political. On one level, of course, Clinton is making a play for support from disaffected Republicans who now find themselves stuck with a candidate who represents a movement that is not only a guaranteed political loser, but also antithetical to the very principles that the Republican Party was founded 160 years ago. Even if these Republicans don't vote for Clinton in November, it would similarly work to her advantage if these voters either stayed home, left the President blank, or voted for a third-party candidate such as Gary Johnson, especially if they happen to live in one of the states that is likely to be a battleground state in November. Additionally, though, I tend to agree with Kevin Drum that there's another motive at work here:
I'll propose a different explanation: she was giving the press permission to talk about Donald Trump's racism. So far, they've tiptoed around it. But once the candidate herself calls it out, it invites a thousand think pieces about Breitbart, the alt-right, the GOP's history of tolerating bigotry, Trump's troubling background, and dozens of other related topics. Surrogates can blather all they want about this, but it doesn't truly become a mainstream subject until the actual candidate for president makes it one.

This is part of the agenda-setting power that presidential candidates have. Donald Trump has used it endlessly, and now Hillary Clinton is using it too. Trump has made his bed, and Hillary is making sure he has to lie in it.
Judging by the media coverage, that strategy appears to be working, and it's helped by the fact that not a single Republican outside of the Trump campaign appears to be defending Trump in the wake of Clinton's speech. According to a Google News search, even Trump's running mate has been quiet, although he has been off the campaign trail back home dealing with a series of tornadoes that have struck central Indiana since yesterday.