This Week's Dr. Seuss Nonsense
A story that is both unserious and yet emblematic of our age in a serious way.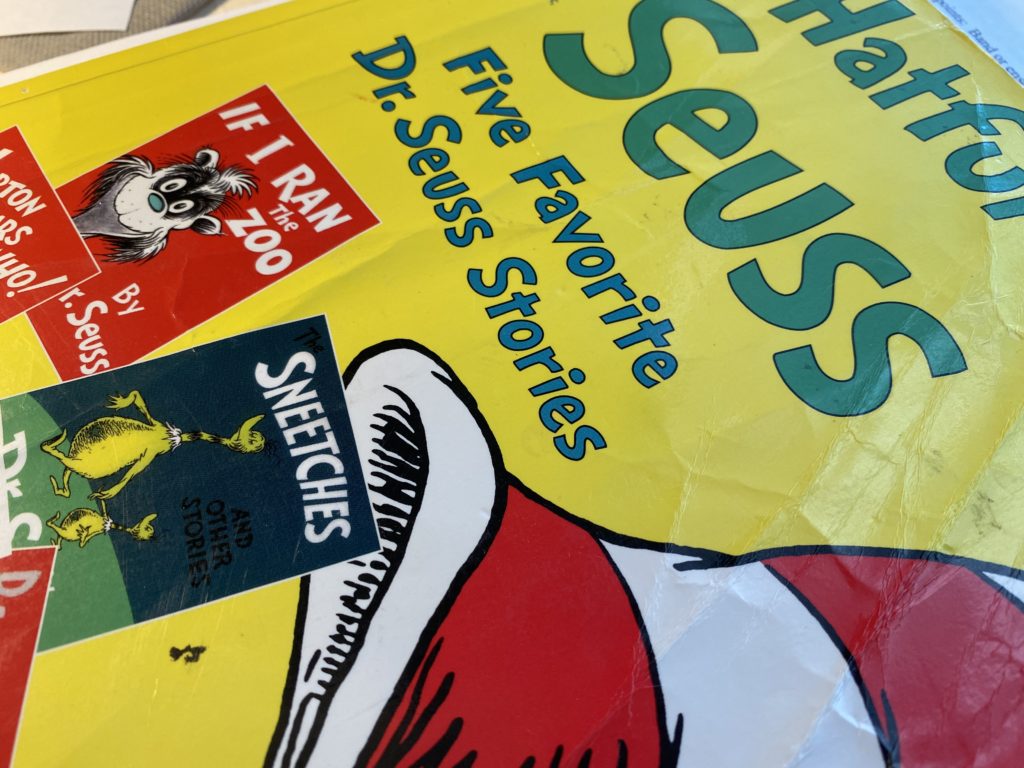 So, I learned this week that I am the victim of the ever-pervasive, all-encompassing terror that is cancel culture. At least, that is the only conclusion that I can reach concerning the fact that, without any doubt, Northeastern University Press is not going to be printing any new copies of my book, Voting Amid Violence: Electoral Democracy in Colombia (BTW, you can read Voting Amid Violence for free here). Indeed, they canceled me several years ago. For that matter, to my knowledge, Yale University Press has not had any additional printings of A Different Democracy.
After all, we learned this week that Dr. Seuss Enterprises will no longer sell six of Dr. Seuss's works due to racial stereotypes in those books. So, if not printing more copies of those six books is "cancel culture," the only reasonable conclusion that I can read about two of my books is that I have been canceled as well!
Curses!!
But, of course, this is absurd. Books are not reissued all the time, for any number of reasons. The fact that most of the six books in question are amongst the more obscure in the Seuss catalog almost certainly plays into the decision (a decision by a private business done of its own accord). Without a doubt, had Dr. Seuss Enterprises not issued a press release (and on Dr. Seuss' birthday, no less), I am 100% certain that most people (especially the ones who were outraged! on Tuesday) would not have even noticed.
My mother read Dr. Seuss to me as I child, and I read Dr. Seuss to my kids. The only book in the list I recall is And to Think That I Saw it on Mulberry Street, Seuss' first and a favorite of mine as a child. A dive into a stack of children's books we have reveals that we own If I Ran the Zoo in a collected work called A Hatful of Seuss. Thumbing through it I vaguely remember reading it to the kids (the favorite in that tome was Sneetches and Other Stories). I would guess that the phrase "With helpers who wear their eyes at a slant" with a commensurate caricature of three Asian men in the reason for the discontinuation of If I Ran the Zoo along with this image: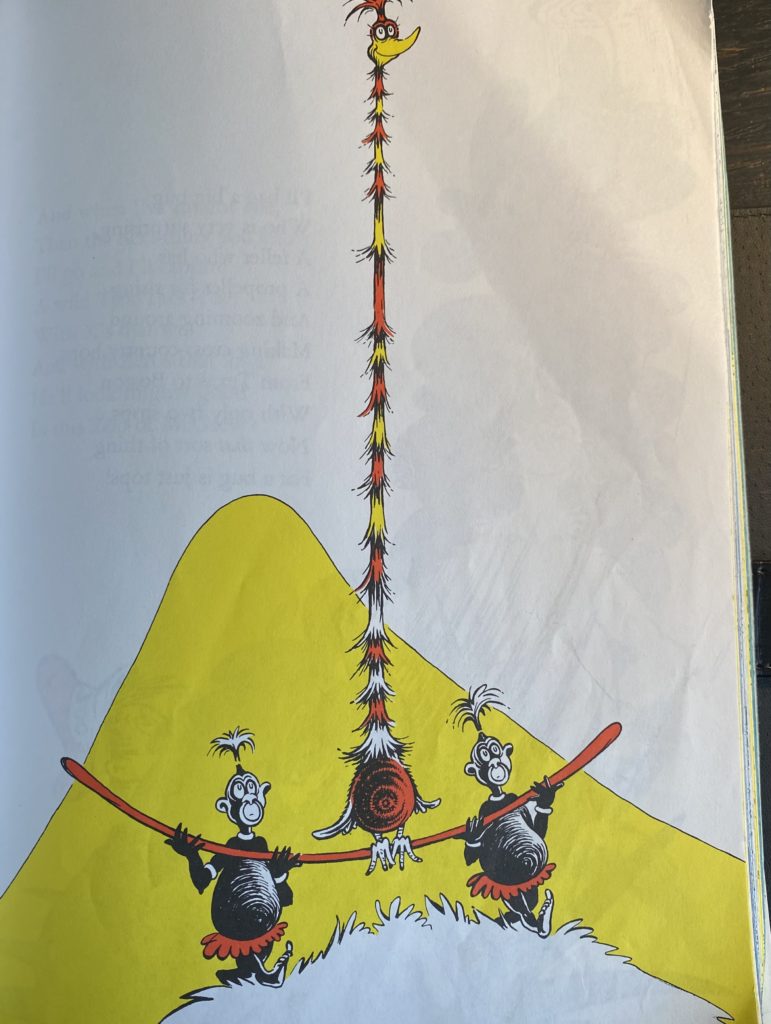 Let's not forget that the stated goal here is to address the fact that, as per the statement for Dr. Seuss Enterprises, "These books portray people in ways that are hurtful and wrong."
So, the goal here is to diminish the presence of racial stereotypes in children's literature. Indeed, with most things that are labeled "political correctness," being overly "woke," or as part of "cancel culture" this is about trying to increase sensitivity to the fact that popular culture in the United States has often treated whiteness as normal, and non-whiteness as not normal and inferior.
There may have been other ways to deal with these books apart from not printing them any longer, but the notion that the goal here is insidious in some way is either borne of ignorance or malicious untruths (unless, of course, one simply likes and respects racist caricatures).
---
Now, on one level all of this is silly because of the faux outrage that is on display.
For example:
And:
The bottom right image is just a blatant lie also (it is a frame from The Cat in the Hat) because it suggests to the uninformed that the Cat in the Hat is being canceled. The immediate linkage to the Biden administration also underscores the way in which FNC clearly sees its market as pro-GOP and anti-Democrat (not pro-news, and certainly not "fair and balanced").
On the other, it is a clear illustration of what is wrong with both right-wing infotainment, but also Republican Party leaders.
We have here a story with clear facts that nonetheless was immediately spun into a false narrative by right-wing media outlets and even the House Minority Leader on the floor of the House of Representatives. It is a clear illustration of the willingness of these actors to distort reality for short-term political ends while sowing medium-to-long-term resentments in the broader society. It mirrors the way they have dealt with the 2020 elections, but in this case, there is no room for even disingenuous questions and concerns, but rather a really straightforward story that is being utterly exploited to create strife and division because it serves the political and business ends of FNC, Newsmax, and the Republican Party.
To be clear, I am not saying there are any legitimate grounds for questioning the 2020 results. What I am noting that the sheer scale of an election, and the fact that it cannot be done in a way that is perfectly transparent, leave room for conspiracy theories. There are many places for conspiracy to sneak into a process that has to have, by definition (e.g., the secret ballot), some level of secrecy.
With the Dr. Seuss bit, all the facts are on the table. No need for innuendo or guessing. There isn't even a place for half-truths. It is all just there to see.
The facts are incontrovertible:
The owners of these books decided to stop publishing them due to what it considers racially insensitive depictions.
We are talking six out of forty-five children's books by Dr. Seuss (although Wikipedia tells me he wrote "over 60").
No one is banning these books. There are no book burnings. The books will likely remain in libraries (and odds are you can still buy some of them from Amazon while supplies last).
The Cat in the Hat is not getting canceled. Nor the Grinch, nor Horton, nor Sam-I-Am. And, indeed, dozens of other books will continue to be published.
Side note: conservatives should really hate the Cat in the Hat, as he is a pure agent of chaos and is an anti-authority figure (who encourages disobeying one's parents). For that matter, the Christmas that the Grinch stole is awfully secular in form, if you ask me.
Regardless of the facts, here's Leader McCarthy:
While, yes, this just a passing statement, is it a lie intended to rile up supporters. It is a double lie, in fact, because a) Dr. Seuss has not been "outlaw[ed]," and b) the Democrats (the "they" in the sentence) had nothing to do with the six books in question not being published going forward. There is likely a third lie ("now they want to tell us what to say"), but I am confused as to what he is specifically referencing about HR1 in that sentence (in context, it makes no sense).
Fundamentally what we have here is a story that has a grain of truth (some books will no longer be published) that tickles a faux culture war issue (cancel culture) while touching on an American taboo (book banning) and includes a well-known, indeed, beloved cultural touchstone (Dr. Seuss).
It is like the ridiculous Mr. Potato Head business. It allows culture warriors to exploit a branding change to tickle transphobia in certain populations while also appealing to the power of nostalgia (also present in the Dr. Seuss business). Not to mention that, shockingly enough, the faux outrage over Mr. Potato Head was based on a misunderstanding of the marketing move by toy-maker Hasbro:
in a tweet later that afternoon, Hasbro clarified that while the brand is changing, the actual Mr. and Mrs. Potato Head characters will still live on and be sold in stores. In a picture posted on Twitter, the "Mr." and "Mrs." names are less prominently displayed at the bottom of the box, instead of the top.

"While it was announced today that the POTATO HEAD brand name & logo are dropping the 'MR.' I yam proud to confirm that MR. & MRS. POTATO HEAD aren't going anywhere and will remain MR. & MRS. POTATO HEAD," the company tweeted.

[…]

Kimberly Boyd, a senior vice president at Hasbro, said the intention of the brand name change was to be more inclusive and to have the characters still live within the Potato Head universe.
I must to confess to some level of amusement at the notion of a "Potato Head universe," but I digress in an already longer-than-intended post.
The Potato Head stuff at least links to a broader GOP talking point regarding gender politics (say that not to endorse, but to note the connection). The Seuss stuff is just plain lying to raise the hackles of supporters. Why not sow just a little bit more polarization and division? After all, who could that hurt?
No doubt an expert on political communication could analyze all of this better and more completely than I have. Still, what strikes me is that this approach to political communication/media behavior is disturbing and by no means linked solely to seemingly silly stories like Dr. Seuss and Mr. Potato Head. First, it shows the exact same kind of approach we have seen in regards to the 2020 elections. Second, it is an elevation of culture war issues over more serious issues (like, say, Covid-19).
To be clear, these kinds of "silly" stories can do a lot of harm because people understand the context and often have deeply emotional ties to the topics at hand. It is actually easier to create more and deeper divisions on these kinds of issues than on actual public policy.
It all matters because healthy democracy (which no, we currently do not have) requires a bit more intellectual honesty than we are currently seeing. And this is just another way in which the "news" some people get is really just a form of agitprop and to the degree to which supposedly serious political actors (the Minority Leader on the floor of the House debating legislation about strengthening elections) looks more like talk radio than anything else.
None of this is good for the health of the republic.
See, also, Aaron Rupar's piece at Vox: Why Fox News is having a day-long meltdown over Dr. Seuss. He concludes:
That Fox News is lying isn't really news — after all, the network has spent weeks misleading people into believing that recent widespread power outages in Texas are somehow an indictment of the Green New Deal.

But that the network is making this big of a deal over Dr. Seuss on a day when so much else is happening illustrates how much the network is still struggling to establish an identity for itself in the post-Trump world. And it's also a reminder of how far it's willing to go to construct an alternative reality for its viewers, where the most important things are their grievances.