Thoughts on Biden's Approval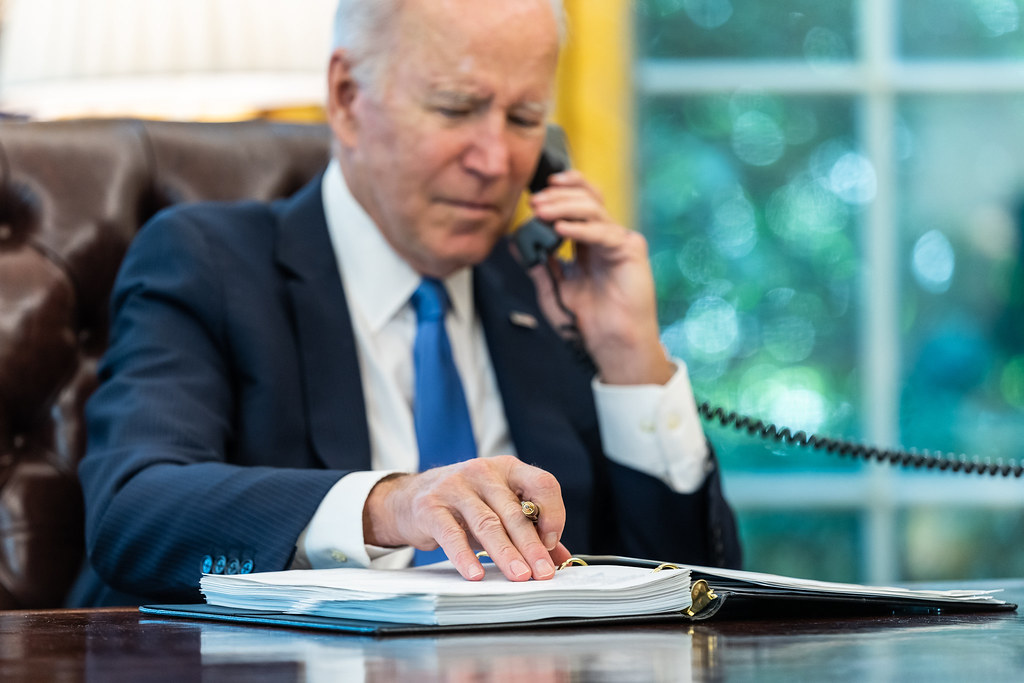 James Joyner's post on Biden's approval numbers sparked some thoughts that simply could not be contained in a comment box. So, here we go.
At a macro level, it always has to be remembered that the "presidential approval" number is really a general measure of overall satisfaction with the state of the country with partisanship figured in (which is to say that persons of the president's own party are likely to approve simply by dint of their shared partisan identification).
In terms of this present moment, let's consider this no-doubt incomplete list of variables:
Baked-in polarization that sets the upper limit of approval at less than 60% (maybe less than 55% for any sustained period).
Gas at the pump is visibly up (this is almost certainly the main way that most people internalize inflation). Other prices are also up.
There are some clear and obivous shortages relative to normal. Cars are perhaps the best example. Even if one is not personally in the market for an automobile, one probably knows someone who it. The weirdness of the car market has been evident to anyone renting a car for quite some time now, I would add.
Pandemic issues linger, although maybe the new CDC guidelines will help ease that (unless another letter of the Greek alphabet strikes). I would not that while we are kind of ignoring it, a lot of people are still dying from the disease on a daily basis.
A huge number of Republicans have been convinced that the election of 2020 was stolen (and setting aside the veracity of that claim, one can ccertainly see how such views would impact Biden's approval with those citizens regardless of anything else).
A huge number of Democrats are fearful that American democracy is under seige, and fear that Biden isn't doing enough.
In case anyone hasn't noticed, Congress is largely dsyfunctional (largely owing to design flaws) and so very little gets addressed by the legislature.
The allegedly liberal, in-the-bag-for-the-Dems press keeps telling us what a failure Biden is. (I think this point can be over-emphasized, but I do think it matters, especially as it pertains to public opinion polls).
All of this sums to a not especially surprising number. I would note, however, that if the elections were held tomorrow, the D-R split for president would be far closer to 50-50 than the 40.8-53.2 disapproval/approval number currently shows, because registering discontent is far different than voting for the other party (or even abstaining from voting).
A side note: using words like "failure" a year into a presidency is harsh, and ahistorical (it is simply too early to use descriptors like "success" and "failure" at this stage).
Also: we, as a country, place far too much emphasis on presidents, which is an indictment of our constitutional order. We should not be so focused on the action of one individual. (But that is a larger problem).
All of this intersects with the broader question of overall satisfaction. If we turn to Gallup's Satisfaction With the United States we see that Americans tend to be pretty damn dissatisfied as a general principle: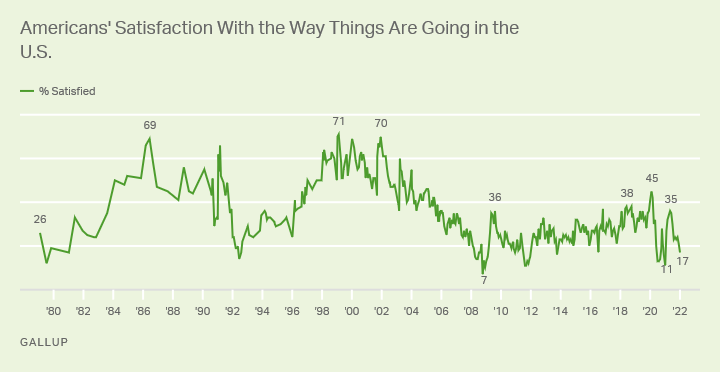 Because I am a curious nerd, I took the data provided in the linked piece that goes back to February 1979 regarding the question "In general, are you satisfied or dissatisfied with the way things are going in the United States at this time?" and checked average satisfaction. It was 34.17%. We are usually dissatisfied, at least when faced with a dichotomous choice.
In eyeballing the peaks, they tend to correspond with economic good times, certain foreign policy issues, and electoral shifts (my curiosity failed me when it came to doing a deep dive on the peaks, I must confess).
Of course, all this reminds me of a couple of things.
One is the first line of Tolstoy's Anna Karenina, "Happy families are all alike; every unhappy family is unhappy in its own way."  Quite frankly, I am dissatisfied with the direction of the country, owing largely to our trajectory on the democracy issue, but the reason someone else is dissatisfied is likely linked to some other reason.
A second is another recent Gallup poll: Satisfaction With Own Life Five Times Higher Than With U.S. We consistently are pretty happy with our own lives, even as we are dissatisfied with the direction of the country (and this has been consistently true for a long time).
Personal satisfaction has been consistently and significantly higher than national satisfaction since 1979 when Gallup first tracked these two measures. But that divergence is near the record high as today's 68-percentage-point gap between the two, from the Jan. 3-16 Mood of the Nation poll, is second only to last year's 71-point gulf.

More generally, national satisfaction has exhibited far greater variation than personal satisfaction over the years. While personal satisfaction has ranged from 73% to 90% in Gallup's periodic measures since 1979, national satisfaction, which Gallup now tracks monthly, has fluctuated between the record-high 71% in 1999 and the low of 10% recorded during the Great Recession in 2008.

The current 17% national satisfaction reading is the lowest of Joe Biden's first year in office and coincides with his lowest job approval rating, 18% congressional job approval, sagging economic confidence and the expectation that inflation will rise in the coming months. Still, national satisfaction remains slightly above the 11% reading measured shortly after protesters violently stormed the U.S. Capitol on Jan. 6, 2020.
TL;DR version: public opinion is more complex than dichotomous measures (approve/disapprove, satisfied/dissatisfied) can tell us. They especially are not as predictive of electoral outcomes as horse-race coverage suggests.* I am not saying they aren't important, but just less so than is made to be the case (e.g., a narrative of "failure").
Moreover, I would argue that long-term dissatisfaction with the direction of the country (again going back at least four decades) is a key reflection of the failure of our institutions to adequately represent the interests of the population and the commensurate inability of Congress to govern as a result.
---
*I have a hunch that they used to mean more in the pre-party sorting times that started post-1994 when voters might be Democrats for state and local elections, Republicans national elections in large swaths of the country.