Three Million People Still Use AOL Dial-Up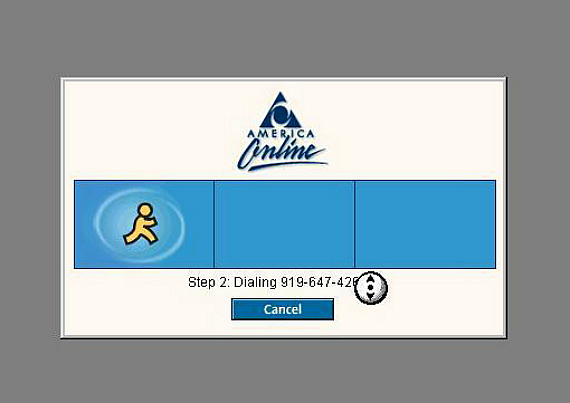 Unbelievably, there are still three million people subscribed to America Online's dial-up service:
The headline from AOL's earnings report this week is that its turnaround as a digital media and advertising company is slowly starting to show progress.

But did you know that AOL still has 3 million dialup "access" subscribers — generating a third of the company's revenue and likely most of its profit? That might be more paying U.S. subscribers than Spotify and Hulu Plus have combined.

AOL finished June with 3.03 million subscribers, down just 84,000 from the prior quarter and 400,000 from a year ago. While the dialup industry is obviously in permanent decline, AOL's subscriber losses last quarter were less than half what they were a year ago.

So, in one sense, AOL dialup just had its best quarter in a decade — at least when measured by subscriber losses.
The chart tells the story: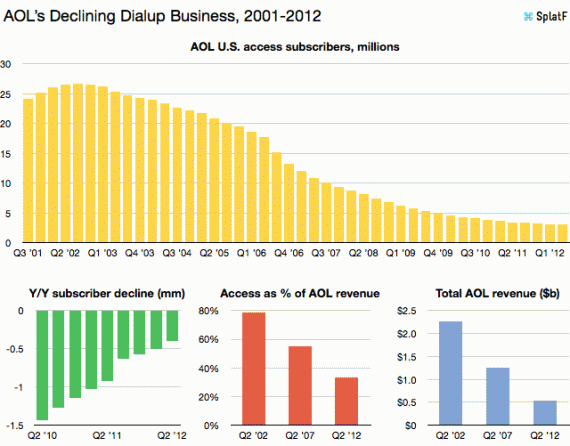 This reminds me of the stories one hears every now and then that there are still people out there who pay a "rental" fee to their telephone company for the land line phone they use, even though people have been free to buy phones anywhere for about 30 years now. As in that case, one suspects that the vasts majority of these dial-up subscribers are elderly, and likely on a fixed income. Say what you will but an AOL Dial-Up account which, according to this page on the company's website, can be as cheap as $9.99/month, which is cheaper than pretty much any internet plan you're going to get from a cable company. Additionally, there are among this group some people who are in parts of the country still not reached by high-speed internet. It's an odd artifact of a bygone era, but it's understandable why it still exists. Eventually, though, it will all completely fade away.