Time for Theresa May to Go?
Many are calling for the UK Prime Minister's ouster. But the problem is Brexit itself, not any one leader.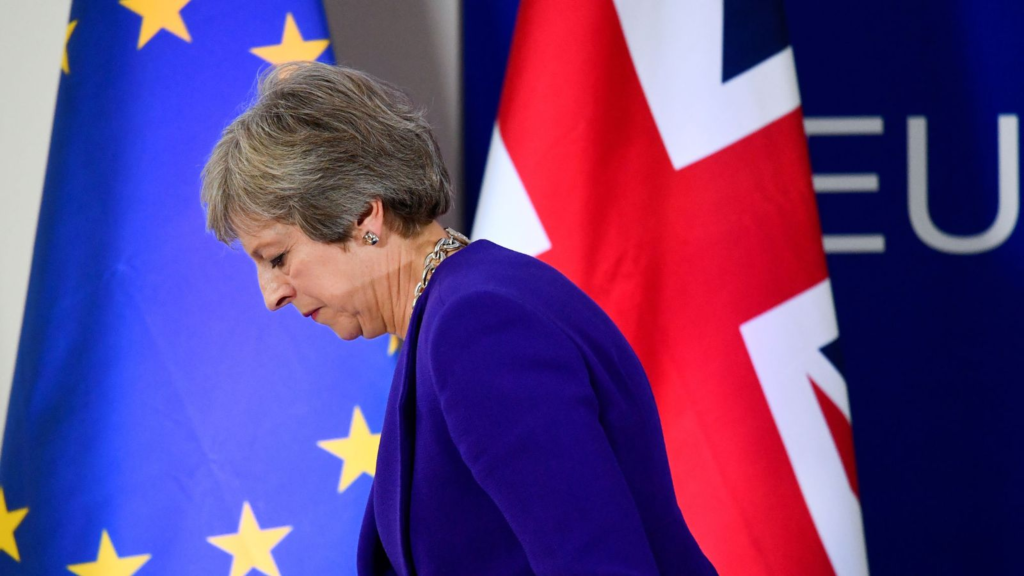 Reuters ("'Time's up, Theresa'? May battles to keep control of Brexit"):
Prime Minister Theresa May battled on Monday to keep control of Britain's exit from the European Union as some in her party called on her to quit and parliament plotted to wrest Brexit away from the government.

At one of the most important junctures for the country in at least a generation, British politics was at fever pitch and, nearly three years since the 2016 EU membership referendum, it was still unclear how, when or if Brexit will take place.

With May humiliated and weakened, ministers lined up to insist she was still in charge and to deny any part in, or knowledge of, a reported plot to demand she name a date to leave office at a cabinet meeting which started at 1000 GMT on Monday.

"Time's up, Theresa," Rupert Murdoch's The Sun newspaper said in a front page editorial. It said her one chance of getting her Brexit deal approved by parliament was to name a date for her departure.

Some lawmakers publicly called for May to go.

"I hope that the cabinet will tell the prime minister the game is up," Andrew Bridgen, a Conservative lawmaker who supports Brexit, told Sky News.

"The prime minister does not have the confidence of the parliamentary party. She clearly doesn't have the confidence of the cabinet and she certainly doesn't have the confidence of our members out there in the country," he said.

Days before the original exit date of March 29, British ministers and lawmakers were still publicly discussing an array of options including leaving with May's deal, with no deal, revoking the Article 50 divorce papers, calling another referendum or going for a closer relationship with the EU.

May had to delay that departure date due to the political deadlock in London. Now Britain will leave on May 22 if her deal is approved by parliament. If not, Britain will have until April 12 to offer a new plan or decide to leave without a treaty.

The EU believes a no-deal Brexit is increasingly likely, EU officials said.
May's inability to get Parliament to agree to a Brexit deal has made her and her country a laughingstock. But it's not obvious who could have done a better job or who could salvage the situation going forward.
The real problem, of course, stemmed from the feckless decision of May's predecessor, David Cameron, to offer up a Leave/Remain referendum [see Steven Taylor's October 2016 "On Referenda" for why this was a bad idea]  as a concession for keeping power. Cameron bet the farm that the campaign would demonstrate that the pain of leaving the EU would far outweigh the benefits. He lost. Quite rightly, after that monumental failure of leadership, he resigned his post.
May was a compromise candidate to clean up Cameron's mess. A Brexit skeptic, she nonetheless adopted a hard line "Brexit Means Brexit!" stance in order to shore up her base of support amongst the Tory MPs and has stubbornly clung to that despite all evidence that the voters not only had no idea what they were voting on and the very likely possibility that the outcome was skewed by foreign interference.
EU leaders played hardball with May, refusing (against my advice) to give Britain a face-saving way to keep most of the way in the EU while ostensibly leaving. May had zero leverage and ultimately signed a not-very-good deal. Parliament has voted down every option May has presented without giving her the option to say "Never mind" and withdraw the withdrawal notice. Along the way, May even called for new elections, which perversely kept her in power and yet thinned out her majority.
It's an amazing failure of vision and leadership all around. Yet, if Parliament insists on Brexit and refuses to vote for any deal, there's no option but the sheer disaster of the No Deal Brexit. And if those facts don't change, neither May nor any conceivable leader—including the ghost of Winston Churchill—can avoid the inevitable.
My former boss at the Atlantic Council, Fred Kempe, renewed his call to "Reverse Brexit, Save Britain!" over the weekend.
Perhaps the best one can hope for this coming week in the United Kingdom, in light of a slightly extended Brexit deadline to April 12, is something akin to a failed suicide. As is sometimes the case after narrowly escaped tragedy, the potential victim draws meaning from the exhilaration of unexpected survival.

Perhaps, by some miracle in the coming days, wiser heads in the UK government and parliament can construct a longer Brexit extension for a year or more that would allow a period of national reflection, resulting possibly in a new general election or even a second referendum, a so-called "people's vote," on whether to leave the European Union under now-known terms.

Perhaps, British legislators will see this reexamination as the only alternative, having soundly rejected Prime Minister Theresa May's Brexit plan twice – an agreement the EU has insisted it won't renegotiate. They voted as well against the only other outcome on offer: a hard, no-deal Brexit with all its devastating economic consequences.

The process of elimination would seem to leave only one logical way forward.

So perhaps it is not too late for one of the world's great parliamentary democracies to come to its senses and concede that the country knows now what was unclear at the time of the June 2016 referendum: the United Kingdom will be economically poorer and politically less influential under any Brexit plan. The run-up alone by one estimate is costing the British economy 40 billion pounds annually and 2 percent of GDP.

Perhaps even Brexit advocates will have learned that their argument that leaving the EU would allow British citizens to "take back control" of their country was always a false premise. Nothing could have made that clearer than the huddle of 27 European leaders this week, laying down the final terms dictating when exactly the British people will leave the EU and under which circumstances.

And, perhaps even the most frustrated and angry Eurocrats in Brussels will remind themselves that both Europe and the UK will be less if the current suicidal course isn't replaced by urgent intervention and reconsideration.

Perhaps, just perhaps, by next week pigs will fly.
There's much more at the link but he's right, both on the obvious choice and the incredible unlikelihood of it being made.