Top Four Democrats Fighting It Out in California
The top four Democratic candidates are grouped closely together in the most recent polls out of delegate-rich California.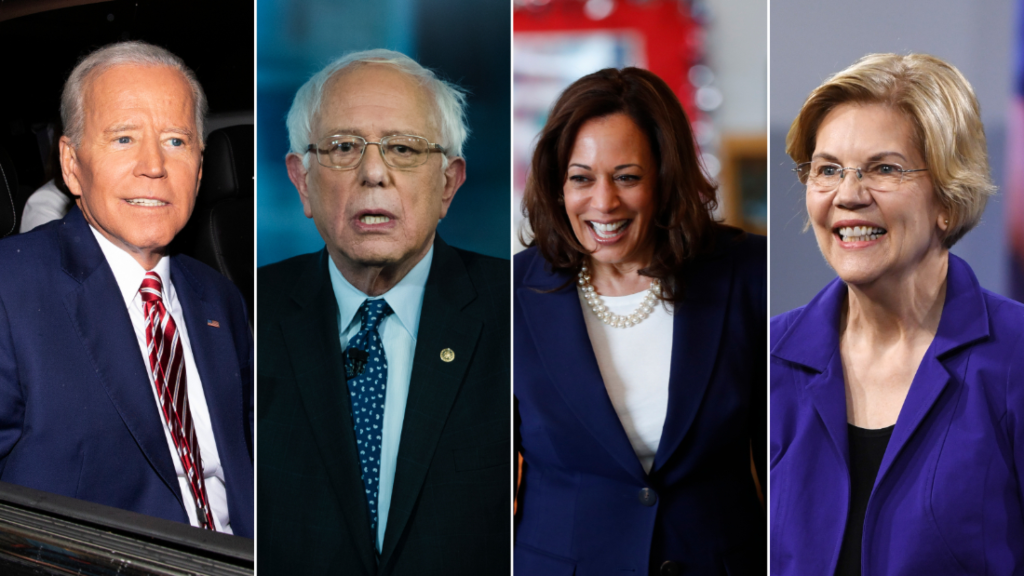 A new Quinnipiac Poll of California shows Golden State Senator Kamala Harris with a slight lead over former Vice-President Biden in a state that will take on added importance in next year's primary battles:
SAN FRANCISCO — Home-state Senator Kamala Harris has seized the top spot from Vice President Joe Biden and Senator Elizabeth Warren is fast gaining traction in delegate-rich California, according to a new Quinnipiac University Poll released Wednesday.

The latest Quinnipiac California poll shows Harris leading among 2020 presidential hopefuls, with 23 percent of California Democratic and Democratic-leaning voters now behind her — surging six points since the last Quinnipiac survey in April. Biden, at 21 percent, has lost five points in that same period.

Closely following are Vermont Senator Bernie Sanders, who has remained static at 18 percent, and Massachusetts Senator Elizabeth Warren, now at 16 percent, more than doubling her 7 percent standing in April.

The top tier of 2020 hopefuls is followed in the current poll by South Bend, Ind., Mayor Pete Buttigieg at 3 percent and entrepreneur Andrew Yang at 2 percent. Four Democratic candidates track at 1 percent, with the remainder all polling less than one percent, the poll showed.

On the issue of electability, Biden is the overwhelming favorite, with 45 percent saying that the former VP has the best chance of beating President Donald Trump, compared to just 12 percent for Sanders, 11 percent for Harris and 8 percent for Warren.

Twenty-sixpercent of California Democrats also say Biden would be the best leader, compared to 18 percent for Harris, 17 percent for Sanders and 14 percent for Warren.

But Harris leads the pack in the excitement factor — with 68 percent of California Democrats saying they would be most excited by her nomination, followed by 65 percent for Warren, 58 percent for Biden and 55 percent for Sanders as the standard-bearer.

Twenty-eightpercent say Warren has the best policy ideas, with 20 percent for Sanders, 11 percent for Biden and 9 percent for Harris.

Tim Malloy, assistant director of the Quinnipiac Univeristy Poll, said the poll shows native daughter Harris has leapt from "promising contender to prominent player" in her neck-and-neck contest with Biden. "But who do California Democrats pick as the best candidate to take on President Donald Trump?" he said. "Hands down, it's Biden."
Here's how the poll comes down, and how it compares to the last Quinnipiac poll of the Golden State, which was taken before former Vice-President Biden got into the race:
Kamala Harris — 23%, which is an increase of 5 points from the previous poll;
Joe Biden — 21%, which is a decrease of 5 points from the previous poll;
Bernie Sander — 18%, which is the same as where he was polling at the beginning of April;
Elizabeth Warren — 16%, which is an increase of 9 points from the previous poll;
Pete Buttigieg — 3%, which is a decrease of 4 points from the previous poll;
Andrew Yang — 2%< which is an increase of 2 point from the previous poll;
All other candidates came in under 2%.
In addition to the Quinnipiac poll, there's also a new poll of the race in California from CBS News and YouGov which shows as follows:
Joe Biden — 24%
Kamala Harris — 23%
Elizabeth Warren — 19%
Bernie Sanders — 17%
Pete Buttigieg — 16%
All other candidates at 1% or less.
And here's what the Golden State looks like in the RealClearPolitics average:
Joe Biden — 22.3%
Kamala Harris — 19.7%
Elizabeth Warren — 17.7%
Bernie Sanders — 16.3%
All other candidates averaging under 2%
California is a far more important state in the race this year than it has been in the past, though. Previously, the California primary was among the last contests in the nomination process, taking place in early June. This time, though, California's legislature moved to push the date of the primary up to March 3rd, the same day that fifteen other states will be holding there primary. On this day alone, there will be 1,441 delegates up for grabs, with California's 416 representing just under 29% of that total. Even taking into account the fact that Democrats award their delegates on a proportional basis the outcome of these contests, the first after the opening month of primaries and caucuses, will go a long way toward establishing which candidates have a chance going forward and which ones may as well give up the ghost.
There has been a limited amount of polling of California so far, so it's hard to say what this all means as part of any kind of overall trend other than the one we have seen nationally that has seen Harris and Warren rising at the expense of Biden and Sanders. Other than the two Quinnipiac polls and the CBS News poll, the only other poll that seems to be available is one conducted by the Los Angeles Times over more than a two-month period stretching from early April to mid-June. Polls conducted over such a long period of time are generally not considered reliable. Additionally, it's worth noting that the gap between Harris and Biden in the latest Quinnipiac poll is well within the margin of error to the point where it is effectively a statistical tie. In any case, it's hardly a surprise that Harris is doing well in California given that she has been elected to statewide office there on three occasions since first being elected Attorney General in 2010.
Obviously, it's still early, with some 226 days to go until Californians go to the polls. However, as with other early states such as Iowa, New Hampshire, Nevada, and South Carolina, and the rest of the nation, the Democratic race seems to be coming down to a top-four tier consisting of Biden, Harris, Warren, and Sanders, followed by Pete Buttigieg and then the rest of the field. That could, and probably will change over the course of the coming months but for now, at least this is where the race is focused.