Town Hall Protests Continue, But Will It Translate Into Election Results?
Members of Congress and the Senate are once again facing down angry constituents, but it's unclear whether it will translate into anything substantial in 2018.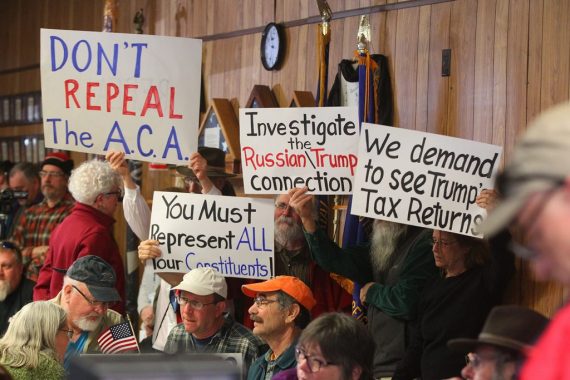 Congress is out of session this week for the President's Day holiday, which Congress routinely expands into an extended week so that members can work back in their districts, and Republicans continue to face voters upset over the Obamacare debate and the policies of the Trump Administration:
FAIRVIEW, Tenn. — Representative Marsha Blackburn may have expected to draw a friendly crowd by scheduling a town hall-style meeting in a Tennessee community that had voted overwhelmingly for President Trump, but she instead faced a hurricane-strength blast of disapproval on Tuesday.

Ms. Blackburn, an eight-term Republican, was sharply questioned about a wide range of issues that have unsettled Mr. Trump's first month in office, including health care, the environment, education and the president's links to Russia.

At many moments, her replies elicited boos or shouts to "tell the truth."

"We're not stupid; you have to do better," Renee Armand said at one point, interrupting Ms. Blackburn as she was defending the new education secretary, Betsy DeVos, for bringing "a true love of education reform."

Ms. Blackburn, who represents a safe Republican seat west of Nashville, was among the latest wave of Washington lawmakers to face angry constituents in what, inevitably but perhaps prematurely, has been called a progressive echo of the Tea Party anger that boiled over in town halls eight years ago.

During the first weeklong recess of the new Congress, many Republicans have chosen not to hold events at all, wary of protests that might greet them.

Others gamely faced the music, including Representative Dennis A. Ross of Florida and Senator Charles E. Grassley of Iowa, who faced largely hostile audiences on Tuesday in districts that, like Ms. Blackburn's, had strongly endorsed Mr. Trump at the polls.

At one point, Mr. Grassley, a long-serving senator, was offered a gift from a 62-year-old Democratic pig farmer named Chris Petersen: a bottle of Tums.

"You're going to need them in the next few years," Mr. Petersen told the senator, drawing laughter from a crowd packed into a room at a firehouse in Iowa Falls, north of Des Moines.

Mr. Grassley later quipped that "the only time I need Tums is when I have chocolate ice cream before I go to bed."

Anxious and agitated constituents of Mr. Grassley's clapped and yelled out in frustration in a rural county that voted overwhelmingly for Mr. Trump.

Mr. Petersen, the vice chairman of the Iowa Democratic Party's Rural Caucus, gave a stern warning about the repeal of the Affordable Care Act.

"With all due respect, sir, you're the man that talked about the death panels," Mr. Petersen said. "We're going to create one great big death panel in this country."

Republicans have accused the protesters who have roiled town hall-style meetings of not representing a true grass-roots outpouring but instead being an AstroTurf movement paid by shadowy groups.
From the many reports about similar town halls across the country, it does appear that there's at least some merit to the idea that the opposition that is showing up to these town halls is organized to some degree, but that's hardly surprising and it certainly shouldn't be taken as a reason for Republicans complete ignore what's happening. After all, as they should be well aware, the town hall protests that accompanied the debate over and passage  of the Affordable Care Act during the first two years of the Obama Administration were also organized and promoted by a combination of the grassroots and national organizations such as FreedomWorks and other groups that either grew out of the Tea Party movement or adapted to it. The same thing appears to be happening on the left now, with grassroots opposition to the Trump Administration combining with national organizations to alert people to meetings and organize a common strategy. Contrary to the claims of Republicans who now seek to heap disdain on protesters using the same techniques that the Tea Party did for different purposes, there's absolutely nothing wrong with this strategy and the fact that the left has adopted a Tea Party strategy for its own purposes is, in the end, smart politics.
As The Washington Post notes in a report this morning, though, it's still unclear whether the momentum that the Trump Administration appears to have given to this movement will be sustainable, or whether it will lead people to show up at the polls in 2018 when Democrats need them to. As things stand, that's a hard question to answer. At this point, we are twenty-one months away from the mid-term elections and there's a lot that could happen between now and then that will influence the outcome of the race to determine who controls Congress, including not just the fate of the Trump Administration and its policies but also the state of the economy and the world and public opinion regarding Trump and the Republicans in Congress. Additionally, Democrats face a grim task in 2018 in both chambers of Congress. In the House, they continue to deal with the fact that the redistricting after the 2010 Census created a very favorable playing field for Republicans and significantly reduced the number of truly competitive districts in the House to the point where the odds of winning enough races to gain control even by a very slim majority are rather hard to overcome. In the Senate, Democrats face an election year where there are only nine Republican seats up for re-election, only one of which (Nevada) seems to be one where Democrats can compete. At the same time, there are 23 Democratic seats up for re-election, including seats in at least ten states that can be considered strongly Republican or which Donald Trump won in 2016. While Democrats only need to flip three seats to gain control of the Senate, that's a fairly tall order given the fact that their resources are likely to be spread fairly thin just because of the need to defend so many seats at once. Add into all of this the fact that turnout tends to favor Republicans in midterm elections, and the difficulty that Democrats face in translating today's town hall fervor into action more than a year from now.