Trump 2022's Biggest Loser
The 2020 loser has doubled down on losing.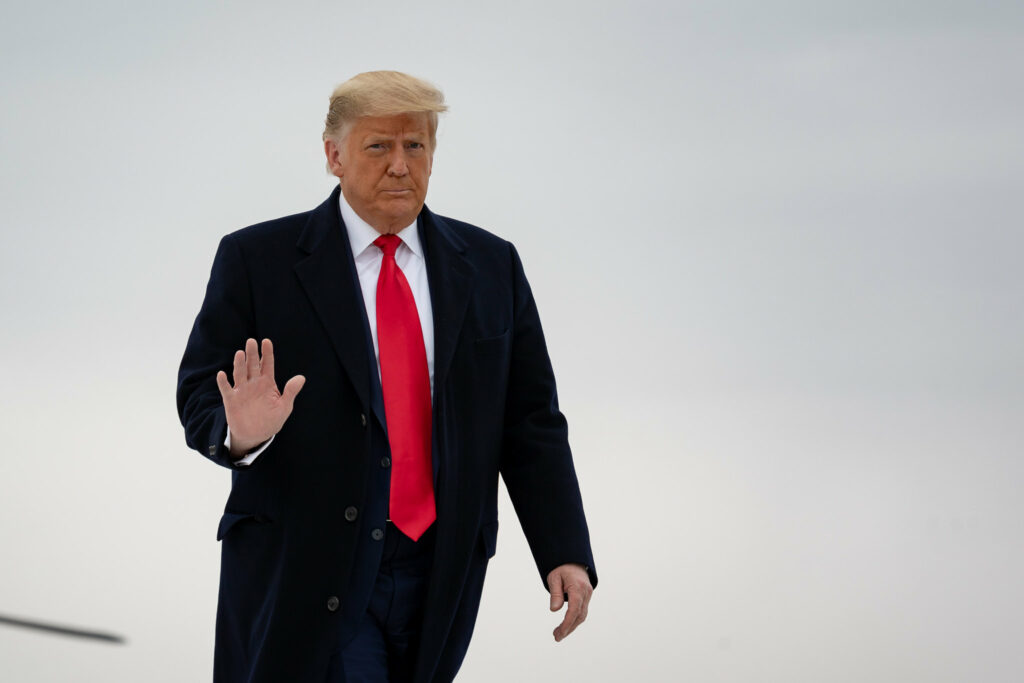 If there's anything uniting Americans in these divided times, it's that the 2022 election was not a good one for Donald Trump and the candidates he endorsed.
Fox News ("Trump blasted across media spectrum over Republicans' midterms performance: 'Biggest loser tonight'")
Axios ("1 big thing: Trump's the loser as GOP falters")
Fox News ("JD Vance didn't mention Trump in Ohio Senate victory speech despite endorsement")
Quin Hillyer, Washington Examiner ("Blame Trump for weak Republican performance"):
The verdict is in: Against massive public dissatisfaction with the direction of a country led entirely by Democrats, former President Donald Trump's Republican Party still scared enough voters that it embarrassingly underperformed in this year's elections .

The less Trump-like the Republican candidates, the better they did. In Ohio, centrist Gov. Mike DeWine outpolled Trump-selected Senate candidate J.D. Vance by more than 15 points (in their respective races). Trump actively trashed Republican Georgia Gov. Brian Kemp , but Kemp won his race easily. Meanwhile, Trump-chosen Senate candidate Herschel Walker, at this writing, is barely hanging on to relevance by his fingernails.

Trump chose Mehmet Oz in Pennsylvania over the impressive David McCormick, but Oz couldn't even beat a stroke victim who was a bad mayor of a tiny town and an absentee lieutenant governor. Trump chose the extremist oddball Blake Masters in Arizona over accomplished state Attorney General Mark Brnovich, and Masters, at this writing, is trailing very badly in the vote count.

Again and again, Republicans are vastly falling short in races they thought, just 24 hours earlier, they would win. Sitting in their ideological bubble, party leaders refused to listen when they were told again and again that Trump scares or disgusts people so viscerally that he drives turnout among otherwise disappointed and apathetic Democratic-leaning voters.
Liz Peek, Fox ("Ron DeSantis is the new Republican Party leader"):
The biggest winner of the midterm elections was without a doubt Governor Ron DeSantis, whose landslide victory in the state of Florida was breathtaking.

The biggest loser? Donald Trump, whose handpicked loyalist candidates in a number of races struggled to beat vulnerable Democrats. Once again, the former president may have cost Republicans control of the Senate, in a year when it was theirs to lose.

Many will conclude, on the basis of the midterm 2022 results, that the Republican Party is ready to move on, without Donald Trump as its leader.
Isaac Arnsdorf and Josh Dawsey, WaPo ("One likely 2024 GOP contender triumphed on election night. It wasn't Donald Trump."):
One likely contender for the Republican presidential nomination in 2024 had a triumphant night on Tuesday, and it wasn't Donald Trump.

The former president spent the final days of the campaign lashing out and even threatening Florida Gov. Ron DeSantis, whose apparent interest in running against Trump has puzzled him, according to advisers who spoke on the condition of anonymity to reflect private conversations. The Florida governor didn't return fire, other than to hold his own campaign event on Saturday, competing with a Trump rally in Miami and further irking the former president.

Come election night, however, it was DeSantis holding the ebullient victory party, having won reelection in a 20-point landslide, almost 15 points better than Trump's 2020 margin in their shared home state. At the party, DeSantis's supporters chanted "Two more years!" — encouraging the governor to seek the presidency before finishing his second term.

Trump's own watch party, by contrast, was diminished by a tropical storm barreling toward his Mar-a-Lago resort, located by Wednesday morning in a mandatory evacuation zone. Trump spoke briefly Tuesday night to thank reporters for attending, boast about his winning record of endorsements and congratulate a few Republican candidates who'd won or were leading. But not DeSantis.

"Wouldn't that be funny if we were better in the general election than on the [primary] nominations," Trump mused, as if still processing the results himself. He spent Tuesday night among longtime advisers and donors who, like other Republicans, expected a better showing on Tuesday.

After leaving the stage, Trump took to his social media site Truth Social to cheer for the downfall of Republican Senate hopefuls Don Bolduc in New Hampshire and Joe O'Dea in Colorado, whose victories could have lifted the party toward a majority that remained uncertain Tuesday night.
Even Trump seems to understand what's going on.
Shelby Talcott and David Weigel, Semafor ("Donald Trump's candidates slumped and he's looking for someone to blame"):
It was a rough night for Republicans on Tuesday, but especially for prominent candidates who scored Donald Trump's early endorsement or mimicked his style of politics and echoed his false claims about the 2020 election.

Trump, who spent the early Wednesday morning hours defending his record on Truth Social, awoke the day after his viewing party at Mar a Lago in a particularly angry mood, in part over Republican Senate nominee Dr. Mehmet Oz, who lost to Democrat John Fetterman.

Trump's anger, two people close to Trump told Semafor, was widespread — ranging from frustration at donors to being upset with Fox News host Sean Hannity. The former president even blamed his wife, Melania, over her push to bolster Oz, according to New York Times reporter Maggie Haberman.
MEDIAite ("Trump Adviser Tells CNN's Jim Acosta Trump Is Super-Pissed And 'Sceaming at Everyone' Over 'Humiliating' Midterms"):
Former President Donald Trump is "livid" and "screaming at everyone" over Tuesday night's midterm results, a Trump adviser tells CNN's Jim Acosta — whom Trump hates with the fire of a thousand suns.

Trump's ire has been building in public and in private as Florida Governor Ron DeSantis becomes a greater and greater threat to his bid for a second term in 2024.

On Wednesday morning, Acosta gave readers an early taste of Trump's state of mind following an Election Night that figures to be a crashing disappointment for Republicans, and which is already being blamed on Trump.

Acosta wrote on Twitter that "'Trump is livid' and 'screaming at everyone,' after last night's disappointing midterm results for GOP, according to a Trump adviser. The adviser went on to slam the former president's handpicked contenders: 'they were all bad candidates.' 'Candidates matter,' the adviser said."

The blow was so crushing that the idea of delaying his promised 2024 announcement appears to have been floated in Trumpworld.

"This adviser said it's unlikely Trump would delay his expected presidential announcement because 'it's too humiliating to delay.' But the adviser said there are too many unknowns at this point," Acosta wrote.
In an ideal world, this would cause party leadership to realize that running unqualified lunatics is a less than optimal strategy for winning national elections. Alas, our system is mostly bottom-up, with the most rabid partisans choosing their candidates—often by simple plurality. And, since Trump and company have convinced them that the only way the nutjobs can lose is by fraud, it's incredibly unlikely they'll blame Trump, much less what passes for his platform.