Trump and His Party Doing Permanent Damage to America
The President who promised to "Make America Great Again" has made her a laughingstock. And worse.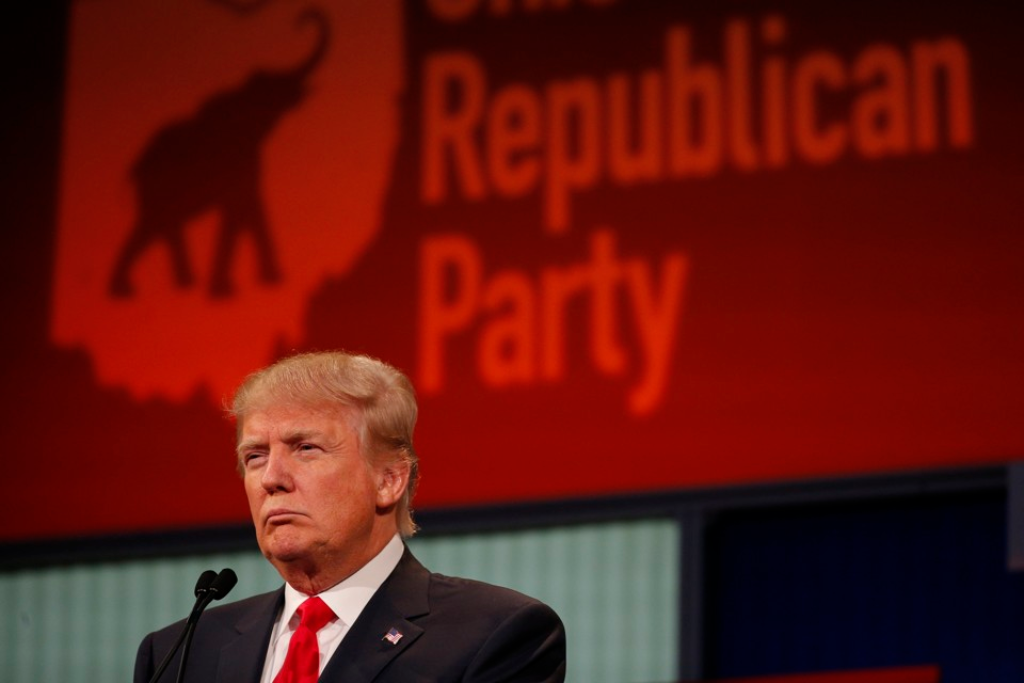 Continued revelations about President Trump's urging Georgia officials to overturn the results of their election have drawn outrage and consternation from former members of his party.
As to Trump himself, I'm perhaps less excited than David Frum ("Trump Crosses a Bright-Red Line"):
In a bombshell conversation with Georgia's secretary of state yesterday, President Donald Trump made monkeys of every Republican official and every conservative talking head who professed to believe Trump's allegations of voter fraud. The president himself made clear that he had only one end in view: overturning the 2020 election.

You knew this already, of course. Anyone connected to reality knew it. Even most of Trump's political allies probably knew it. But important incentives induced people in the pro-Trump camp to pretend otherwise. And now, as so often happens, Trump has yanked away the protective deception to reveal the truth.

And now again, Trump presents the country with a crisis and a conundrum.

What Trump did on that call with Georgia Secretary of State Brad Raffensperger, first reported by The Washington Post this afternoon, might well have been a crime. More than that cannot be said until and unless a jury is heard from. But Trump has reason to worry about new juries today, alongside all the other juries he was worrying about yesterday.
That's all true, of course. But I think Trump is mentally unstable at this point, legitimately thinking that the election has somehow been stolen from him. More bizarrely, even if Georgia somehow "found" enough votes for a Trump win and overturned their thrice-certified results and submitted a new slate of Electors—all of which are precluded by law even if they legitimately found them—Biden would still have more than enough votes to win.
Trump would just be a raving lunatic tilting at windmills were it not for his enablers in Congress and elsewhere in the GOP.
Tom Nichols ("Worse Than Treason") more closely captures my ire:
"We are what we pretend to be," Kurt Vonnegut wrote in the opening of his 1962 novel, Mother Night, "and so we must be careful what we pretend to be." Republicans in Congress are pretending to be seditionists—and so they have become, in fact, seditionists.

Forget all the whispered denials and the off-the-record expressions of concern in private; ignore the knowing smirks on camera from GOP officials who are desperately trying to indicate that they're in on the joke. Brush aside the caviling of the anti-anti-Trump writers who would rather talk about that time in 2017 when some Democrats objected to the Electoral College vote (and were gaveled down by Joe Biden himself).

This is sedition, plain and simple. No amount of playacting and rationalizing can change the fact that the majority of the Republican Party and its apologists are advocating for the overthrow of an American election and the continued rule of a sociopathic autocrat.

This is not some handful of firebrands making a stand for the television cameras. In 2005, one Democrat in the House and one in the Senate filed an objection to counting Ohio's electoral votes, while insisting that they were not contesting the outcome of the presidential election itself. In 2017, a handful of Democratic members of the House objected to the electoral count. Because they lacked support in the Senate, then-Vice President Biden ruled the representatives out of order and declared, "It is over." In both cases, the Democratic candidate had already conceded.

Today, the "sedition caucus" includes at least 140 members of the House—that is, some two-thirds of the House GOP membership—and at least 10 members of the Senate. Their challenge comes after weeks of insistence that the 2020 election was rigged, plagued by fraud, and even subverted by foreign powers. The president and his minions have filed, and lost, scores of lawsuits that ranged from minor disputes over process to childlike, error-filled briefs full of bizarre assertions.

Instead of threatening to gavel these objections into irrelevance, as Biden did four years ago, Vice President Mike Pence "welcomes" these challenges. Pence's career is finished, but he could have stood for the Constitution he claims to love and which he swore to defend. However, cowardice is contagious, and no mask was thick enough to protect Pence from the pathogen of fear.

Perhaps the sedition caucus didn't mean to go this far. Its members began by arguing that we all just needed to humor President Trump, to give him time to process the loss, and to treat the president of the United States as a toddler who was going home empty-handed. He wouldn't be a dead-ender, they assured us, because that would be too humiliating. The Republican Party would never immolate itself for a proven loser.

But for Trump, there is no such thing as too much humiliation. The only shame in Trump world lies in admitting defeat. And so Trump doubled down, as anyone who had watched him for more than 10 minutes knew he would. And then he tripled, quadrupled, quintupled down. And just as they have done for the past four years, elected Republicans tried to convince themselves that if they supported this outrage, it would be the last time they would be required to surrender their dignity; that this betrayal of the Constitution would be the last treachery demanded of them. That if they complied one more time, they would be allowed to go back to their privileged lives far from the districts they claim to represent—places few of them really want to live after tasting life in the Emerald City.

It is possible that the sedition caucus knew that all these challenges would fail. It is possible that they know their last insult to American democracy, on Wednesday, will go nowhere, as well. This is irrelevant: Engaging in sedition for insincere reasons does not make it less hideous. Arguing that you betrayed the Constitution only as theater is no defense.
I honestly don't know which is worse:
That, if they had a majority in both Houses, Republicans might actually pull off this coup or;
That they're doing this much damage to the Republic knowing damn well that they don't have the votes to pull it off or;
That they're likely to be rewarded for this, at least in the short term, by their voters back home.
One would like to think that all of this lunacy has pretty much doomed the two Republicans seeking to keep their seats in Georgia's run-off tomorrow. Not only should the Republican brand be seriously damaged among swing voters but the two candidates have jumped on this bandwagon and proven they have no honor. Alas, I'm not sure one or both won't be sent back to Washington.