Trump and the Polls
He's second in national polls!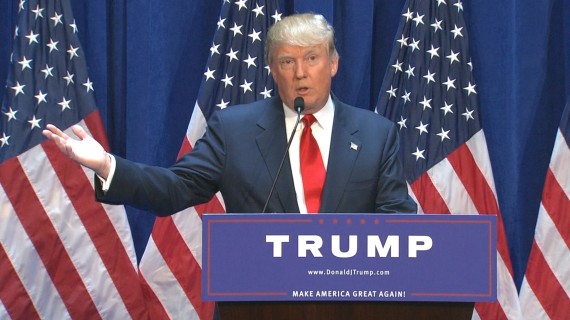 Much is being made (understandably) about the fact that Donald Trump is doing well in current polling of GOP presidential contenders.  For example, WaPo rounds up some recent numbers:
In Iowa, Trump is tied with Ben Carson for second place behind Wisconsin Gov. Scott Walker with 10 percent, according to a Quinnipiac University survey released Wednesday. In New Hampshire, a CNN-WMUR poll last week had Trump in second place behind former Florida governor Jeb Bush with 11 percent.

Trump also comes in second behind Bush in a new national CNN-ORC poll released Wednesday.
A few thoughts:
1)  Fragmentation:  a large number of candidates means a great deal of likely fragmentation.  If we look at the CNN poll noted above, respondents were read a list of 16 names (and had two other options of "none" and "no opinion").  When it is all said and done such a list, especially roughly half a year before any votes will be cast, should be expected to produce a great deal of fragmentation (especially in the absence of an overwhelming front-runner).
2)  12%:  Note that his second place standing is only 12% support (and Jeb is number one with 19%).  This is a function of the aforementioned fragmentation, but the number itself is worth considering: the press focuses on "second," but 12% is far more worthy of consideration as it means that 88% of support is elsewhere.  When considering these kinds of polls at this stage of the game the truly relevant question is not "What are candidate X's numbers?" but "Are candidate X's numbers closer to a floor or a ceiling?"  I would wager that while Jeb's 19% is a starting spot while Trump's 12% is far closer to peaking than he is anything else.
3)  MOE:  keep in mind that the margin of error is +/- 5% and Trump has 12% of support in the poll.  As such, Trump's actual level of support could place him in the lead or he could be deep down in the pack somewhere.
4)  Name recognition:  if someone is read a list of 16 names there is going to be a bias towards the most recognizable names.  The top two in the poll (Bush and Trump) have, without a doubt, the most recognizable names in the poll.
In other words, while "second place"  sounds impressive (or distressing, depending on your point of view), it is actually a lot less significant than it seems, especially at this stage of the process.  Trump will fade–he is currently an unsustainable sideshow.
If anything, his fellow Republicans are going to seek to take him out because he created any world of headaches.  Note the following from George Will:
"Picture him on stage in [the GOP debate in] Cleveland," Will said on Fox News Sunday this morning. "He says something hideously inflammatory — which is all he knows how to say — and then what do the other nine people on stage do? Do they either become complicit in what he said by their silence, or do they all have to attack him? The debate gets hijacked. The process gets hijacked. At the end of the day he is a one-man Todd Akin. He's Todd Akin with ten different facets."

Akin derailed the GOP's 2012 efforts to retake the Senate when his comments about "legitimate rape" not only cost him a Senate seat but played right into the Democrats' War on Women narrative.

As for Trump, Will added that his antics were indistinguishable from those of a "Democratic mole" sent to wreak havoc upon the Republican field.
Trump is ultimately bad for the GOP and they know it.
Keep in mind: Trump is a novelty candidate and  we are in the part of the campaign season in which novelty candidates have the chance to thrive.  The only interesting part of the Trump candidacies will be to see how the other candidates react to his nonsense (a la Will's observation above) because that will give us all a good idea what those candidates think about their own voters.
One thing is for sure:  Trump is not helping with the GOP's Hispanic problem, but he does provide an opening for Jeb and Rubio on that topic and it will be interesting to see how it plays out.
At any rate:  enjoy the sideshow while it lasts if one is into that sort of thing.  It won't last.  The only question in my mind is how long until the fade.