Trump Backs Away From Idea Of New Clinton Email Investigation, Prosecution
Trump backs away from yet another campaign promise.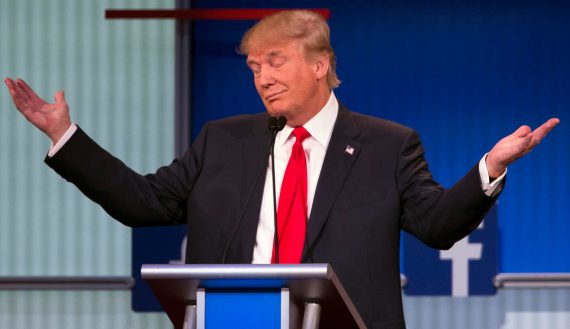 During the Presidential campaign, Donald Trump commonly referred to Hillary Clinton as 'Crooked Hillary' as he referenced her list of supposed criminal acts, such as the maintenance and use of a private email server and alleged ties between donations to the Clinton Foundation and State Department policies during the time Hillary Clinton was Secretary of State. Typically, this would end with chants of "Lock Her Up!" from the crowd that became something of a campaign slogan in the final weeks of the campaign. While Trump didn't emphasize this issue at all points during the campaign, it was certainly something he referenced on a regular basis, most especially in the final week of the campaign after F.B.I Director James Comey announced that the Bureau was looking at newly discovered emails that may have been connected to Clinton's server only to announce a week later that the email in question had not changed the previous recommendation that there was nothing regarding the server warranting criminal prosecution. Now, though, Trump is singing a different tune and telling reporters that he has no interest in pursuing a renewed criminal investigation of Clinton or the Foundation:
WASHINGTON — President-elect Donald J. Trump repeatedly said Hillary Clinton's "lies and deception" rivaled Watergate. He called her "Crooked Hillary." His most rabid fans chanted it over and over again at huge campaign rallies: "Lock her up!"

But on Tuesday, Mr. Trump essentially said: "never mind," signaling that he does not intend to pursue investigations into his rival's use of a private email server or the financial operations at the Clinton family's global foundation.

In an appearance on MSNBC's "Morning Joe" program, Kellyanne Conway, the former Trump campaign manager and a senior adviser to his transition, said the president-elect wanted to "move beyond the issues of the campaign" and confirmed that Mr. Trump did not want his promised Clinton investigations to take place.

"If Donald Trump can help her heal, then perhaps that's a good thing," Ms. Conway said.

The decision may help Mr. Trump focus on his agenda once he moves into the Oval Office in January, without the potential distraction of an unprecedented legal inquiry by a winning presidential candidate against the person he vanquished.

But it could deeply disappoint many of the voters whose anger against Mrs. Clinton he helped stoke throughout a bitter and divisive campaign. During the second debate between the two candidates, Mr. Trump turned to Mrs. Clinton and vowed that "if I win I am going to instruct my attorney general to get a special prosecutor to look into your situation, because there's never been so many lies, so much deception."

And the new president's decision is also likely to frustrate investigators at the Federal Bureau of Investigation, who are fiercely protective of their independence to follow the facts that they uncover. A declaration from Mr. Trump that he wanted inquiries about Mrs. Clinton to stop could be seen as unwarranted presidential meddling into an F.B.I. investigation.

Although the email investigation is closed, the F.B.I. still has an open inquiry into the Clinton Foundation. That inquiry was begun after the publication in 2015 of the book "Clinton Cash," which asserted that some foreign entities gave money to the foundation in return for State Department favors when Mrs. Clinton was in office. The Clintons have denied those assertions.

If, as president, Mr. Trump ordered the F.B.I. director, James B. Comey, to close the inquiry, Mr. Comey could choose to rebuff him. To insulate F.B.I. directors from political pressure, they are given a ten-year term. The president can fire a director for cause, as President Bill Clinton did in 1993 after a Department of Justice investigation uncovered ethical abuses by Director William S. Sessions.
As Philip Bump notes, Trump's promise to continue the investigation of Hillary Clinton was always nothing more than pure politics:
We spoke by phone with Columbia University professor Daniel Richman, a former federal prosecutor who has consulted with the Justice and Treasury departments. He explained how and where the president can leverage his authority over the government's criminal investigatory mechanisms.

Richman said that the president can, through his attorney general, target broad areas for focus.

"Certainly as the head of the executive branch, the president has considerable sway over policy decisions, as to what kinds of cases or what types of offenses will get priority," he said, referring to things like corruption or fraud. "But a huge line has always been drawn between general priorities and specific cases, and there are a considerable number of conventions, protections and institutional frameworks in place to keep presidents out of particular cases."

Richman points out that it's not completely unheard of for a president to seek to target individual people, citing the example of New York drug dealer Nicky Barnes, who appeared on the front of the New York Times Magazine in 1977 to President Jimmy Carter's great annoyance.

"But particularly post-Watergate, there really have been efforts to very much patrol communications between the White House and the Justice Department," he said. "Usually there is a designated person in the [White House] counsel's office; there are very closely watched and monitored counterparties in the Justice Department to make sure that very little is done with respect to particular cases."

The goal is simple: to maintain the independence of federal investigators and prosecutors from political influence. "I think the bottom line is, I think both sides realize that if prosecutors become seen as carrying water for the president, it will not be a good thing for federal enforcement in general, or for that case in particular," he said. The system is designed to prevent the occupant of the White House from using federal investigations for political purposes in precisely the way that Trump once threatened to do.

The Washington Post's Ellen Nakashima spoke with another expert who echoed the same idea.

"Once again, the president-elect has demonstrated his complete lack of understanding of how the government makes these kinds of decisions," said Stephen I. Vladeck, a law professor at the University of Texas at Austin. "The attorney general answers to the president, but the department is supposed to be independent, especially when it comes to prosecutorial decisions. Any president, especially our next president, needs to both understand and respect that – or else they risk politicizing criminal prosecutions in ways that can be damaging."
To anyone who has paid attention to these stories from the beginning, this outcome is entirely predictable. While Clinton's use of a private server and relationship with the Clinton Foundation while in office did raise serious ethical questions that she never adequately answered during her campaign for President, there was little evidence that what had happened rose to the level of something that could be successfully prosecuted. This was seemingly confirmed by the results of the F.B.I. investigation, which lasted more than a year and reportedly involved more than 100 agents at various points along the way. If they were unable to find anything criminal in Clinton's activity then it's unlikely that there would have been anything further found in continued investigation of the story. Indeed, I suspect that Trump's apparent change in position will lead Republicans on Capitol Hill to back away from their own promises to investigate Clinton even after Election Day, a promise that assuredly was based on the presumption that Clinton would win the Presidential election. With Clinton now out of the way, there is little to no value in continuing to attack her. Instead, Republicans on Capitol Hill are likely to seek to investigate the previous Administration in an effort to continue to attack Democrats after the election, or perhaps investigate opponents of Republican policies regardless of what party they belong to. It's not like they are going to investigate anything the Trump Administration does, after all.
Not surprisingly, Trump's change in position isn't sitting well with some of his most ardent supporters:
President-elect Donald Trump is reneging on his promise to jail Hillary Clinton, a sharp departure from the "lock her up!" chants that Trump encouraged at his campaign rallies, immediately drawing the ire of some conservatives.

Breitbart News, the alt-right news organization formerly run by Steve Bannon, Trump's chief strategist, headlined the lead story on its home page "BROKEN PROMISE."

And Judicial Watch, a conservative watchdog agency that sued to get more of Clinton's State Department emails released, urged Trump on Tuesday to "commit his administration" to investigating Clinton, while promising to continue its own litigation and investigations to help uncover possible scandals.

For Trump to refuse to do so "would be a betrayal of his promise to the American people to 'drain the swamp' of out-of-control corruption in Washington, DC," Judicial Watch President Tom Fitton warned in a statement. "President-elect Trump should focus on healing the broken justice system, affirm the rule of law and appoint a special prosecutor to investigate the Clinton scandals."
This episode is hardly likely to convince Trump supporters to back away from him, and in any case it's too late in any case given the fact that he has already been elected. Indeed, this is just likely to be the beginning of what we can likely call the "Sorry, suckers" phase of the Trump saga, in which the candidate pretty much breaks every promise he made to get elected in favor of advancing his political power. Those of us who saw Trump for the charlatan that he is from the beginning could have told the Trump supporters and the Republican hangers-on that this would happen. That Trump won't build his wall and get Mexico to pay for it, that he won't be able to bar all Muslims from entering the country, that he won't get back jobs that have been exported to other countries and replaced by automation, and that he wouldn't actually prosecute Hillary Clinton. As a matter of fact, we did tell them all of this. It's just that they didn't listen and now we've got this man in office for at least the next four years.