Trump Becomes Isolated And Embittered After Election Losses
Losing the midterms is not going over well with the President.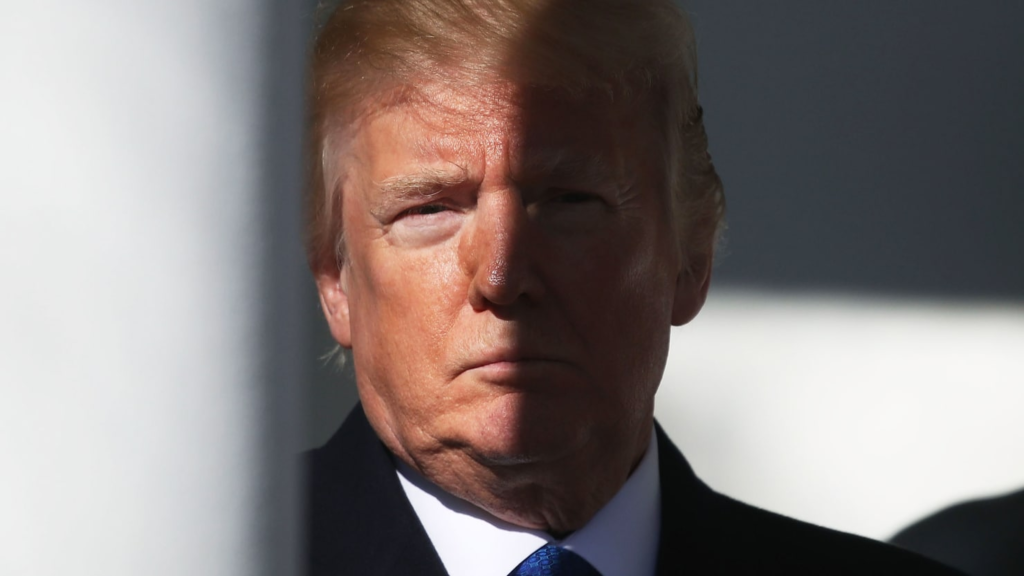 A new report from the Los Angeles Times states that the President has retreated into a bubble in response to the outcome of the midterm elections:
For weeks this fall, an ebullient President Trump traveled relentlessly to hold raise-the-rafters campaign rallies — sometimes three a day — in states where his presence was likely to help Republicans on the ballot.

But his mood apparently has changed as he has taken measure of the electoral backlash that voters delivered Nov. 6. With the certainty that the incoming Democratic House majority will go after his tax returns and investigate his actions, and the likelihood of additional indictments by special counsel Robert S. Mueller III, Trump has retreated into a cocoon of bitterness and resentment, according to multiple administration sources.

Behind the scenes, they say, the president has lashed out at several aides, from junior press assistants to senior officials. "He's furious," said one administration official. "Most staffers are trying to avoid him."

The official, who spoke on the condition of anonymity, painted a picture of a brooding president "trying to decide who to blame" for Republicans' election losses, even as he publicly and implausibly continues to claim victory.

White House Chief of Staff John F. Kelly and Kirstjen Nielsen, secretary of the Department of Homeland Security, who are close allies, "seem to be on their way out," the official said, noting recent leaks on the subject. The official cautioned, however, that personnel decisions are never final until Trump himself tweets out the news — often just after the former reality TV star who's famous for saying "You're fired!" has directed Kelly to so inform the individual.

And, according to a source outside the White House who has spoken recently with the president, last week's Wall Street Journal report confirming Trump's central role during the 2016 campaign in quietly arranging payoffs for two women alleging affairs with him seemed to put him in an even worse mood.

Publicly, Trump has been increasingly absent in recent days — except on Twitter. He has canceled travel plans and dispatched Cabinet officials and aides to events in his place — including sending Vice President Mike Pence to Asia for the annual summits there in November that past presidents nearly always attended.

Jordan's King Abdullah II was in Washington on Tuesday and met with Secretary of State Michael R. Pompeo, but not the president.

Also Tuesday, Defense Secretary James N. Mattis announced plans to travel on Wednesday near the U.S.-Mexico border to visit with troops Trump ordered there last month in what is ostensibly a mission to defend against a caravan of Central American migrants moving through Mexico and still hundreds of miles from the United States.

Trump had reportedly considered making that trip himself, but has decided against it. Nor has he spoken of the caravan since the midterm elections, after making it a central issue in his last weeks of campaigning.

Unusually early on Monday, the White House called a "lid" at 10:03 a.m. EST, informing reporters that the president would not have any scheduled activities or public appearances for the rest of the day. Although it was Veterans Day, Trump bucked tradition and opted not to make the two-mile trip to Arlington National Cemetery in northern Virginia to lay a wreath at the Tomb of the Unknown Soldier, as presidents since at least John F. Kennedy have done to mark the solemn holiday.

Trump's only public appearance Tuesday was at a short White House ceremony marking the start of the Hindu holiday Diwali at which he made brief comments and left without responding to shouted questions.

He had just returned Sunday night from a two-day trip to France to attend ceremonies marking the centennial of the armistice that ended World War I. That trip was overshadowed, in part, by Trump's decision not to attend a wreath-laying at the Aisne-Marne American Cemetery, the burial place for 2,289 soldiers 60 miles northeast of Paris, due to rain.

Kelly, a former Marine Corps general, and Marine Gen. Joseph F. Dunford Jr., chairman of the Joint Chiefs of Staff, did attend to honor the American service members interred there. Trump stayed in the U.S. ambassador's residence in Paris, making no public appearances.

Other heads of state also managed to make it to World War I cemeteries in the area for tributes to their nations' war dead on Saturday.

(…)

Nicholas Burns, the former U.S. ambassador to NATO under George W. Bush, said the weekend events, commemorating the 100th anniversary of the end of a war in which 120,000 Americans were killed, were ripe for soaring words and symbolic gestures, which Trump failed to provide.

"Not only did he barely show up, he didn't say anything that would help Americans understand the scale of the loss, or the importance of avoiding another great war," Burns said. "He seemed physically and emotionally apart. It's such a striking difference between the enthusiasm he showed during the campaign and then going to Paris and sulking in his hotel room."

He added, "The country deserves more energy from the president."
The Washington Post is reporting similar discord inside the White House:
As he jetted to Paris last Friday, President Trump received a congratulatory phone call aboard Air Force One. British Prime Minister Theresa May was calling to celebrate the Republican Party's wins in the midterm elections — never mind that Democrats seized control of the House — but her appeal to the American president's vanity was met with an ornery outburst.

Trump berated May for Britain not doing enough, in his assessment, to contain Iran. He questioned her over Brexit and complained about the trade deals he sees as unfair with European countries. May has endured Trump's churlish temper before, but still her aides were shaken by his especially foul mood, according to U.S. and European officials briefed on the conversation.

For Trump, that testy call set the tone for five days of fury — evident in Trump's splenetic tweets and described in interviews with 14 senior administration officials, outside Trump confidants and foreign diplomats, many of whom spoke on the condition of anonymity because of the sensitivity of the issue.

"He was frustrated with the trip. And he's itching to make some changes," said one senior White House official. "This is a week where things could get really dicey."

During his 43-hour stay in Paris, Trump brooded over the Florida recounts and sulked over key races being called for Democrats in the midterm elections that he had claimed as a "big victory." He erupted at his staff over media coverage of his decision to skip a ceremony honoring the military sacrifice of World War I.

The president also was angry and resentful over French President Emmanuel Macron's public rebuke of rising nationalism, which Trump considered a personal attack. And that was after his difficult meeting with Macron, where officials said little progress was made as Trump again brought up his frustrations over trade and Iran.

"He's just a bull carrying his own china shop with him when­ever he travels the world," presidential historian Douglas Brinkley said.

Meanwhile, Trump was plotting a shake-up in his administration. He told advisers over the weekend that he had decided to remove Homeland Security Secretary Kirstjen Nielsen and that he also was seriously considering replacing White House chief of staff John F. Kelly, who scrambled early this week to try to save Nielsen's job.

The senior White House official, who speaks to the president regularly, said Trump has been grousing lately about getting rid of Kelly. "But he's done this three or four times before," this person said. "Nothing is ever real until he sends the tweet."

During Sunday's flight to Washington from Paris, aides filed into the president's private cabin to lobby against the leading contender to replace Kelly, Nick Ayers, who is Vice President Pence's chief of staff. These aides told Trump that appointing Ayers would lower staff morale and perhaps trigger an exodus. But the president has continued to praise Ayers, who also enjoys the support of Ivanka Trump and Jared Kushner, according to multiple White House officials.

(…)

As Trump walked out of the White House residence to board the Marine One helicopter on Friday morning, he paused to answer questions from the press corps and snapped when CNN correspondent Abby Phillip asked whether he wanted Whitaker to rein in special counsel Robert S. Mueller III.

"What a stupid question that is," Trump said. "What a stupid question. But I watch you a lot. You ask a lot of stupid questions."

Later, aboard Air Force One, Trump again lost his cool, this time during his phone call with May. He berated the British prime minister on Iran, trade and Brexit, among other topics. The White House did not announce that the call took place nor did it provide an official readout, but U.S. and European officials said in interviews that Trump's mood was sour and his conversation with May was acrimonious.

On his flight there and throughout the weekend, Trump was preoccupied by political developments back in the United States. He watched TV with rapt attention as late-counting votes resulted in the Senate race in Arizona and a number of House contests to slip out of Republican hands, and as recounts got underway in Florida's Senate and gubernatorial races. He also complained about the lack of congressional funding for his promised wall at the U.S.-Mexico border.

Trump sent political aides in Washington scrambling to prepare detailed briefings for him on the still-to-be-called races. He aired baseless allegations of voter irregularities on Twitter — writing from the plane that elections attorney Marc Elias was the Democrats' "best Election stealing lawyer" but that he would send "much better lawyers to expose the FRAUD!"

Still, the president told aides he felt disconnected from the action in his suite at the U.S. ambassador's residence in Paris — even as he consumed countless hours of television news on the trip.

"Trump needs adulation, so heading into the midterms, holding these rallies, he was cheered and it became narcissistic fuel to his engine," Brinkley said. "After the midterm, it's the sober dawn of the morning."
This largely fits in with what we already knew about Trump's personality, of course. Even before he became a candidate for President, it was fairly well known that Trump was not the kind of person who handled bad news well, that he rarely took the advice of those around him because he has long been convinced that he knows more about any given subject than anyone else and that he absolutely hates it when his own actions or inactions cause him to appear badly in the public eye. In the wake of the drubbing that the Republicans took in the midterm elections, then, it's understandable that Trump has mimicked the behavior he has shown in the past and retreated into a bubble of self-obsession, bitterness, and disinterest that is apparently having an impact on the daily operation of the White House. The difference between the past and now, of course, is that in the past Trump was merely the mercurial head of a family-owned real estate business. Now, he's President of the United States and behavior like this hardly inspires confidence in his leadership skills or his ability to respond in a crisis situation, something he has yet to face in his Presidency.
For the time being, the President appears to be taking his frustrations out on those around him, as well as members of his Cabinet. The election results weren't even a day old when it was announced that Attorney General Jeff Sessions had been fired. Yesterday, we learned that Secretary of the Department of Homeland Security Kirstjen Nielsen is apparently close to being in the President's crosshairs, and there are once again reports that Chief of Staff John Kelly, who has clashed with Trump repeatedly in the past, could be on his way out. Even the First Lady is getting involved in all of this, with her office insisting that a Deputy to National Security Adviser John Bolton be fired, a demand that was made extraordinarily public in the form of a public statement released by Mrs. Trump's office in the East Wing of the White House. You can also see examples of the extent to which this President has been off the rails for the past week in his Twitter feed, which was unusually active even while the President was on his brief overseas trip to Paris.
Several months ago, the President referred to himself as a "very stable genius." We already knew that the 'genius' part was largely untrue, now it appears that he isn't very stable either and that he's becoming isolated and perhaps even a bit paranoid in the same way that Richard Nixon did in the final days before the Watergate scandal finally forced him to resign. I'm not suggesting that Trump is anywhere near that, but clearly, Trump feels the walls — whether that means the Russia investigation, the election results, or the fact that his White House is likely to be on the defensive once Democrats take control of the House in January — closing in on him. The fact that this is how he reacts to that kind of pressure should be of concern to everyone.