Trump Campaign Forces Volunteers To Sign Non-Disparagement Agreement
If you want to volunteer for Donald Trump, you'll have to agree to never disparage Trump, his family, his campaign, or any of his businesses. Forever.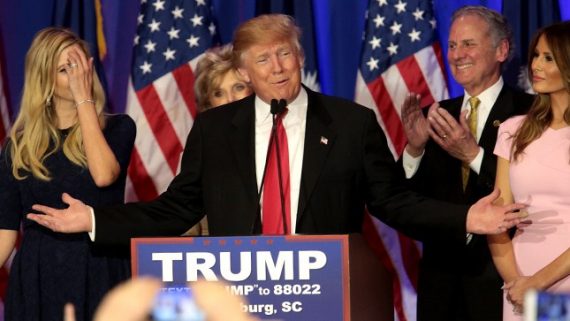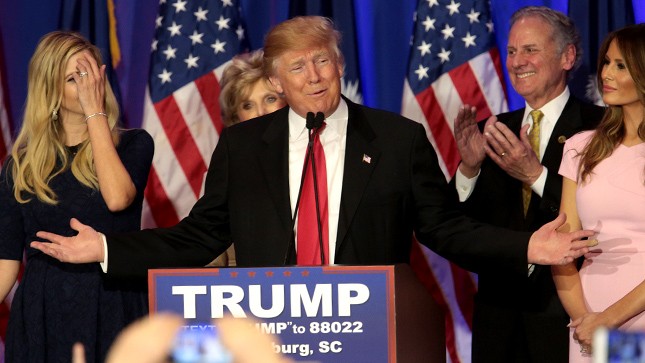 If you want to volunteer for Donald Trump, you'll have to sign an agreement stating that you will never talk about, or disparage, the campaign or Mr. Trump:
Online volunteers seeking to help Donald Trump by making phone calls might be signing up for more than they bargained for.

To sign up on Trump's website, potential volunteers must agree to a 2,271-word non-disclosure agreement in which they also promise they won't compete against or say anything bad about Trump, his company, his family members or products – now and forever.

The agreement is a required part of the sign-up process for Trump Red Dialer, an online call system that connects volunteers for the Republican presidential candidate with potential voters.

Earlier this year, volunteers for Trump in New York had to sign non-disclosure agreements in person before making phone calls at Trump Tower. But the website requirement is the first indication that online volunteers must also sign the form, even if they'll never meet a Trump family member, attend a Trump rally, meet a campaign staffer in person or step inside a Trump campaign office.

The agreement defines Trump's family as "Mr. Trump's spouse" and then individually names his children, including his 10-year-old son Barron, while generally referencing Trump's siblings and nieces and nephews, as well as his children's spouses and children.

The agreement does state volunteers can campaign for other candidates after the election is over. No such deadline applies to the non-disparagement provisions.

The agreement seems very similar or identical to a Trump non-disclosure agreement described by the Associated Press in June. Trump is known for requiring those in his businesses and campaign to sign the agreements, up to and including senior advisers. He has sued associates over similar contracts, including his ex-wife Ivana in 1992. He settled with her a year later.

But requiring an online volunteer to sign such a document is a requirement unique to the Trump campaign. The campaign website for his rival, Democrat Hillary Clinton, requires no agreement for online volunteers to sign up and make phone calls.

"It's not a typical procedure," said Matt Moore, chairman of the GOP in South Carolina, where campaigns had volunteers making similar calls from their homes ahead of the primary in February. Moore also oversees phone bank operations as the state seeks to elect its candidates in legislative races.

Phone calls are a common tool to persuade voters and to encourage supporters to get out and vote. While presidential campaigns still have volunteers meet at phone bank locations, both the Clinton and now Trump campaign have an online dialer system to which volunteers can get call information and scripts to read to so they can make calls from anywhere.

"We're most concerned about private information not being shared publicly and maintaining database security, so we do at times require volunteers or volunteer leaders to sign agreements to that effect," said Moore. But nothing like the non-disparagement clause.

(…)

When asked about the necessity of the non-disclosure agreement for online volunteers, Trump Ohio campaign spokesman Seth Unger said: "We are running a state-of-the-art campaign for Mr. Trump that involves best-in-market volunteer platforms, and it is attracting thousands of volunteers who are tired of the same old Washington corruption and back room deals and are securing votes for a change in November."

Moore said he hasn't heard any complaints about the non-disclosure agreement from state GOP chairs elsewhere in the country.

"Donald Trump supporters are very passionate. I don't imagine that it would discourage them, much if any at all," he said.
The most likely reason that Moore hasn't heard any complaints, of course, is because, much like few of us actually read the license agreements that we're required to click to accept when installing a piece of software on our computer or an application on our smartphone or tablet, they don't read what they're agreeing to, or if they do they likely only had a layman's understanding of what it meant. (Heck, as an attorney I almost never read those things myself.) Additionally, as eager volunteers for the candidate they support, it's likely that they wouldn't question the campaign's request to sign something before they get started making phone calls. Finally, on some level every campaign does have a legitimate interest in at least some form of a non-disclosure agreement since it's likely done some work in developing the call list that these online volunteers are using and wouldn't want it to fall into the hands of an opponent, or even an ally.
This agreement, of course, goes far beyond requiring the volunteer(s) to agree that they won't disclose information about the software or the database to others, or that they won't make the list(s) they are given available to others. It also purports to require volunteers to agree that they would never say anything disparaging about Trump, his family, or his businesses. This is highly unusual for something that a campaign volunteer is required to sign, and indeed may be the first time anything like this has been required in political circles, and it's unclear whether it would be considered legally enforceable against mere volunteers. Much like the non-competition agreement that one fast-food company was attempting to force its line employees to sign, the enforcability of an agreement like this would depend very much on whether or not it could be demonstrated that the agreement is reasonable under the circumstances and whether its restrictions on individual liberty serve any real interest. One could arguably see the case for such agreements in the case of highly placed officials and employees who become privy to private information about the candidate and their family as a result of their position, but it's hard to see what justification there can be for enforcing such an agreement against a volunteer, especially one who never had any direct contact with the campaign or the candidate outside the online environment.
Enforceable or not, though, the fact that this agreement exists says much about Trump and the way he runs both this campaign and his businesses. As the linked article notes, it's long been suspected that Trump makes liberal use of agreements like this in his business activities, and that the reason one rarely hears anything negative about Trump from past employees or business associates is because the people in question are under a binding agreement not to share their opinion about the man or his business practices with the public. While that may be common in the business world, it's virtually unprecedented in politics, and largely unknown in government. More importantly, it raises questions about what kind of business Trump is running, what kind of campaign he's running, and what kind of President he would be. Would he require White House employees to sign agreements such as this, for example? How transparent would his Administration be when it comes to decision making and who Trump is consulting with in making decisions? These are legitimate questions that the campaign ought to answer immediately. Of course, it also might want to make clear exactly what it has to hide if it feels it necessary to requirement volunteers to sign this type of agreement to begin with.