Trump Considered Dumping Gorsuch Over Perceived Disloyalty
Report that President Trump considered withdrawing the Gorsuch nomination are another sign of his unhealthy obsession with pledges of loyalty from people who have no business giving it to him.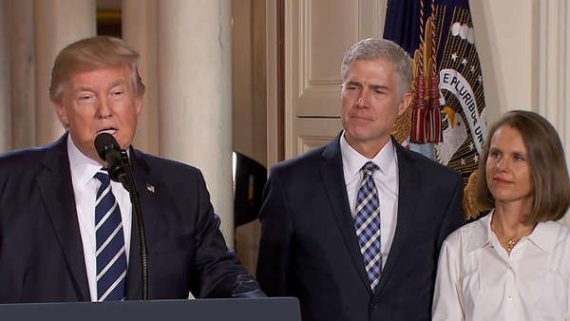 The Washington Post reports that President Trump flirted with the idea of withdrawing the nomination of Associate Justice Neil Gorsuch earlier this year after reports about his responses to questions from a Democratic Senator seemed to indicate he wouldn't be loyal to Trump in future rulings:
For nearly eight months, President Trump has boasted that appointing Neil M. Gorsuch to the Supreme Court ranks high among his signature achievements.

But earlier this year, Trump talked about rescinding Gorsuch's nomination, venting angrily to advisers after his Supreme Court pick was critical of the president's escalating attacks on the federal judiciary in private meetings with legislators.

Trump, according to several people with knowledge of the discussions, was upset that Gorsuch had pointedly distanced himself from the president in a private February meeting with Sen. Richard Blumenthal (D-Conn.), telling the senator he found Trump's repeated attacks on the federal judiciary "disheartening" and "demoralizing."

The president worried that Gorsuch would not be "loyal," one of the people said, and told aides that he was tempted to pull Gorsuch's nomination — and that he knew plenty of other judges who would want the job.

It is unclear whether Trump's "explosion," as another administration official described it, truly put Gorsuch's nomination in jeopardy or whether the president was expressing his frustration aloud, as he often does. But at the time, some in the White House and on Capitol Hill feared that Gorsuch's confirmation — which had been shaping up to be one of the clearest triumphs of Trump's tumultuous young presidency — was on the verge of going awry.

Trump blasted The Washington Post report on Gorsuch as "FAKE NEWS" on Twitter early Tuesday. "I never even wavered and am very proud of him and the job he is doing as a Justice of the U.S. Supreme Court," he tweeted. "The unnamed sources don't exist!"

This account is based on interviews with 11 people familiar with the episode, some of whom spoke on the condition of anonymity to discuss private deliberations.

Trump was especially upset by what he viewed as Gorsuch's insufficient gratitude for a lifetime appointment to the nation's highest court, White House officials said. The judge sent the president a handwritten letter dated March 2, thanking him for the nomination and explaining how grateful he was, according to a copy obtained by The Post.

"Your address to Congress was magnificent," Gorsuch wrote. "And you were so kind to recognize Mrs. Scalia, remember the justice, and mention me. My teenage daughters were cheering the TV!"

The reference to "the justice" was to Antonin Scalia, the late justice whom Gorsuch replaced, and "Mrs. Scalia" is his widow, Maureen.

Aides said Trump did not immediately receive the note, but it was retrieved by legislative affairs director Marc Short and then viewed by Trump on March 10, helping ease his concerns.

"As head of legislative affairs, our team was in charge of his nomination, and never did I view his nomination in jeopardy, nor did the president ever suggest to me that he wanted to pull him," Short said. "The process obviously caused frustration, but that frustration was compounded by the fact that Gorsuch had sent him a personal letter that he never received."
Gorsuch's comments, which were also reported as having been made in response to a similar question from Nebraska Senator Ben Sasse, back when they were first reported. Specifically, it was reported that Gorsuch had expressed dismay to both Blumenthal and Sasse over any attacks on the Judiciary, although he declined to specifically call out the President for the comments that he had made in the past. As I noted at the time, there was some speculation at the time that Trump might withdraw Gorsuch's name from consideration based on the fact that the nominee had essentially repudiated Trump's repeated attacks on the Judiciary both as a candidate and since becoming President. However, that kind of move seemed unlikely at the time since the Gorsuch nomination was one of the few things that the President had done up to that point that was receiving any real praise from outside observers and that, as things stood, it seemed likely that Gorsuch would ultimately be confirmed, giving the President something he could count as a win early in his Presidency. That ultimately, proved to be the case, of course, and the story basically died out after Gorsuch was confirmed.
As Aaron Blake notes in The Washington Post, though, this report is consistent with something we already know to be true about Trump, namely the fact that he is obsessed with getting pledges of loyalty even from people that have no place giving him one:
What's perhaps most notable here is how thoroughly unsurprising this is. Time and again, Trump has been frustrated by a lack of fealty from those he has elevated to high-level posts. Sometimes, as with Secretary of State Rex Tillerson, Trump has a very reasonable expectation of loyalty. But where this has really blown up is when the Trump appointee is in a position in which loyalty to the chief executive isn't really in the job description. And these conflicts have provided or cast a shadow over some of the defining moments of his presidency.

Among those whose lack of loyalty have reportedly frustrated Trump, in addition to Gorsuch, are former FBI director James B. Comey, Attorney General Jeff Sessions, and Deputy Attorney General Rod J. Rosenstein. All three work for federal law enforcement, where their loyalty is to the law, and that has created clear conflicts with Trump because of the Russia investigation. Trump fired Comey, has frequently stewed about Sessions's decision to recuse himself from the investigation and for his lack of initiative in going after Trump's antagonists, and has repeatedly suggested Rosenstein (who appointed Russia special counsel Robert S. Mueller III) is a Democrat.

Trump has also been frustrated by what he sees as a lack of loyalty from Republican members of Congress who have failed to pass his agenda, ignoring the fact that they were elected by their own constituents and come from what the Constitution lays out as coequal branches of government.

(…)

The unhappiness with Gorsuch is really just an extension of all of this — and the kind of Trump behavior that earned Gorsuch's rebuke in the first place. Trump had criticized the judiciary for halting his travel ban executive orders by suggesting the judges were biased and were acting beyond their mandate. He even suggested he might wage a campaign against judges who run afoul of him. This made pretty much anybody who believes in the separation of powers — and the judiciary's independence from the executive branch — squeamish. It was the first time that many started worrying about Trump spurring a constitutional crisis.
All of this is consistent with something I have made note of regarding Trump in the past, specifically his obvious contempt for the Rule of Law:
Based both on his rhetoric and his actions, Donald Trump gives the impression of being a President who sees himself as  unconstrained by the law or the other branches of Government in the tradition of Jackson or Richard Nixon, both of whom set off Constitutional crises from which it took the nation years to recover. As in the case of those two previous Presidents, he would likely justify his actions by appealing to the same populist, anti-establishment rhetoric that has fueled his campaign from the start. The difference is that, this time, he would be President of the United States and his rhetoric would be tied to action that could do real damage to the Rule of Law and to the Constitution. Furthermore, unlike any of his predecessors, Trump seems to have command over a mob of supporters that would rush to his defense even when he was clearly wrong. This is why the arguments that equate Trump to the European far right, and even to fascists and authoritarians of the past, are completely on the mark. Either Donald Trump is lying to his supporters or he is the kind of man who cannot be trusted with political power even in a Constitutionally limited democratic republic. Under the circumstances, it would be foolish for anyone to believe that this is all a big con on Trump's part, and much safer to assume that he quite simply cannot be trusted with political power.
There have been a varying degree of suggestions to try to explain this President's obsession with pledges of loyalty, most especially from people in the government who have no business making such pledges. Some have pointed to it as further evidence of Trump's authoritarian tendencies, which would certainly be consistent with his open admiration for former Presidents such as Andrew Jackson and the fact that he quite obviously seems more at home among the company of dictators from nations such as Egypt,  Saudi Arabia, The Phillippines and, of course, Russia than he does with long-standing democratic allies such as Great Britain, France, and Germany. For others, the roots lie in Trump's psychology and his need for control and that the reassurance that people are loyal to him and him alone is more a personal thing than a political one. Whatever the explanation is, it's not healthy and it's not something that we ought to be seeing in the President of the United States.