Trump Ends 2018 With An Astounding Number Of Lies Under His Belt
The fact that this President is a congenital liar is well-known. The actual number of lies less than two years into his Presidency, though, is astounding.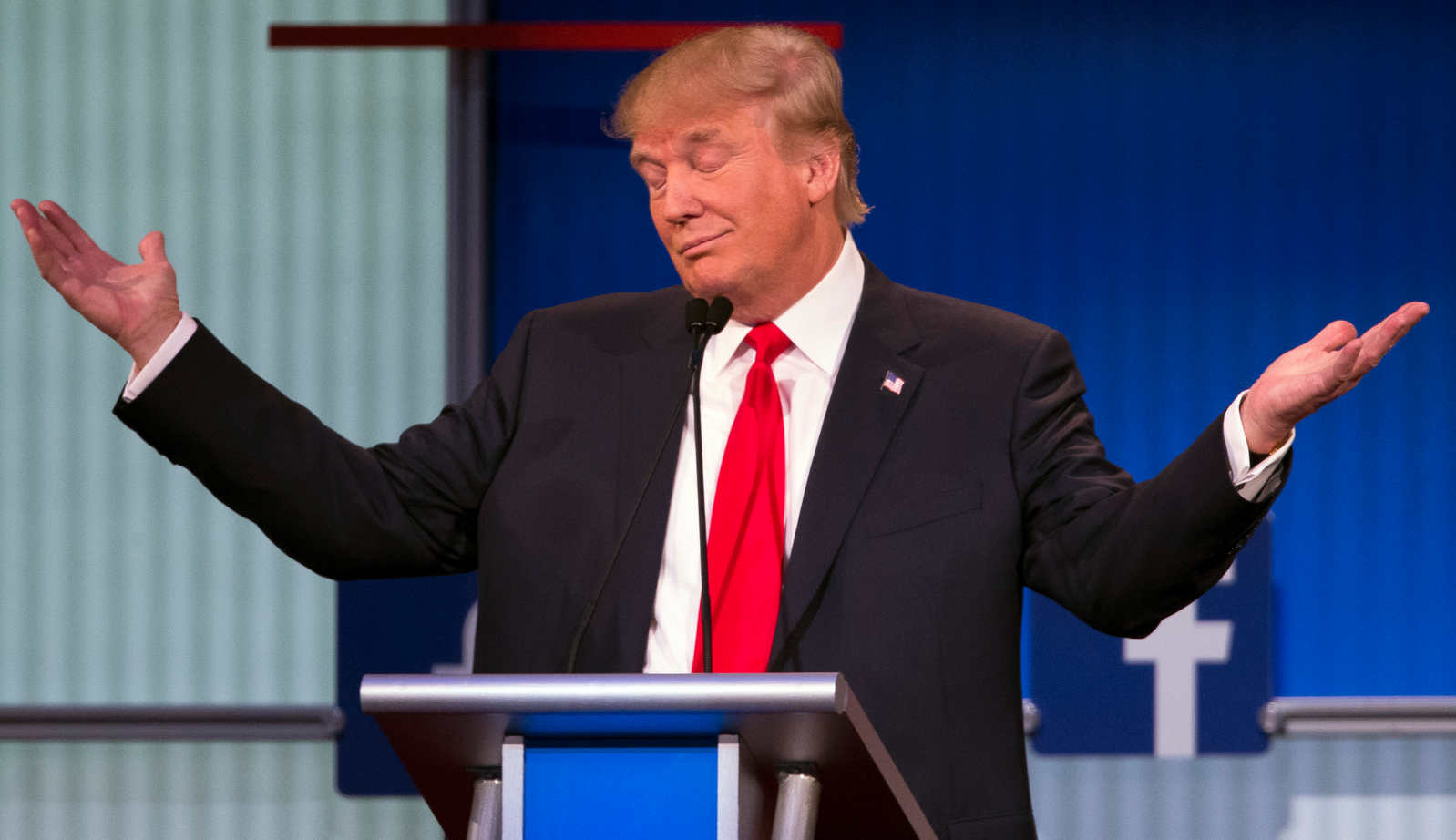 With the end of the year almost upon us, the folks at The Washington Post has updated their always expanding list of the President's lies Fact-Checker blog have once again, and it just seems to be getting worse:
The numbers are astonishing.

In the first eight months of his presidency, President Trump made 1,137 false or misleading claims, an average of five a day. In October, as he barnstormed the country holding rallies in advance of the midterm elections, the president made 1,205 claims — an average of 39 a day.

Combined with the rest of his presidency, that adds up to a total of 7,546 claims through Dec. 20, the 700th day of his term in office, according to The Fact Checker's database that analyzes, categorizes and tracks every suspect statement uttered by the president.

The flood of presidential misinformation picked up dramatically as the president campaigned across the country, holding rallies with his supporters. Each of those rallies usually yielded 35 to 45 suspect claims. But the president often tacked on interviews with local media (in which he repeats the same false statements) and gaggles with the White House press corps before and after his trips.

The second biggest month was November, with 866 claims, and that's largely because of the president's rallies just before the Nov. 6 election. Four of his five most prolific days for falsehoods fell in November.

Nov. 5, when he held rallies in Fort Wayne, Ind., Cape Girardeau, Mo., and Cleveland:  139 claims.
Nov. 3, when he held rallies in Pensacola, Fla., and Belgrade, Mont.: 130 claims.
Nov. 2, when he held rallies in Indianapolis and Huntington, W.Va.: 97 claims.
Nov. 26, when he held two rallies in advance of a special election in Mississippi: 90 claims.

More than a quarter of Trump's claims, 2,032, came during campaign rallies. An additional 1,921 came during remarks during press events, and 1,266 were the result of the president's itchy Twitter finger.

The president's proclivity to twist data and fabricate stories is on full display at his rallies. He has his greatest hits: 124 times he had falsely said he passed the biggest tax cut in history, 110 times he has asserted that the U.S. economy today is the best in history, and 92 times he has falsely said his border wall is already being built. (Congress has allocated only $1.6 billion for fencing, but Trump also frequently mentioned additional funding that has not yet been appropriated.) All three of those claims are on The Fact Checker's list of Bottomless Pinocchios.
The stories go on and on, and by now we're all familiar with them. There's basically a day that doesn't go by where, if the President speaks publicly or sends a message out via Twitter, the President does not tell a lie, mislead, or, as is the case with Senator Blumenthal, simply invent things out of whole cloth. In many cases, of course, these are repeats of things he's lied about before, but every now and then something new enters his repertoire, and without fail becomes yet another one of the many lies he tells on a regular basis. Most recently, of course, Trump's lies have centered around the caravan of Central American migrants which he contends, without evidence, is full of criminals and gang members, and which he has used as part of his argument in the current battle over funding for the President's border wall.
Based on the Post's numbers as of December 20th, the President is averaging roughly 10.78 lies per day over the 700 days that the Post based its numbers on. This average has increased significantly each time the Post's fact-checker has reviewed its numbers and seems to be getting worse as the President gets sucked into the pressures of the Mueller investigation, the investigation of the U.S. Attorney in New York, the political pressures created by the Democrats taking  If he maintains this average, he will have told an astounding 15,760 lies for the duration of his first term in office. If he maintains this average over the course of two terms, then he will have told just under 31,500 lies over the course of an eight-year Presidency.  While I'm as cynical as the next person when it comes to the tendency of politicians tell the truth, this is an extraordinary number of lies coming from one person and it's arguably consistent with the type of person who either does not believe he is obliged to tell the truth or that he is simply so used to lying that it comes as easily to him as putting on a pair of shoes.
This latest update should come as no surprise. Shortly after the Republican National Convention in 2016, Politifact found that nearly 80% of the claims that candidate Trump had made on the campaign trail since entering the race the year before had been a lie of some form or another. That trend continued for the balance of the campaign, including even during Trump's Presidential debates with Democratic nominee Hillary Clinton. While there were several points during those debates that either one of the moderators or Clinton herself called these lies out, their sheer number was almost impossible for any one person to keep track of without losing their mind. This trend continued after the election, of course, and Trump wasn't even in office for twenty-four hours before he told the first of his many lies regarding the size of his Inauguration Day crowd as well as spreading false claims that millions of people illegally cast votes for Hillary Clinton in the election, a claim for which he has of course never provided anything close to proof.. From that point forward, the trend was set and we're now at the point where I'm sure that Glenn Kessler and the rest of the fact checkers at the Post and other similar outfits are glad to have access to a computer that can keep track of the numbers for them.
Given the extent to which he makes things up on the fly, whether it's during one of his rallies, during an interview, or on Twitter, it's hardly surprising that the President has faired so badly with the fact-checkers. From the start of his campaign, he's made false and easily disproven claims about Mexicans and crime, about immigrants in general, about Muslims, and about policy issues ranging from international trade to foreign policy to history. Indeed, it can truly be said there are few politicians in American history who have been quite as skilled as Donald Trump when it comes to being able to lie so easily and so frequently. Additionally, the ease with which he does so makes it seem as though he believes what he's saying, or that he simply doesn't care if it's true or not. It's a skill he honed during the time he was considered a "celebrity" before becoming a Presidential candidate. Back then, of course, even his most obviously exaggerated claims about his own business success would be slavishly repeated by the media rather investigated to see if they were actually true. If Trump learned from that experience is that it largely did not matter if the claims he made were true or not. For the most part, the people reporting the "news" about Trump back then were not inclined to check just how much of what he said was true. Indeed, given the fact that it was his status as an ostentatious celebrity that caused the public to tune in or buy newspapers and magazines when they covered him, it was not in their interest to deflate him, but rather to build him up since the relationship between celebrities and the media that covers them is largely a symbiotic one where the media benefits by inflating the ego of the celebrity, and the celebrity benefits by letting the media cover him or her.'Throughout his pre-Presidential life, Trump took advantage of that relationship with the media to hype his "brand" even when it meant telling outright and obvious lies that only a handful of reporters bothered to try to verify.
If all of this is starting to sound like a broken record that keeps repeating itself endlessly, that's because it is. That Donald Trump lies is not news anymore. That he lies with the ease that most of us put our shoes on each day is not shocking. That he tells lies that are so easily disproven doesn't even appear to bother a large number of people. For those who have given up on him, the lies are just a matter of course. For those who will continue to support him no matter what, the lies are either irrelevant or the people who establish that he is, in fact, lying are agents of the "Deep State," the "mainstream media," or they simply ignore them. More concerning, though, is the fact that many of these Trump supporters simply don't care that the President is lying to them. For some, it's because they've, like many other conservatives long ago locked themselves into the Fox News/conservative media bubble. For other's those, it's because they've become part of what can only be called a cult of personality that has built up around Trump. These people aren't going to be persuaded by the truth, heck they wouldn't be persuaded even if the President were found to have acted in a criminal manner and forced out of office. While there have been Presidents in the past who have been personally popular, especially within their own parties, we've never seen this kind of cult of personality before, and it's own that should concern everyone.
In any case, gettting back to the issue at hand. We've established beyond a reasonable doubt that this President is a congenital, habitual liar. Nothing he says can be trusted to be true, nor should it be. The implications this could have for a future crisis of either a domestic or international scope cannot be overstated. After all, if our President can lie so easily about something as trivial as the size of his Inauguration Day crowd, what basis do we have for trust anything he says about any subject?