Trump Gaining With Less Educated Whites, Losing With College Grads
Donald Trump is doing worse with white voters than Mitt Romney did in 2012.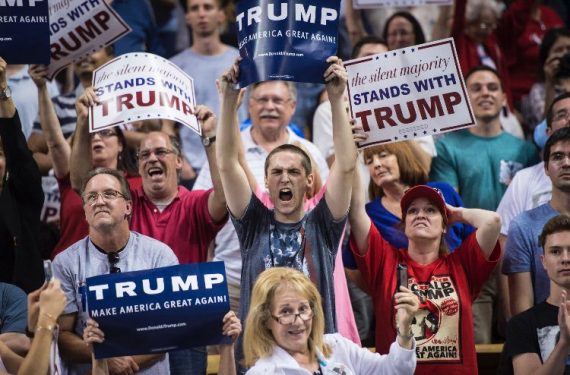 FiveThirtyEight's Henry Enten aggregates recent polls and finds that Donald Trump is doing worse with white voters than Mitt Romney did in 2012:
Donald Trump's strategy in this campaign has been fairly clear from the beginning: Drive up Republican support among white voters in order to compensate for the GOP's shrinking share among the growing nonwhite portion of the electorate. And Trump has succeeded in overperforming among a certain slice of white voters, those without a college degree. But overall, the strategy isn't working. Trump has a smaller lead among white voters than Mitt Romney did in 2012, and Trump's margin seems to be falling from where it was when the general election began.

Four years ago, Romney beat President Obama among white voters by 17 percentage points, according to pre-election polls. That was the largest winning margin among white voters for any losing presidential candidate since at least 1948. Of course, even if Trump did just as well as Romney did, it would help him less, given that the 2016 electorate will probably be more diverse that 2012's. And to win — even if the electorate remained as white as it was four years ago — Trump would need a margin of 22 percentage points or more among white voters.

But Trump isn't even doing as well as Romney. Trump is winning white voters by just 13 percentage points, according to an average of the last five live-interviewer national surveys.1 He doesn't reach the magic 22 percentage point margin in a single one of these polls.

[…]

Perhaps, it would be better news for Trump if he were at least trending in the right direction with white voters. But he's moved backward compared with polls back in May and early June. Back then, Trump led Clinton by 17 percentage points, on average, among white voters. In other words, the longer white voters have had a chance to listen to Trump's message, the more they have been put off by it as a group.

To be more specific, Trump is trading one type of white voter for another. Even as he piles up support among white men without a college degree, he's on track for a record poor performance for a Republican among white voterswith a degree.
There's no examination of crosstabs—if they even exist in these surveys conducted by media organizations to gin up fake news—so we can only speculate as to why Trump is polarizing the white vote along educational lines. But the answer would seem obvious: Trump's overtly nativist, even racist, appeals; his bizarre misogyny; and his lack of policy knowledge or coherence are less palatable to educated voters than uneducated ones.
Beyond that, college-educated people are simply less desperate and therefore less susceptible to Trump's message. Yesterday on Twitter, Steve Metz pointed to a WaPo article headlined "White working-class men increasingly falling behind as college becomes the norm"
The economic status of white men without a college education is bleaker now than a generation ago, a new study shows.

Although the working-class and college-educated start their adult lives with roughly similar incomes, the earnings for those with college educations begin to soar soon after they enter the workforce, while earnings for those with only a high school education leveled off much earlier, according to a report released Wednesday by Sentier Research, a firm led by former census officials, that analyzed outcomes for white men from 1996 to 2014.

The report also found that the gap in fortunes between the ­college-educated and those with high school degrees or the ­equivalent has widened dramatically in the past 20 years. Adjusted for inflation, white working-class men earned more from 1978 to 1996 than they did from 1996 to 2014, while earnings for ­college graduates rose during that period.
The accompanying graphic is rather stunning: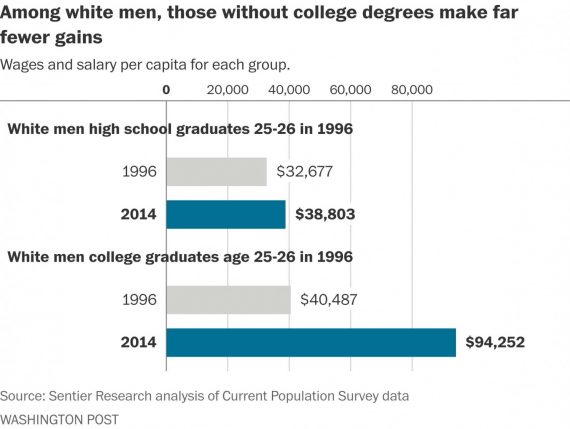 Metz acknowledged the disparity but commented, "I still don't see why they think Trump offers a solution. My off-the-cuff response was, "I think the idea is that everyone else is status quo. It's Underpants Gnome theory. My slightly more considered view is that, as bizarre and insulting as Trump's messaging has been, he's at least responding to this issue in a way that resonates with those most affected.
Back to the WaPo piece:
"Everybody's talking about this group and how badly they've suffered, but there really hasn't been any hard data till now," [study co-author Gordon] Green said, adding that the decline in fortunes has been long underway. "We've been losing industrial jobs for several decades and many of the ­working-class people were in these kind of jobs, and once those jobs went overseas they could not get comparable pay. . . . The people who were working in those jobs didn't have the training for the higher technology, for the way jobs evolved."
During the primaries, the Republican candidates whom I considered palatable—John Kasich, Jeb Bush, and possibly Marco Rubio—gave variations of the economic policy proposals that have been GOP staples going back to Ronald Reagan's 1980 campaign: lower taxes and smaller government. Trump was really the only guy proposing a radical departure from the status quo.  Yes, his messaging was arguably racist and certainly insulting to the Hispanic community and that in and of itself has an appeal to those looking for someone to blame for their misfortunes. But Trump was also promising to actually do something—if not precisely clear what—to bring lost jobs back to our shores and stop the (actually already moving in reverse) tide of illegal immigrants coming across the border to drive down wages and drive up competition for low skill jobs.
For college-educated voters, Trump's language and proposals were unsettling. But, more importantly, the problems he's trying to solve doing directly impact us.
Hillary Clinton should be doing better than she is, given both the relatively strong state of the economy under a Democratic president and the historically bad campaign being run by her spectacularly unqualified opponent. But, as Steven Taylor notes, the overwhelming number of voters are virtually unpersuadable because of party/team/tribal loyalties. Beyond that, while Clinton's economic proposals are objectively more logical from the standpoint of people who have taken a college economics course, they, as with those of Kasich and Bush, don't address the visceral fears and futility of the white working class. (The black and Hispanic working classes, presumably, face the same problems at even higher levels. But Trump's language and the GOP brand make him a non-starter in those communities.)
White voters are a declining share of the electorate to begin with and Trump is actually going to do worse with them than recent, losing Republican candidates. And he'll likely do worse among the growing Hispanic population, too. Even though Clinton is likely to do less well at turning out blacks and young people than Obama did in 2012—and certainly than he did in 2008—it's almost unfathomable that she won't win this thing.
I fear the aftermath of this campaign. Trump's core supporters, who have becoming increasingly angry in recent years, manifesting in such things as the Tea Party and, well, the nomination of Trump, live in a bubble. Everyone they know supports Trump. The media they consume are minimizing Trump's flaws and amplifying Clinton's. And their candidate has been telling them that the system is rigged against him for months.