Trump Immune from 'Racism' Charge?
The President's approval is up and disapproval down after the latest incidents.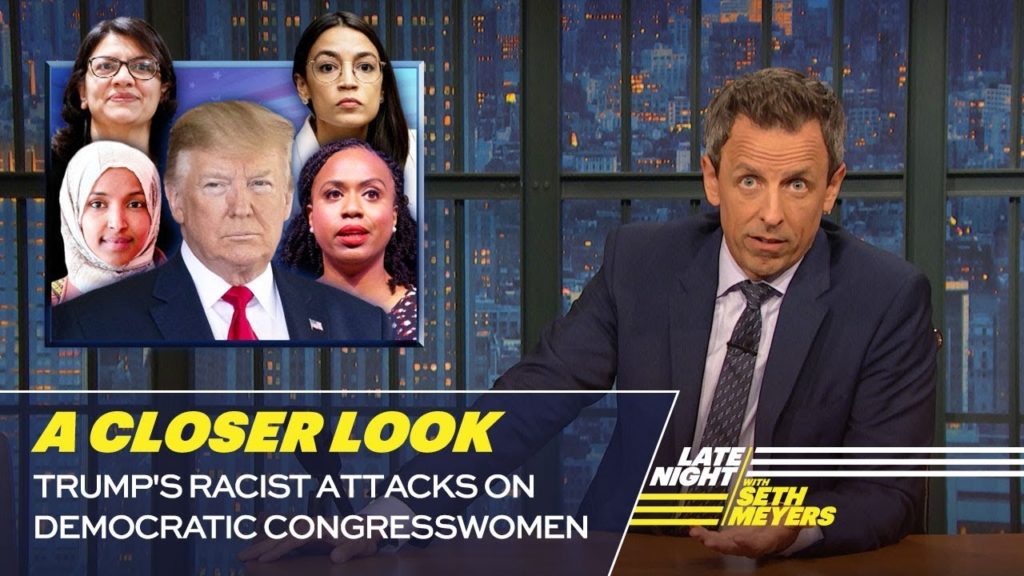 Dave Schuler notes that President Trump seems to have become slightly more popular after being roundly criticized for repeated attacks on four Democratic Congresswomen of color.
As of today President Trump's job approval rating based on the RCP Average of Polls (sampled above) is 45%. The spread (the difference between approval and disapproval ratings) is 6.6 points, the most favorable since the earliest days of his presidency. The polls included in this RCPPA includes polls taken after the tweets heard 'round the world and incessant charges of racism. Those polls include Rasmussen (50%), Reuters/Ipsos (44%), and Economist/YouGov (46%). An approval rating on election day of 51% is generall considered a lock on re-election.

I don't know what this improvement in Trump's approval rating portends for his re-election but I think it's fair to speculate that he is now immune to charges of racism.
The RealClearPolitics average is slightly skewed by its inclusion of the controversial Rasmussen poll, which is widely understood to lean Republican in its voter screen. Alone among the surveys included in the average, it shows Trump with higher approval than disapproval numbers. Indeed, the only polls going back months that show Trump at 50% or higher or in the black are from that firm. In fairness, though, Rasmussen is the only poll currently trying to survey likely voters; the others are still looking at registered voters or even just adults.
Regardless, Rasmussen has long been included in the index, so it doesn't skew analysis of trends. And Dave is right: things are looking much better for Trump than they have in a long time.
Here's the maximum view, going back to Trump's inauguration: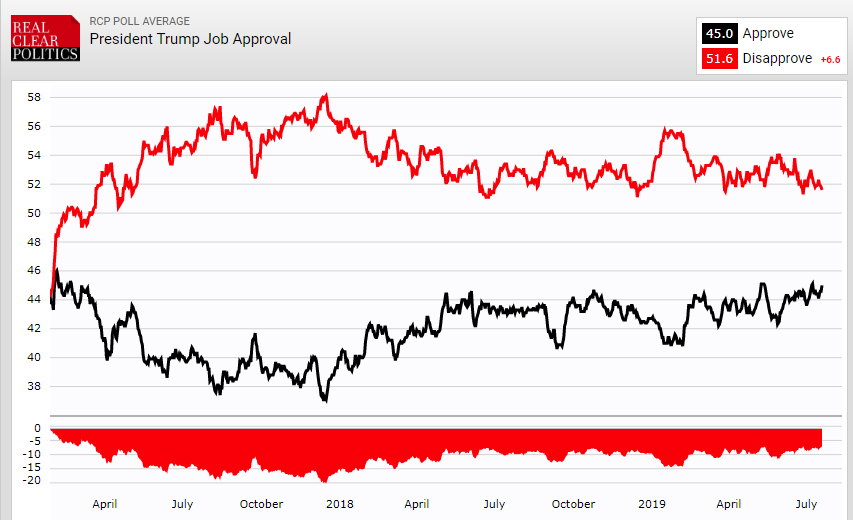 With the exception of the first few days of his Presidency, Trump has been underwater. His high water mark came on 4 February 2017, when he hit 46% approval. But his disapproval was already at 48.3. The closest he came to being above water—with higher approval than disapproval—came a week into his administration, 27 January 2017, when he was at 44.2 approval to 44.3 disapproval.
By any standard, then, that's just awful. Getting up to the magic 51% seems unlikely, indeed, when he's never been above 46% despite a strong economy.
Still, the low water mark was a long time ago, too. On 14 December 2017, his disapproval was a stunning 57.9 and his approval a mere 37.3–a gap of 20.6.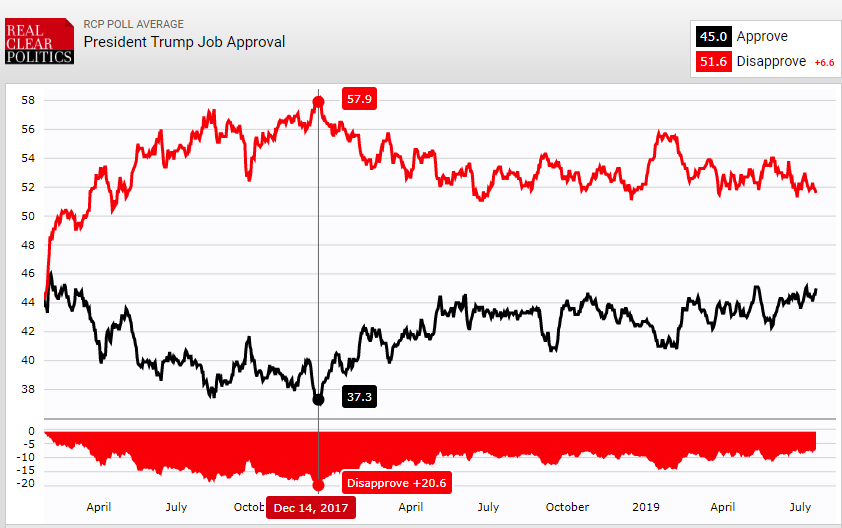 He has, in effect, made up 14 points since and has had a relatively small gap—albeit a steady one always in the wrong direction—in recent months.
Speculating on his re-election this far out—long before we know who he's running against, much less the state of the economy a year from now—is interesting if pointless. But Dave's secondary claim—that Trump "is now immune to charges of racism"—is worth pondering.
The polling on this is fairly clear.
Americans say, 50% to 35%, that President Donald Trump is a racist, a new HuffPost/YouGov survey finds, virtually unchanged from public opinion polling in February.

An overwhelming 88% majority of Trump voters say that the president is not racist, while an equally overwhelming 92% of those who supported Hillary Clinton in the 2016 election say he is. Those who stayed home for the election or supported another candidate say, 49% to 22%, that Trump is a racist.
Here's the raw data from the most recent iteration:

The results pretty much mirror the election returns: women, blacks, Hispanics, and the young overwhelmingly think Trump is racist; men, whites, and the elderly think he's not. Still, even 5% of those who voted for him last cycle and 10% of self-identified Republicans say he's racist.
I'd say, then, that it's not so much that Trump is "immune from charges of racism" but that the racism is already baked in. It's pretty much inconceivable that Trump will do anything going forward to convince those who don't already think he's racist otherwise; he's certainly not going to win back those who think he is. And the "not sure" numbers are pretty small.
Clearly, for some of Trump's supporters, the racism is a feature, not a bug. But I think most who still identify as Republicans simply think his "go back and help fix the totally broken and crime infested places from which they came" tweets are some combination of the old "America: love it or leave it" and "owning the libs" and are baffled at the notion that it's racist.
Obviously, I disagree. While almost all of his statements and tweets—including that one—are defensible in isolation, his overall messaging going back to his championing of the Birther movement is clearly intended to pander to white nationalist sentiment. But I don't think anyone who doesn't already see that is likely to be persuaded between now and the election.