Trump Likely to Claim Victory
The expectations game will be especially tricky this year.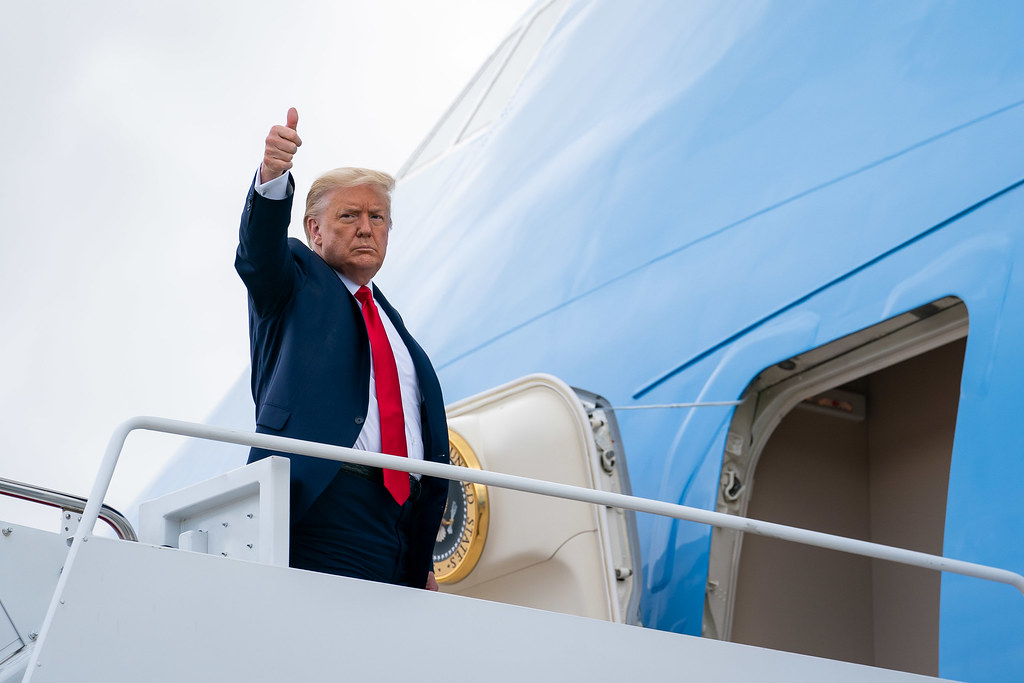 If, a Biden landslide becomes obvious tomorrow evening, we will even President Trump is likely to see the writing on the wall. But it's quite possible that Trump will appear ahead at the end of the evening because so many Democrats have voted early. And that could be the start of a crisis.
Axios' Jonathan Swan:
President Trump has told confidants he'll declare victory on Tuesday night if it looks like he's "ahead," according to three sources familiar with his private comments. That's even if the Electoral College outcome still hinges on large numbers of uncounted votes in key states like Pennsylvania.

The latest: Speaking to reporters on Sunday evening, Trump denied that he would declare victory prematurely, before adding, "I think it's a terrible thing when ballots can be collected after an election. I think it's a terrible thing when states are allowed to tabulate ballots for a long period of time after the election is over."

He continued: "I think it's terrible that we can't know the results of an election the night of the election. … We're going to go in the night of, as soon as that election's over, we're going in with our lawyers."

"We don't want to have Pennsylvania, where you have a political governor, a very partisan guy. … We don't want to be in a position where he's allowed, every day, to watch ballots come in. See if we can only find 10,000 more ballots."

Behind the scenes: Trump has privately talked through this scenario in some detail in the last few weeks, describing plans to walk up to a podium on election night and declare he has won.

For this to happen, his allies expect he would need to either win or have commanding leads in Ohio, Florida, North Carolina, Texas, Iowa, Arizona and Georgia.

Why it matters: Trump's team is preparing to falsely claim that mail-in ballots counted after Nov. 3 — a legitimate count expected to favor Democrats — are evidence of election fraud.

Details: Many prognosticators say that on election night, Trump will likely appear ahead in Pennsylvania — though the state's final outcome could change substantially as mail-in ballots are counted over the following days.

Trump's team is preparing to claim baselessly that if that process changes the outcome in Pennsylvania from the picture on election night, then Democrats would have "stolen" the election.

Trump's advisers have been laying the groundwork for this strategy for weeks, but this is the first account of Trump explicitly discussing his election night intentions.

What they're saying: Asked for comment, the Trump campaign's communications director Tim Murtaugh said, "This is nothing but people trying to create doubt about a Trump victory. When he wins, he's going to say so."

Trump campaign senior adviser Jason Miller predicted that Trump "will be re-elected handily and no amount of post-election Democratic thievery will be able to change the results."
This strikes me as not only plausible but likely.
Further, as Washington Post media columnist Margaret Sullivan notes, this plays into a particular weakness of the American media culture.
"The public has been conditioned to expect a winner within hours of the polls closing, but the numbers collected on election night are not necessarily decisive," wrote veteran news executive Vivian Schiller in Columbia Journalism Review. She and Garrett Graff, the former editor of Politico Magazine, offer 10 recommendations for journalists, based on discussions at the Aspen Institute, where they both now work.

At least one of their pieces of advice seems close to impossible for the mainstream media, as we've come to know and love it, to ever achieve: "Don't parrot premature claims of victory."

Journalists at this fraught moment carry a heavy burden to do something that is not in their nature: to be patient, to linger with the uncertainty and to explain relentlessly rather than join a rush to judgment.

"This is a watershed moment for American journalism," Alan Miller, founder of the News Literacy Project, recently wrote. "The stakes for democracy are sky-high."

Network anchors, both broadcast and cable, will carry a particularly key responsibility. As Miller, a Pulitzer-winning former investigative reporter with the Los Angeles Times, puts it: "They need to provide contextual reporting and analysis, explaining that delay does not necessarily signal dysfunction and careful counting does not automatically suggest corruption."

Just as important, though, will be those who run the network and wire service "decision desks," which determine whether to "call" a particular state as having been won by one candidate or the other. Fox News — somewhat surprisingly, given its longtime conservative and now extremely pro-Trump bent — has one of the most trustworthy of these. And in this moment, the pressures will be great on Fox News's in-house deciders.

One of the trickiest tests is that journalists — especially political reporters — have been immersed in this subject for months, even years. They understand very well that the extraordinary number of mail-in ballots brings a particular challenge; in some states, election officials can't start counting them until Election Day. Journalists have also been keeping track of the various court decisions, including ones in swing states like Wisconsin and Pennsylvania, that could have profound effects on which ballots are counted and when.

But most Americans, even if they care deeply about the election's outcome, probably haven't followed those ins and outs. As in the 2000 race between George W. Bush and Al Gore, they just want to know who won.
Still, like Sullivan, I have reasonable confidence that the press learned something from 2000 and 2016. In 2000, in particular, the networks, somehow having not understood that the state had two time zones, all prematurely called Florida for Al Gore while voting was still going on in the Republican-rich Panhandle only to have to recant that call hours later and then, finally, prematurely calling it for George W. Bush. Then NBC News anchor pronounced that, "We don't just have egg on our face–we have an omelet."
And, yes, I'm actually reasonably confident that the decision guy at Fox News will also act professionally. Their on-air commenters may not but the news desk itself takes pride in doing serious journalism.
The problem, actually, is that so much of the "media" is no longer comprised of professional journalists. I can only imagine what Twitter and Facebook are going to look like tomorrow night, especially if it's closer than I'm predicting.