Trump Puts Jared Kushner In Charge Of His Border Wall
President Trump has put his son-in-law in charge of building the border wall.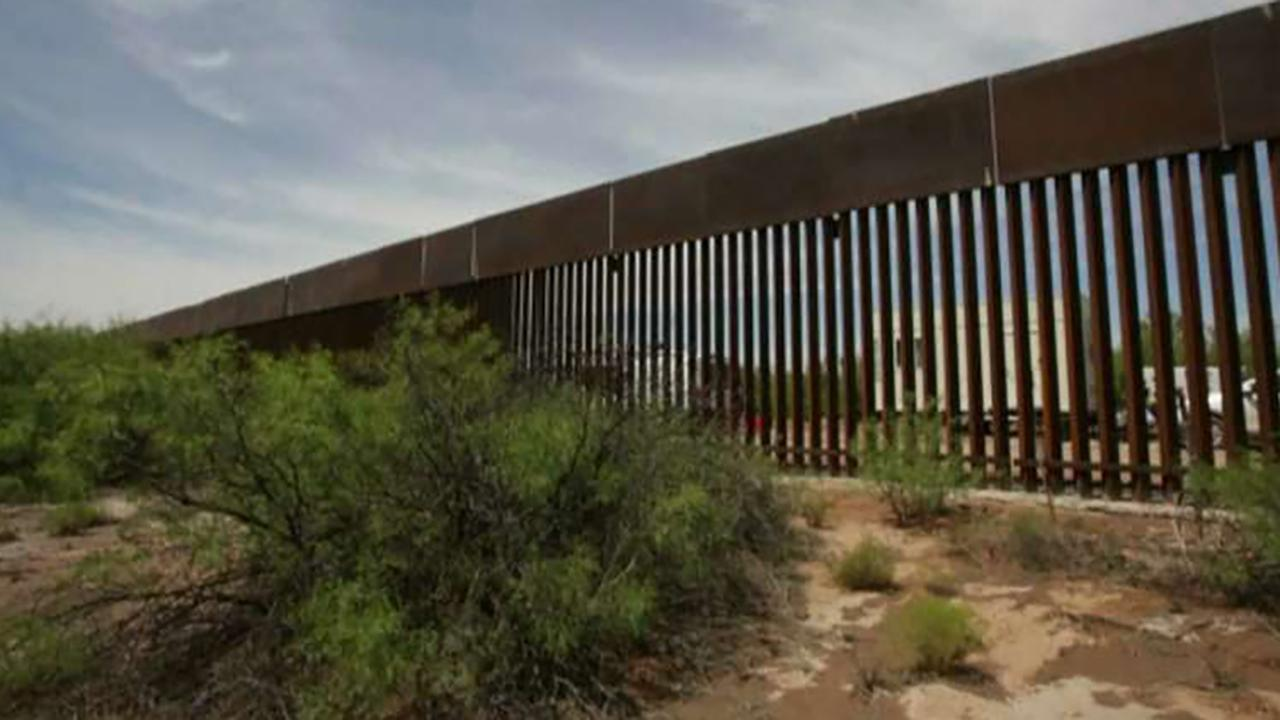 In addition to all his other duties, which apparently includes being a Senior Presidential Adviser, a backchannel to the de facto leader of Saudi Arabia, and the chief envoy for the Administration's seemingly moribund Middle East peace plan, Presidential son-in-law Jared Kushner apparent has a new job. He's been put in charge of overseeing construction of the President's beloved border wall:
President Trump has made his son-in-law, Jared Kushner, the de facto project manager for constructing his border wall, frustrated with a lack of progress over one of his top priorities as he heads into a tough reelection campaign, according to current and former administration officials.

Kushner convenes biweekly meetings in the West Wing, where he questions an array of government officials about progress on the wall, including updates on contractor data, precisely where it will be built and how funding is being spent. He also shares and explains the president's wishes with the group, according to the officials familiar with the matter, who spoke on the condition of anonymity to discuss internal White House deliberations.

The president's son-in-law and senior adviser is pressing U.S. Customs and Border Protection and the U.S. Army Corps of Engineers to expedite the process of taking over private land needed for the project as the government seeks to meet Trump's goal of erecting 450 miles of barriers along the U.S.-Mexico border by the end of 2020. More than 800 filings to seize private property will need to be made in the coming months if the government is going to succeed, officials aid.

Kushner has told other West Wing officials that he is in charge of the wall, according to aides, and that it is paramount to Trump that at least 400 miles be built by Election Day.

"The point is to get as much built in the next year or so, so the president can say in the face of intense, almost demented opposition he has made reasonable progress," said Mark Krikorian, director of the Center for Immigration Studies, a Washington think tank that seeks to restrict immigration and supports many of Trump's policies.

(…)

Kushner has clashed with the career officials who have questioned some of his ideas, such as installing web cameras to live-stream construction. He has blamed former chief of staff John F. Kelly and former homeland security secretary Kirstjen Nielsen for not focusing enough on the wall, senior administration officials said. For their part, former officials have said Kushner displays a lack of knowledge of the policy issues and politics involved in the immigration debate.

The wall adds to Kushner's growing portfolio of responsibilities, which some of his critics have said border on comical. Since the start of the Trump presidency, Kushner has been entrusted with striking a Middle East peace deal, taking a lead role on trade policy, overseeing criminal justice reform and modernizing the government, with mixed results.

Kushner is also seeking to again push an overhaul of the legal immigration system after his first attempt failed to gain much support in Congress, and he has taken on a leadership role in the 2020 presidential campaign.

Some of Kushner's critics say he can be tone-deaf when it comes to politics and does not understand or respect the value of having multiple agencies work through an official process on a project. And they snidely joke that it is ironic that an aide Trump occasionally mocks as a Democrat is in charge of the project, which has attracted significant criticism. But he remains the most influential adviser in the West Wing and enjoys a level of trust from the president that makes him unique within the administration, according to current and former administration officials.

"My hope is Jared can put a more laser focus on the project and the process. Maybe he can light a fire under the responsible agencies, but if recent history is any indication, he will get frustrated before he gets results," said Sen. Kevin Cramer, a North Dakota Republican who has frequently talked with Trump about the project.

(…)

Army Corps leaders have expressed concerns about Kushner's aggressive view of the government's eminent domain authorities, which allow it to take over private land for public use, telling him they are committed to following established legal procedures.

During a recent meeting with officials at the border, Army Corps Lt. Gen. Todd Semonite told them to follow the law and not worry about politics, a person with knowledge of the meeting said.

One person involved in the construction of the wall, who spoke on the condition of anonymity to talk candidly, said Kushner has annoyed officials involved in the process because they said he displayed a lack of knowledge about the government procurement process and the "realities" of the project.

"So he took a much more hands-on role in figuring out, mile by mile, how to get more wall up," this person said. "It didn't help put wall up faster and cheaper. His interventions actually just created more inefficiency in the process."

The Trump administration has completed 83 miles of new barriers so far, according to the latest CBP figures, but nearly all of that is classified as "replacement wall," typically swapping out older, smaller structures for a row of steel bars 18 to 30 feet in height.

Kushner insists the administration remains on target to meet the president's goal of 450 miles by the end of next year, a pace that will require construction to accelerate at least fourfold, according to government data reviewed by The Washington Post. The president's son-in-law has set a goal of 30 to 35 miles of new barriers per month by spring, requiring crews to average a new linear mile of fencing every day.
Leaving aside the controversy surrounding the wall for a moment, this is yet another example of the nepotism that has taken place in this Administration. Notwithstanding the fact that they have absolutely no experience in government prior to entering the White House both Kushner and his wife First Daughter Ivanka Trump have been given responsibility for a wide variety of policy areas in which they seemingly have no relevant experience. In Kushner's case, this includes not only the controversial issue of immigration but also responsibility over far more complex issues that have plagued American Presidents for decades now. Any previous President would have been rightfully condemned for rewarding their family in this manner. For Trump, it's just another day at the office.
As for the border wall, which has been the crown jewel of the political movement that the President has led since the day he entered the race in June 2015, it's difficult to see how Kushner is going to be able to succeed where all those before him have failed.
As noted above, so far there have only been about 80 miles of border wall constructed. The vast majority of the work that has taken place, though, consists of the replacement of existing border barriers, some of which were in disrepair and scheduled to be replaced any way, and in any case, the entirety of what has been done falls far short of the 450 miles that the President wants to see by the time voters head to the polls next November. Indeed, if we kept up the current pace of construction it would be several years before we got anywhere close to the President's 2020 goal, something that his Democratic opponent is likely to point out when we get to the General Election next year.
Additionally, most of the progress that has been made with respect to either new construction or replacement has taken place on land owned by the Federal Government. Going forward the project will have to shift to land owned by American citizens. In many cases, this is family-owned land that they have owned longer than Texas has been a state and in many cases dating back to when it was still part of Mexico. Proceeding with construction on this land that will require eminent domain proceedings in order to go forward. Even if these procedures are expediated, they are going to slow down the construction process significantly, especially if some or all of the landowners choose to fight the matter in court and take advantage of the appeals process. Taking that into account, the odds that Kushner or anyone else will be able to achieve the President's 450-mile goal in less than 365 days is somewhere between slim and none.
None of this is to say that Kushner is being set up as a fall guy, of course. His position is secure as long as he remains married to Ivanka. Instead, one suspects that when failing to reach the 450-mile goal comes, as it inevitably will, the President will use this as he has always used his own Administration's failures, as a cudgel to attack his opponents. In this case, he'll use it to attack the Democrats and claim that the wall would have been completed if the Republicans controlled Congress. The truth, of course, is that the two budgets that were passed when the GOP did control all of Congress contained absolutely no funding for the wall in no small part because even the GOP leadership on Capitol Hill didn't support the wall enough to be willing to push for it at budget time. Despite this, Trump will blame the Democrats, and his supporters will eat it up.