Trump Sought To Build Trump Tower In Moscow While Running For President
New reports of Trump's business ties to Russia are raising eyebrows.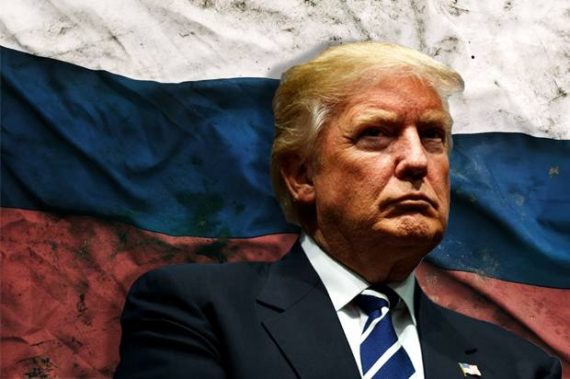 The Washington Post reports that Donald Trump was seeking to build a skyscraper in Moscow at the same time he was running for President:
While Donald Trump was running for president in late 2015 and early 2016, his company was pursuing a plan to develop a massive Trump Tower in Moscow, according to several people familiar with the proposal and new records reviewed by Trump Organization lawyers.

As part of the discussions, a Russian-born real estate developer urged Trump to come to Moscow to tout the proposal and suggested that he could get President Vladimir Putin to say "great things" about Trump, according to several people who have been briefed on his correspondence.

The developer, Felix Sater, predicted in a November 2015 email that he and Trump Organization leaders would soon be celebrating — both one of the biggest residential projects in real estate history and Donald Trump's election as president, according to two of the people with knowledge of the exchange.

Sater wrote to Trump Organization Executive Vice President Michael Cohen "something to the effect of, 'Can you believe two guys from Brooklyn are going to elect a president?' " said one person briefed on the email exchange. Sater emigrated from what was then the Soviet Union when he was 6 and grew up in Brooklyn.

Trump never went to Moscow as Sater proposed. And although investors and Trump's company signed a letter of intent, they lacked the land and permits to proceed and the project was abandoned at the end of January 2016, just before the presidential primaries began, several people familiar with the proposal said.

Nevertheless, the details of the deal, which have not previously been disclosed, provide evidence that Trump's business was actively pursuing significant commercial interests in Russia at the same time he was campaigning to be president — and in a position to determine U.S.-Russia relations. The new details from the emails, which are scheduled to be turned over to congressional investigators soon, also point to the likelihood of additional contacts between Russia-connected individuals and Trump associates during his presidential bid.

White House officials declined to comment for this report. Cohen, a longtime Trump legal adviser, declined to comment, but his attorney, Stephen Ryan, said his client "has been cooperating and will continue to cooperate with both the House and Senate intelligence committees, including providing them with documents and information and answering any questions they may have about the Moscow building proposal."

(…)

The negotiations for the Moscow project ended before Trump's business ties to Russia had become a major issue in the campaign. Trump denied having any business connections to Russia in July 2016, tweeting, "for the record, I have ZERO investments in Russia" and then insisting at a news conference the following day, "I have nothing to do with Russia."

Discussions about the Moscow project began in earnest in September 2015, according to people briefed on the deal. An unidentified investor planned to build the project and, under a licensing agreement, put Trump's name on it. Cohen acted as a lead negotiator for the Trump Organization. It is unclear how involved or aware Trump was of the negotiations.

As the talks progressed, Trump voiced numerous supportive comments about Putin, setting himself apart from his Republican rivals for the nomination.

By the end of 2015, Putin began offering praise in return.

"He says that he wants to move to another, closer level of relations. Can we really not welcome that? Of course, we welcome that," Putin told reporters during his annual end-of-the year news conference. He called Trump a "colorful and talented" person. Trump said afterward that the compliment was an "honor."

Though Putin's comments came shortly after Sater suggested that the Russian president would speak favorably about Trump, there is no indication that the two are connected.

There is no public record that Trump has ever spoken about the effort to build a Trump Tower in 2015 and 2016.

Trump's interests in building in Moscow, however, are long-standing. He had attempted to build a Trump property for three decades, starting with a failed effort in 1987 to partner with the Soviet government on a hotel project.
As noted, during the campaign Trump denied that he had any business interests in Russia and that his companies had never 'done any deals' in Russia over the years. At the time that he made this statements, it appears that the discussions about building in Moscow had ended, or at least been put on a back burner for one reason or another. What this report indicates, though, is that this wasn't entirely true and that Trump and his related businesses had long been seeking to do business in Russia for at least the last thirty years dating back to the time when the Soviet Union still existed. This demonstrates that Trump's statement, while technically true at the time he made them, were woefully incomplete in describing the extent of Trump's actual and potential business interests in Russia. In addition to this report, there have long been rumors that, in the years after several of his businesses were forced to file bankruptcy for a variety of reasons, Trump was forced to rely on loans backed by Russian banks for his projects, something that was seemingly confirmed by one report in Vanity Fair back in May where the President's son Eric Trump was reported by others to have bragged about in the 90s and early 2000s. Additionally, of course ,Trump has had a long history of praising Russian President Vladimir Putin and brushing aside reports about how he has had political enemies and journalists killed during his time in office. In interviews with both MSNBC's Joe Scarborough and former Fox News Channel host Bill O'Reilly, Trump largely dismissed those reports and suggested that the United States has done the same thing. All of this has led many to conclude that there have been connections between Trump and Russia in the past that continued while he was running for President, and which have the potential to influence his policy decisions as President as well.
All of this comes, of course, in the context of the ongoing investigations into the 2016 election, including both Russian interference in the election and communications and contacts between Russian officials and people close to Trump. While this report is far from a smoking gun of any kind, it does seem to suggest that Trump's previous claims of being completely disinterested in Russia as a business opportunity were not entirely truthful and could go a long way toward explaining his often obsequiously kind comments about Putin as a private citizen and as a candidate for President. It also leads to legitimate questions about Trump's financial ties to Russia that would seem to be a reasonable line of inquiry by both special counsel Robert Mueller and the various Congressional committees investigating this matter. It's far too early to tell if anything will come of those lines of inquiry, of course, but the fact that Trump apparently sought to conceal these contacts at the same time he was heaping praise on a man like Putin certainly does arose suspicions.