Trump Supporters Starting To Lose Faith?
One month in, some Trump supporters are starting to wonder if he will actually deliver on what he promised.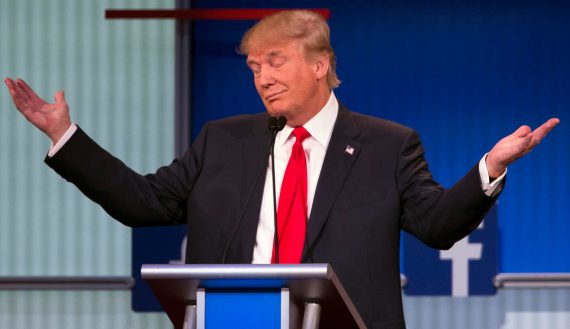 At least some Trump voters seem to already be concerned with the direction that Donald Trump's Presidency has taken over the past month:
Tom Godat, a union electrician who has always voted for Democrats, cast his ballot for Donald Trump last year as "the lesser of two evils" compared to Hillary Clinton.

He's already a little embarrassed about it.

There's a lot that Godat likes about President Trump, especially his pledge to make the country great again by ignoring lobbyists, challenging both political parties and increasing the number of good-paying jobs.

But Godat was surprised by the utter chaos that came with the president's first month. He said it often felt like Trump and his staff were impulsively firing off executive orders instead of really thinking things through.

"I didn't think he would come in blazing like he has," said Godat, 39, who has three kids and works at the same aluminum rolling plant where his father worked. "It seems almost like a dictatorship at times. He's got a lot of controversial stuff going on and rather than thinking it through, I'm afraid that he's jumping into the frying pan with both feet."

Of the six swing states that were key to Trump's unexpected win in November, his margin of victory was the highest in Iowa, where he beat Clinton by 9 percentage points. Yet at the dawn of his presidency, only 42 percent of Iowans approve of the job that he's doing and 49 percent disapprove, according to a Des Moines Register/Mediacom Iowa Poll this month.

That support varies across the state: Here in eastern Iowa, it's in the low 40s. It's highest in northwest Iowa, where 55 percent of Iowans approve of the president's performance thus far, and it's lowest in the southeast corner of the state and the Des Moines area, where only 31 percent of Iowans approve, according to the poll.

(…)

While Iowa is still home to many strong supporters who say it's too early to judge him, there are others who say they voted for Trump simply because he wasn't Clinton. Many Iowans worry Trump might cut support for wind-energy and ethanol programs; that his trade policies could hurt farms that export their crops; that mass deportations would empty the state's factories and meat-packing plants; and that a repeal of the Affordable Care Act would yank health insurance away from thousands. While the hyper-simplicity of Trump's campaign promises helped him win over voters, they are no match for the hyper-complexity of Iowa's economy and values.

As the temperature hit 73 degrees last Wednesday afternoon, Godat took his two sons — ages 3 and 15 — to a playground near the Mississippi. He has lived for most of his life in Clinton, a town of nearly 27,000 that is home to a major corn-processing plant and other manufacturers.

Hillary Clinton won the city by more than 2,000 votes — but Trump won Clinton County, which was one of more than 25 counties in eastern Iowa that flipped from voting for Barack Obama in 2012 to Trump in 2016. That shift here and in other Midwestern states was largely driven by white working-class voters like Godat.

Godat commutes more than 30 miles south to Bettendorf, where he gets paid a base wage of $34 per hour to help prepare aluminum used for airplanes and cars. There's a shortage of trained electricians, and last year Godat said he worked 600 overtime hours, bringing his total pay to about $110,000. His wife provides in-home care for the elderly.

Godat hopes his son will get an apprenticeship at the plant after high school. He is confident that his employer won't lay off workers or shut down the plant because it has invested hundreds of millions of dollars in Iowa and does specialized work that would be difficult to move. He hopes Trump can create more jobs like his across the country.

And that's why he wishes he could tell the president: "Focus on us, on our country, on our issues here."

Much more at the link from the reporters' travels across Iowa. To summarize what they found, it seems clear that, at least in the Hawkeye State, Trump supporters are waiting to see if he'll deliver on the promises he made during the campaign, and many of them are concerned that he may actually follow through on some of his more controversial positions. On international trade, for example, Iowa's farming sector is one example of an industry that has benefited greatly from free trade agreements such as NAFTA that have opened up international markets to American agricultural exports. Because of this, the news that Trump went through with his pledge to withdraw the United States from the Trans-Pacific Partnership and renegotiate NAFTA has many of these farmers concerned about the potential losses they could experience if Trump's policies, combined with the recent announcement from House Republicans about implementing a Border Adjustment Tax that would add a tax to all products entering the United States and risk retaliation abroad against American goods. Additionally, several Trump supporters seem to be concerned that the first month's chaos may be an indication of things to come, and that the President may not be able to deliver on much of anything that they heard from him when he was running for office.
All of this comes at the same time that polling continues to show Trump with the lowest job approval of any incoming President. The new NBC News/Wall Street Journal poll is the most recent indication of the potential problems that the Administration faces going forward:
President Donald Trump's job approval rating stands at just 44 percent — a record low for a newly inaugurated commander-in-chief — and half of Americans say that his early challenges suggest unique and systemic problems with his administration, according to a new poll from NBC News and the Wall Street Journal.

In the poll, conducted February 18-22, 48 percent of Americans said they disapprove of Trump's performance as president and 32 percent said that his first month in office demonstrates that he is not up to the job. Asked about early challenges in the first month of his presidency, 52 percent called the issues "real problems" that are specific to his administration, while 43 percent of Americans attributed them to typical "growing pains" for any new president.

The new rating comes two days before Trump is set to address a joint session of Congress, a State of the Union-style speech in which new presidents typically lay out their vision for the country.

But Trump begins his tenure in a dramatically less popular position than any of his predecessors. He is the only president in the history of modern polling to begin his first term with a net negative approval rating — and it's not close. Compared to Trump's net negative rating of -4 percent, Barack Obama began his presidency with a net positive 34 percent; George W. Bush and Bill Clinton enjoyed a similar advantage, and George H.W. Bush's score of popular goodwill pushed even higher to a net positive of 45 percent.

Trump also continues to register particularly dismal ratings when it comes to his temperament, with just 18 percent giving his demeanor a thumbs up compared to 55 percent who rank it as poor.

But despite his historically underwater public popularity, the survey also shows that his support from Republicans remains robust and that the public's overall views of him are relatively stable. He has maintained the loyalty of his party both on his policy proposals and on his ongoing warfare with the mainstream media, and a majority of Americans believe that he will follow through on his promises of change.

His personal favorability rating – 43 percent positive and 47 percent negative – is stable compared to previous polls, and a majority of Americans — 57 percent — said that he is performing about how they expected him to in the White House. That's compared to 19 percent who said he is doing better than they expected and 24 percent who said he is doing worse.
In the RealCleaerPolitics average, Trump remains under water with a 43.6% approval rate and a 50.3% disapproval rate. Moreover, as the chart shows, the gap between the two numbers has been growing steadily in the month since he took office:
Obviously, one month into a Presidency is very early to judge how things are going, but so far at least things are clearly not going well. As I've noted before, it's typically been the case that the beginning of a new Presidency is when a President's job approval numbers are the highest, largely because Americans generally like to be optimistic and hopeful about the future and want to hope that the new President will do a good job. Additionally, the tasks that a President typically completes in their first month or so in office are fairly routine matters that most Administrations manage to get done correctly even if they do make some mistakes further down the road. The Trump Administration, though, has been a virtual comedy of errors since its first weekend in office and that seems only likely to continue given that the personnel responsible for what has transpired are unlikely to depart anytime soon. Indeed, one can easily foresee things getting worse before they get better.
Taken together, what these two news items tell us is that Trump has entered office in a tenuous position. He failed to rally the nation behind him upon entering office, and his actions since then have only succeeded in further polarizing the political situation to the point where it's unlikely that the people who didn't support him last November are going to be persuaded by his actions at any point in the near future. Additionally, as the Post's reporters' journey across Iowa shows, the people who supported Trump in the election are watching and wondering exactly if or when he's going to deliver on the promised jobs and economic growth that were the main reason they supported him to begin with. If that doesn't happen, and if the Administration continues to mishandle its initial months in office as badly as it has so far, then it could find that even his base supporters are going to start giving up on him.