Trump's Job Approval Bounces Back From Post-Shutdown Lows
President Trump's job approval numbers have recovered from the lows they hit in the wake of the government shutdown.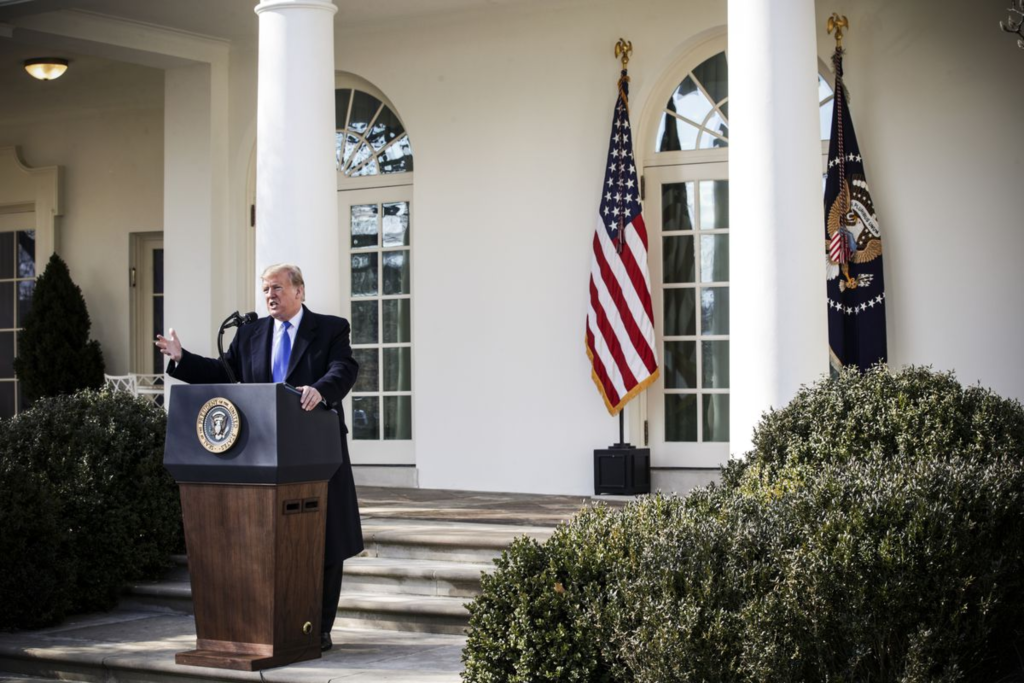 A new NBC News/Wall Street Journal poll shows that President Trump's job approval rating has jumped up from where it was during the height of the government shutdown, near some of the highest numbers Trump has seen during his Presidency:
WASHINGTON—President Trump's job-approval rating has ticked up, but many of his party's policy positions are viewed as out of the mainstream, and there is broad opposition to his effort to fund a border wall by declaring a national emergency, the latest Wall Street Journal/NBC News poll finds.

Twenty months before the next presidential election, Mr. Trump's job-approval rating, at 46%, is similar to those of Presidents Clinton and Obama at this point in their terms, though personal ratings of Mr. Trump are below those of the two Democratic predecessors.

The poll also found Democratic primary voters looking for a nominee with aggressive policy ideas.

Some 55% who said they intended to vote in a Democratic primary want a candidate who proposes larger-scale policies that might cost more, while 42% prefer a candidate with a smaller-scale and less-expensive agenda. And a majority of the party's primary voters said they would pick a candidate who shares their views on issues over one perceived as having the best chance to defeat Mr. Trump.

Mr. Trump's approval rating in the survey, which interviewed 900 Americans from Feb. 24-27, ticked up 3 percentage points from December and January to reach 46%. Some 52% disapproved of his job performance, down from 54% in each of the previous two months.

Mr. Trump's approval rating has been remarkably static since taking office in January 2017. The Journal/NBC News poll has found between 43% and 47% of Americans approving of the president's job handing in every poll since last June.

The Journal/NBC News pollsters, Democrat Fred Yang and Republican Bill McInturff, attributed Mr. Trump's improved rating to an uptick in support from white men without a college degree.

"The 2016 Trump voters are coming back to him," Mr. Yang said.
These numbers are generally consistent with other recent polls that show the President bouncing back from his lows earlier in the year:
These polls ere conduced between the beginning of February and last week and therefore may not be the best measure of where things stand today. Nonetheless, they are a strong indication that the President's numbers, while still exceedingly negative, have improved from where they were a month ago.
Turning to the polling averages, we find similar evidence that the President's numbers have improved from their lows. In the RealClearPolitics average, for example, the President stands at 44.4% approve and 52.8% for a deficit of -8.4 points. On the specific issue of the economy, the President's job approval is much better, with 49.4% approving and 46.4% disapproving, resulting in a +3.0 margin in Trump's favor. On foreign policy, meanwhile, the numbers are negative with 41.3% approving in of the President's performance while 53.5% disapprove. In the FiveThirtyEight average, the President's job approval stands at 42.2% and his disapproval stands at 53.4%, for a deficit of -11.2 points. Both of these averages are at better points than where they were in the immediate aftermath of the shutdown, and as the RealClearPolitics shows there's definitely been a positive uptick in the President's favor: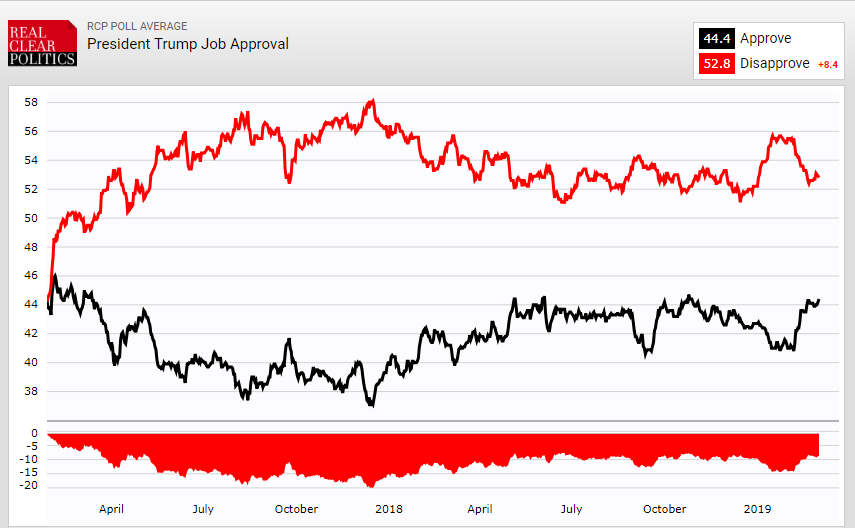 The last time we looked at the President's job approval numbers was in the wake of the shutdown that lasted from December 22nd to January 25th. As expected given the fact that polling throughout the shutdown made it clear that voters blamed the President, and to some extent Congressional Republicans, for the shutdown far more than they blamed Congressional Democrats. In the six weeks or so that have passed since then, though, it's clear that the President's base has returned to him just as it has in the past. What that suggests is that, while it is unlikely that we're going to see the President enter positive territory any time soon, it is clear that the President's political fortunes aren't quite as dire as some of his opponents would like to believe. If Trump's job approval were to drop below 40% and stay there for a sustained period of time, then he'd have something to worry about. What these numbers suggest is that notwithstanding all the controversy and all of the inflammatory rhetoric there is still a floor to the President's support that means that ruling out the possibility of re-election in 2020 is, to say the least, a premature conclusion.
All that being said, there are some numbers in the new poll that should be signs of concern for the President:
Amid the increased approval rating, the poll found an array of warning signs for Mr. Trump.

Mr. Trump leads a generic Democratic opponent, 46% to 40%, in five Midwestern states he carried in 2016: Indiana, Michigan, Ohio, Pennsylvania and Wisconsin. But he trails a generic Democrat, 50% to 39%, in five Sun Belt states Democrats aim to flip in 2020: Arizona, Florida, Georgia, North Carolina and Texas.

(…)

The poll also found that majorities of Americans believe the Democratic position on climate change, health care, immigration and abortion rights are within the political mainstream, while majorities see the GOP position on those issues as outside of the mainstream. On fiscal issues and taxes, a roughly equal number of people found both parties within and outside the mainstream of opinion.

The poll gave hints that this could shift as Democratic presidential candidates and lawmakers add detail to their proposals. When respondents were asked whether they were willing to pay higher taxes so that everyone could have health-care coverage, half said yes and half said no.

Assessing Mr. Trump's position ahead of the 2020 election, Mr. McInturff, the Republican pollster, noted that 53% of Americans in the survey said they didn't expect an economic recession in the next year, compared with 33% who foresaw one. "As long as the economic numbers look like this, and there are no combat deaths around the world—that always keeps an incumbent president in the game." he said.

Warning signs for Mr. Trump, he said, include a core of voters who say they won't consider supporting his re-election, along with the majorities of voters who say Democrats are in the political mainstream on key issues while Republicans aren't. When a candidate's approval ratings are in the low- to mid-40s, Mr. McInturff said, "you're in the ballgame, but you're on the soft end of the stick in terms of a starting point to where you need to be in a two-person race."

Mr. Yang, the Democratic pollster, said Democrats aiming to win back the White House should be wary of an economy widely seen as strong, as well as the Democratic tilt among people who say the country needs a third party in national elections. Those Democrats could be at risk of voting for an independent.

"To me, that's a caution signal," Mr. Yang said.
It is, quite obviously, far too early to make any prognostications about the 2020 election based on these or any other numbers. That being said, it's worth keeping in mind that it's exceedingly rare for a President with negative job approval numbers at election time to get reelected and, absent a situation similar to what we saw in 2016 when third-party candidates such as Jill Stein and Gary Johnson received a combined total of roughly 6% of the popular vote and roughly 13.4% in the three Midwestern states that decided the election. it's unlikely that Trump will be able to pull off a repeat of what happened in 2016 when he won the Electoral College but lost the Popular Vote. That being said. the fact that Trump continues to bounce back from the lows he experiences in the polls suggests that counting him out at this point is, at best, premature.