Trump's Job Approval Hits New Lows In Two New Polls
More bad polling news for President Trump.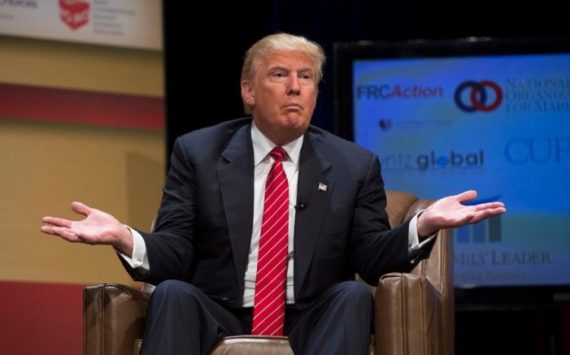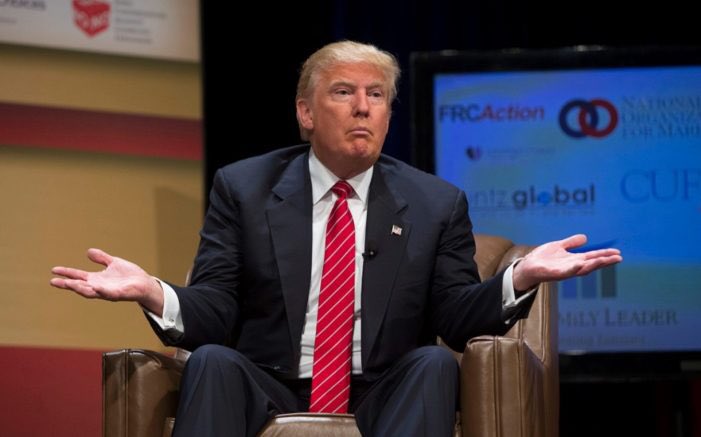 The new NBC News/Wall Street Journal poll shows President Trump hitting a new low in job approval:
President Donald Trump's approval rating has fallen to its lowest level since he took office, with Americans disapproving of his performance as commander in chief and handling of some policy issues while largely favoring his work on the economy, a new Wall Street Journal-NBC News poll finds.
Mr. Trump's job approval rating stood at 38%, a five point drop from September, the poll showed. Over all, 58% said they disapproved of the job Mr. Trump has done.

More than 8 in 10 Republicans continue to approve of Mr. Trump's job performance. Still, the survey found a dip in his support among political independents—and signs of erosion among some of the president's core voters.

In particular, his job approval among white women who don't have a four-year college degree stands at 40%, compared with 54% who disapprove. That is a sharp swing from the previous month, when 50% approved and 46% disapproved.

Fred Yang, a Democratic pollster who conducted the survey with Republican Bill McInturff, said: "I think we could be seeing signs where there's a little bit of fraying of the Trump base."

The poll offered some consolation for a White House that is now pushing to pass a tax plan that was one of Mr. Trump's core campaign promises.

Mr. Trump often highlights the nation's low unemployment rate and surging stock market, and the message seems to be sinking in. By a five point margin—42% to 37%—Americans in the survey approved of Mr. Trump's handling of the economy.

Rank-and-file Republicans are still largely lining up behind the president. While 36% of people in the survey viewed Mr. Trump in a positive light, nearly 80% of Republicans or those leaning toward the GOP held a favorable view of the president.

Some 54% of people over all and 13% of Republicans said they held an unfavorable view of the president.
As this chart indicates, the President's approval is in the negative when it comes to virtually every policy area: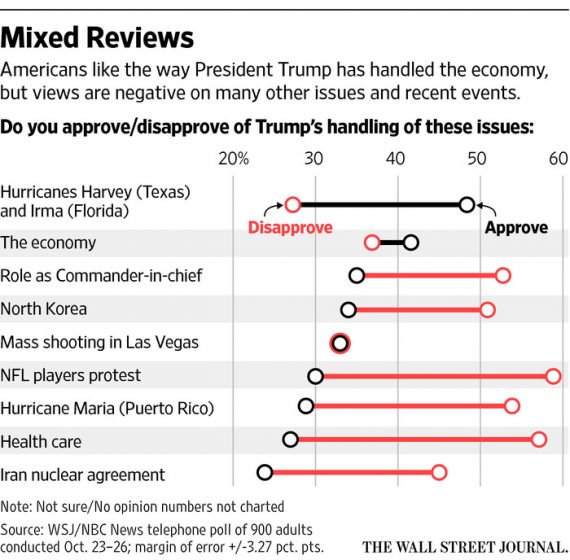 The Gallup poll released today also shows Trump hitting a new low in job approval:
President Trump's job approval rating has dropped to a new low, according to the most recent Gallup tracking poll.

Just 33 percent of respondents in the Gallup daily survey approve of the job Trump is doing as president.

Sixty-two percent of respondents said they disapprove of Trump's job performance.

The Gallup survey is based on a three-day rolling average. It is conducted among 1,500 adults and has a margin of error of plus or minus 3 percentage points.

Trump's 33 percent approval rating is his lowest since taking office, according to Gallup.

Trump had previously hit 34 percent approval at the end of August.
These numbers are largely consistent with a Fox News Poll released last week that also showed the President hitting a new low in that poll, with much of the negative assessment coming as a result of the President's handling of Hurricane Maria hitting Puerto Rico and the Virgin Islands last month. They are also consistent with the past nine months of Trump's Presidency, which has shown him consistently running with a negative job approval number and hitting lows that haven't been seen in such polling since the end of World War Two. The only comparable situation appears to be President Bill Clinton, whose numbers were negative during the first year of his Presidency, but Clinton's numbers were never nearly as bad as Trump's are today and no President has reached levels like this until very late in their Presidency, such as happened with President Nixon in the months before his resignation and President George W. Bush during his final year in office.
Looking at the poll averages, we see the trend that has been in place since at least February still present, with no signs that it is going to change. RealClearPolitics, for example, puts Trump's approval rating at an average of 39.1% and his disapproval at 56.1%. On the economy, the average finds that the public is significantly more positive than they are overall, with 45.1% saying they approve of Trump in this area and 45.1% saying they disapprove. The picture isn't so great when it comes to foreign policy, with 37.2% approving of Trump's performance in this area and 55.8% disapproving. On Pollster, the average shows Trump's numbers at 37.8% approval and  57.9% disapproval. As always, the overwhelming number of Democrats have a negative view of the President, the overwhelming number of Republicans have an overwhelmingly positive view, and Independents viewing him worse than the public as a whole with just 34.4% approving of the job the President is doing while 57 .1% disapprove. FiveThirtyEight's average, meanwhile, puts Trump's approval at 37.3% and his disapproval at 57.1% in an average that is weighted to take poll reliability into consideration.
As the RealClearPolitics chart shows, Trump remains at a historically negative low: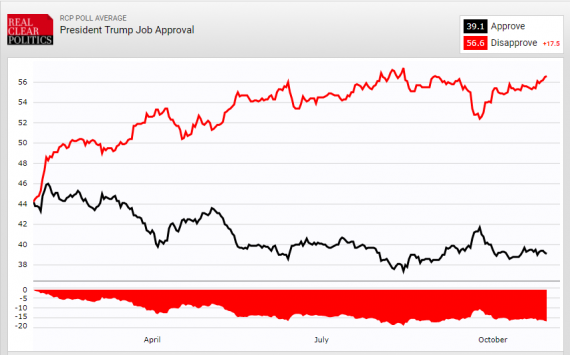 Obviously, these polls were taken prior to the news about the charges filed this morning against former Trump Campaign Manager Paul Manafort and his associate Rick Klein and former Trump foreign policy advisor George Papadapolous, but one can largely predict that these numbers are more likely to turn negative than positive in the wake of such news. This is especially true given the fact that the White House has chosen to react to these charges and the dismissive tone that they have unsurprisingly taken. Additionally, the fact that these charges tend to show that the Mueller investigation is apparently on course to continue pursuing the leads wherever they may lead it would likely reinforce the doubts about the Administration that already exist among members of the public. Given that, it's likely that we'll see Trump's numbers go down even further and that we'll get yet another test of just where Trump's floor of support lies right now. If it starts to dip below thirty percent, which seems to be the next major floor they're headed to, then the Trump Administration will be in a position unseen by any incoming Administration since the end of the Second World War.
One indication of where things could be headed for the Administration can be seen in the bellwether right track/wrong track poll, which is continuing to reflect the public's overwhelmingly negative view of the state of the country. According to the RealClearPolitics average, the number shows just 30.8% of Americans saying that the country is moving in the right direction while 60.9% say it is moving in the wrong direction: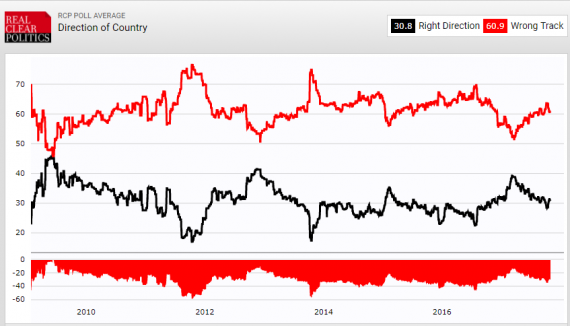 Granted, the chart shows that this number has been in negative territory for the past seven years, but the recent trend also shows that it is turning more negative after briefly improving in the wake of last year's election. This is despite the fact that the news about the economy and related issues has been relatively good during this period. Obviously, the performance of the Administration and the behavior of this President has at least something to do with the public's increasingly negative view of the state of the country. As we get closer to the 2018 midterms, that doesn't bode well for the political fortunes of the President or his party, something that is also indicated in the Wall Street Journal/NBC poll:
With midterm elections a year away, more people say they want to see Democrats than Republicans control Congress, 48% to 41%. Typically, Democratic gains in Congress are associated with a lead of about 10 percentage points on this question.

The midterm elections figure in large part to be a referendum on the Trump presidency.

Asked about their motivations in casting a vote in the midterms, 46% said they wanted more Democrats to be elected in order "to be a check and balance to Donald Trump and congressional Republicans." By contrast, 28% said they wanted "more Republicans who will help Donald Trump and congressional Republicans pass their agenda."

Views were divided by party, with 79% of Democrats saying their vote would be intended as a check on Mr. Trump and the GOP, and 71% of Republicans saying their vote was intended to help the president and his party pass their priorities.
The RealClearPolitics for the Generic Congressional Ballot, meanwhile, stands at 46.0% saying they'd prefer a Democratic Congress and 35.3% saying they'd prefer a Republican Congress while the Pollster average puts the number at 41.7% siding with the Democrats and 35.3% siding with Republicans. Admittedly, at this point it is premature to make any real assessments regarding 2018, of course, but for the moment at least things are looking good for Democrats. These numbers suggest that this trend is likely to continue for the foreseeable future.