Trump's Job Approval Hits New Lows
Trump's job approval numbers continue to sink.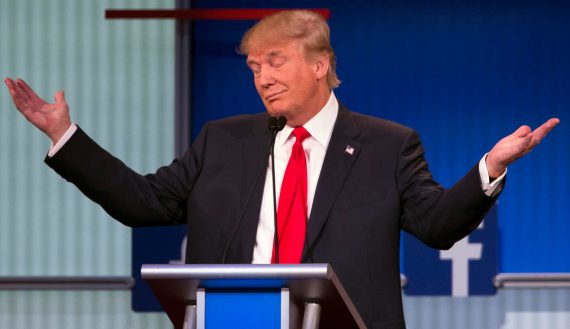 As Donald Trump's Presidency enters a new and precarious phase in the wake of the firing of F.B.I. Director James Comey, a new poll shows his job approval rating hitting new lows and a public that seems to be becoming largely dismissive of his Presidency:
President Trump's approval rating has reached near-record lows, according to a Quinnipiac University poll released Wednesday.

The survey of registered voters found that 36 percent say they approve of Trump's job performance, compared to 58 percent who disapprove. Trump's approval has fallen from the 40 percent recorded in the same poll released in mid-April.

"There is no way to spin or sugarcoat these sagging numbers," said Tim Malloy, assistant director of the Quinnipiac University Poll. "[These] are red flags that the administration simply can't brush away."

Trump's favorability ratings slipped among some demographics that carried him to victory in the 2016 presidential election against Hillary Clinton, including white voters without college degrees, white men and independent voters.

Trump's approval rating is near its lowest mark since he took office, which was 35 points in early April, according to Quinnipiac.

Gallup said last month that Trump's average approval rating was the lowest since it began presidential approval surveys in 1953. According to Gallup, the average approval of presidents is 61 percent.

According to Quinnipiac's poll, Trump's biggest drop in support this month was from white voters who didn't go to college. Just 47 percent now approve of Trump's administration, compared with 57 percent in April.

Among voters surveyed, 58 percent said Trump's first 100 days in office have been "mainly a failure," compared with just 38 percent who say it has been successful.

Other findings in the survey centered on Trump's treatment of the media and vice versa. The poll found that 58 percent of the voters polled do not approve of the job the news media has done covering Trump's White House. But a majority, 65 percent, also disapproved of Trump's treatment of the press.
As The Washington Post's Philip Bump notes on Twitter, the same poll also asked respondents to give the words that came to mind when they thought of Donald Trump. To say the least, the results were not good, with the first three words that got the most responses being "idiot," "incompetent," and a "liar":
Quinnipiac asked people what word first came to mind when they thought about Trump. https://t.co/ks0UauOs9Opic.twitter.com/HQ3bYWhD16

— Philip Bump (@pbump) May 10, 2017
Bump's colleague Aaron Blake notes that these numbers portend some potentially bad news for Trump:
Trump also has his worst numbers to date — across 10 Q polls since the 2016 election — on the following measures:

Honesty: 33 percent say he is
Good leadership skills: 56 percent say he doesn't have them
Caring about average people: 59 percent say he doesn't
Being levelheaded: Voters say 66-29 percent that he's not (unlike the other numbers here, this is tied for all-time worst, not setting a new one)
Being intelligent: Voters say 56-41 percent that he is
Sharing your values: Voters say 64-32 percent that he doesn't
How he has treated the news media: Voters disapprove 65-31 percent
Whether people trust him or the media more for the truth: 57 percent media, 31 percent Trump (even 17 percent of Republicans pick the media over their president)

Interestingly, the reason the numbers have ticked down appears to be the group that elected Trump in the first place: white, working-class voters. Whites without college degrees approved of Trump 57 percent to 38 percent in the mid-April Q poll and 51-39 percent in late March/early May; today they are split, with 47 percent approving and 46 percent disapproving.
Looking at the poll averages, we can see that while these bad numbers from Quinnipiac are among the worst we've seen for Trump since he took office, they are consistent with where things have gone over the past 111 days that he has been in office. In the RealClearPolitics average, Trump's job approval stands at an average of 42.1% and his disapproval at 52.9% while his personal favorability stands at 41.8% favorable and 54.2% unfavorable. At Pollster, his overall job approval stands at 42.2% and disapproval is at 52.6% while his personal favorability stands at 43.5% and 51.2% unfavorable.  Breaking that down by party affiliation, we find that Trump's job approval remains overwhelmingly high among Republicans and overwhelmingly negative among Democrats. Among Independents, his job approval number stands at 37.1% and his disapproval number stands at 52.2%. As the RealClearPolitics chart shows us, the trend over Trump's three months in office show his numbers getting worse rather than better: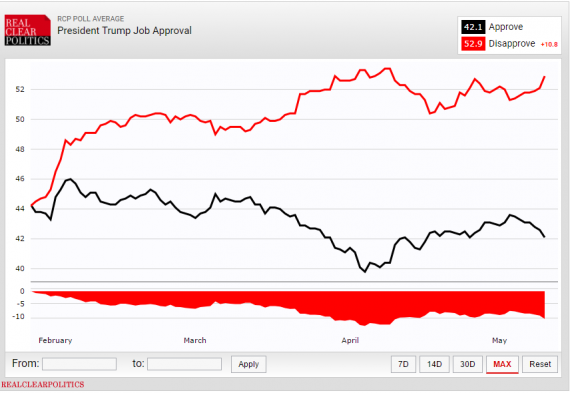 All of these numbers are from surveys taken within the past two weeks or so and include a sufficient amount of time for things such as the vote on the American Health Care Act last week and the testimony of former F.B.I. Director James Comey regarding an investigation of the Trump campaign's ties to Russia. Obviously, yesterday's news regarding Comey's firing will have some impact on the numbers as well but it will be at least a week before we know for sure what that impact might be. In any case, these numbers are quite obviously not good news for the Administration. As I've said before, historically it's been the case that an incoming President enjoys at least some kind of a honeymoon period during which the public gives him the benefit of the doubt and has a generally positive view of his performance on the job. How long that lasts has varied from President to President, of course, and depends many times on factors outside of a President's control. President Obama's job approval, for example, stayed positive for roughly a year and a half before it started to turn negative headed into the 2010 midterm elections. President Bush's job approval, on the other hand, remained positive for the majority of his first term thanks in no small part to the September 11th attacks and the extent to which the country rallied behind him in the wake of those attacks. Trump is getting no such honeymoon, and the current trend indicates that things are only likely to get worse as we head deeper into his first year in office. This could have important national implications for the 2018 midterms, and the interesting question will be whether Republicans running for re-election in battleground districts and states end up deciding to distance themselves from the President in order to save themselves. If that happens, it could have big implications both for the fate of Trump's agenda on issues such as tax reform, the budget, immigration reform, and other issues as well as for the support for an investigation or independent counsel in connection with the allegations regarding Russian interference in the election and the Trump campaign's ties to Russia. Of course, by that time it may be too late for them.