Trump's Job Approval Numbers Are Historically Bad And Only Likely To Get Worse
Donald Trump is the most unpopular incoming President in more than eighty years.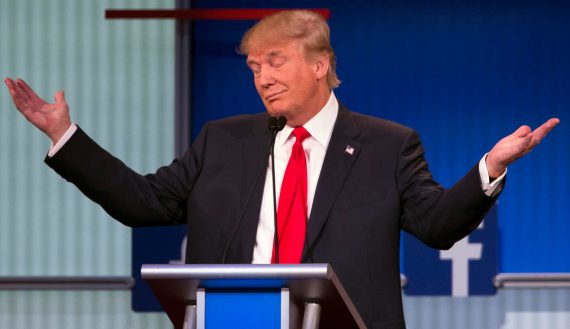 Today marks Donald Trump's 160th day in office, and a new poll from NPR/PBS and Marist College shows that his job approval numbers continue to be abysmal:
President Trump's support among independent voters has eroded since he took office. Though he still clings to a loyal base of supporters, his overall disapproval among Americans has reached record highs, according to a new NPR/PBS NewsHour/Marist poll.

Just 37 percent of Americans approve of the job Trump is doing just over five months into his tenure, while 51 percent disapprove. Forty percent of those polled strongly disapprove of Trump's performance, twice the 20 percent who strongly approved.

The most pronounced swing seen in the poll was among independents. Over the past four months, their approval of the president has dissipated. In February, 40 percent of independents said they approved of the job Trump was doing, with 51 percent disapproving. Four months later in June, just 31 percent say they approve of the president with 59 percent of independents disapproving — a 17-point net-negative drop.

Despite almost full employment nationwide, independents are particularly dissatisfied with Trump on the economy. That's likely driving much of their overall disapproval. Just 31 percent of independents say they have confidence in Trump's ability to improve the U.S. economy, while 49 percent doubt he can do so. Just three months ago, 44 percent thought Trump could turn around the economy, while 38 percent didn't — a whiplash-worthy 24-point swing.

Lee Miringoff, the director of the Marist College Institute for Public Opinion, said the scope of the shift over the past few months among independents should cause "alarm bells to go off" at the White House.

"Independents were certainly willing to give Trump the benefit of the doubt when he entered office," Miringoff said, "but on issues like the direction of the country and the economy, they've really soured on him. It's hard for someone like him to make a second impression. Independents have come to the conclusion that what you see is what you get."

The good news for Trump is that his base hasn't abandoned him even as he has faced mounting investigations. Eighty percent of Republicans still approve of the job he is doing, including 91 percent who identify as strong Republicans. Trump has an 89 percent approval rating among those who voted for him last November. He has a 65 percent approval rating among white evangelical Christians, though almost a quarter disapprove of the job he is doing.

Still, there are some warning signs for the president among some of his key demographic groups. Only 52 percent of white, non-college-educated Americans approve of the job he's doing, though just 37 percent disapprove. And that is higher than most other subgroups. More worrisome for the president, among older Americans, 60 and older, he's underwater — 47 percent disapprove, while 43 percent approve.
These numbers are consistent with polling that we've seen since the start of Trump's Presidency, which has been overwhelmingly negative when it comes to job approval. In the RealClearPolitics polling average, for example, Trump now stands at an average of 54.4% of respondents saying that they disapprove of the job the President is doing, with just 39.9% saying that they approve. The Pollster average, meanwhile, shows Trump's disapproval at 53.6% and job approval at 41.1% approving of the job Trump is doing. Breaking those numbers down by political leaning, the results are mostly unexpected. Among Democrats, Trump remains overwhelmingly unpopular, with more than 80% of respondents disapproving of the job he is doing. Among Republicans, Trump's job approval has slipped somewhat but remains above 80% while disapproval has ticked up slightly to 16.6%. Among Independents, Trump's numbers are actually worse than they are for the population as a whole with 54.3% of respondents disapproving of the job the President is doing and 36.6% approving. As the chart of Trump's job approval shows, the trend has been negative since the start of his Presidency, although there seems to be a floor at or near 39% that Trump has yet to fall through: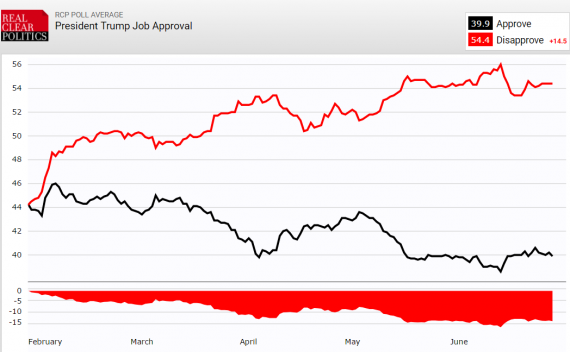 The NPR/PBS poll also has bad news regarding voter's outlook for the future:
Overall, Americans' outlook under Trump is dismal. Almost double say the country is on the wrong track as those who think it's on the right track, 61 percent to 31 percent, a gap that has nearly doubled since February.

More people say they feel worse off — 40 percent — since Trump took office, than better off — 34 percent. There is a deep partisan divide on that question, of course — 73 percent of Republicans say they're better off, while 67 percent of Democrats say the opposite. Among independents, far more — 44 percent — say they're worse off, compared with just 27 percent who say they're better off.

Americans also think Trump has hurt the country on the global stage. Fifty-eight percent say the president has weakened the United States' position abroad, while 34 percent say he has strengthened it.

In addition, by a 24-point margin, Americans believe former President Barack Obama was, by far, a more effective leader in comparison to Trump, 58 percent to 34 percent. Among independents, there is an even more pronounced 36-point difference, 65 percent to 29 percent.
The right track/wrong track number found in this poll is consistent with the national average, which has 32.7% of respondents saying the country is on the right track, while 61.1% say the country is on the wrong track, a trend that has begun to widen again after becoming somewhat more optimistic in the spring: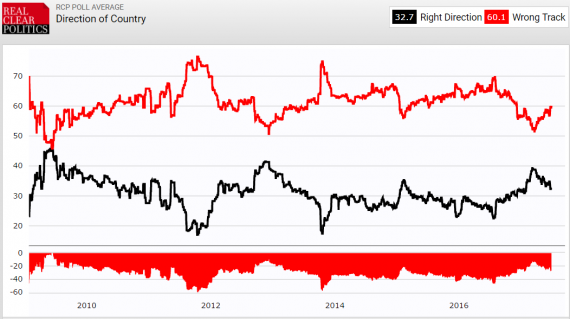 As I've noted before, Trump is experiencing something rather unique for an incoming President. Generally, it's been the case that new President's get a honeymoon period from voters which is reflected in relatively positive job approval numbers even if the initial rollout of their Administration is less than spectacular. Barack Obama, for example, entered office with relatively high job approval numbers that stayed positive for more than two years after he entered office. This happened notwithstanding the fact that he was governing during a period when the economy was still suffering the after-effects of the Great Recession and his Administration was dealing with political controversies ranging from a stimulus package that many Americans believed was far too generous and a health care reform bill that ended up costing his party control of the House of Representatives in the 2010 midterm elections. President Bush had similarly positive numbers when he entered office notwithstanding the controversies resulting from the Presidential Election in 2000. Those positive numbers continued for more than four years, although that was largely a result of the massive jump in approval he experienced after the September 11th attacks and what were initially positive public reaction to the Iraq War. Even before the 9/11 attacks, though, Bush's job approval numbers were in good shape notwithstanding the fact that his first six months or so in office were, at best, unremarkable. The same can be said of other recent Presidents, including Bill Clinton, George H.W. Bush, Ronald Reagan, Jimmy Carter, Gerald Ford, who entered office an unelected President in the wake of the Watergate scandal and a Presidential resignation,  Richard Nixon, Lyndon Johnson, John F. Kennedy, Dwight Eisenhower. Harry Truman, and Franklin Roosevelt.
The fact that Trump's numbers are this negative this early in his tenure are something we've never seen before for a President since the era of modern polling began is really quite notable, and it calls into question exactly what we can anticipate for the future. If history is any guide, then Trump's numbers are likely to be worse in the future than they are today absent some kind of event that causes a massive turnaround in public opinion that would be largely unprecedented. Given that, one has to wonder how this will impact his Presidency. Can Trump really continue to govern effectively as a President who most Americans disapprove of by fairly significant margins? So far, the Trump Administration acts as if it doesn't care what these numbers say, but at some point, they will begin to have an impact on what he can accomplish. For example, the ongoing debate over health care reform shows that Trump has almost no ability to cajole fellow Republicans to support his agenda. In part at least, this is because that agenda continues to get thrown off course by everything from the Russia investigation to whatever random topic Trump may be tweeting about on a given day. But these bad poll numbers are no doubt at least partly to blame because it is clearly one of the reasons that Republicans on Capitol Hill aren't afraid to openly oppose him when it is in their interests to do so. The result of all of this is that the entire Trump agenda, to the extent there is one, is at risk.
One possible response to this, of course, is that Trump will continue to be Trump regardless of what the polls say and that he can point to continued strong support from his base as a reason to do so. There are several problems with that approach, though. First of all, as the election results show, Trump's loyal base probably isn't enough to get him re-elected in 2020 unless Democrats make the same mistake they did in 2016 and nominate a candidate whose personal unfavorability is as bad as Trump's was throughout the General Election campaign. They're unlikely to do that. Second, well before 2020 Trump and the Republicans will face a test in the midterm elections that will, at least in part, likely be a referendum on the Trump Administration and the Republican Congress. If these numbers remain negative for the next seventeen months, then Democrats have a chance at making significant gains in the House and perhaps even recapturing the Senate if they play their cards right. That would make the final two years of Trump's first term much more difficult. Finally, as I noted before, history indicates that public opinion of the President is only likely to get worse than it is right now rather than that it will suddenly turn positive. This would be especially true if the ongoing Russia investigation uncovers something putting the matter far closer to Trump's inner circle than it is right now. So far, the Trump Administration has responded to all of this by adopting something of a seige mentality and attacking the media. If that's any indication of how they'll respond if things get worse, then it's going to become even harder for Trump to accomplish anything he can credibly run for re-election on three years from now.