Two Hostages, Including One American, Killed In Raid On Al Qaeda Targets
An attack on al Qaeda outposts in January resulted in the death of two hostages, but also resulted in the death of two high value al Qaeda targets.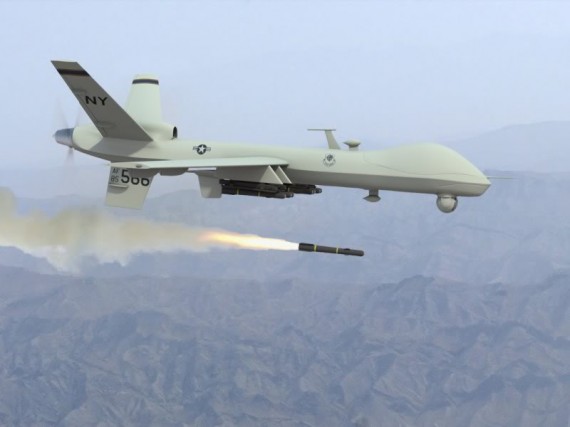 Two hostages, including one American, were killed in a raid on an al Qaeda target, the White House reported today:
WASHINGTON — President Obama on Thursday offered an emotional apology for the accidental killing of two hostages held by Al Qaeda, one of them American, in a United States government counterterrorism operation in January, saying he takes "full responsibility" for their deaths.

"As president and as commander in chief, I take full responsibility for all our counterterrorism operations," including the one that inadvertently took the lives of the two captives, a grim-faced Mr. Obama said in a statement to reporters in the White House briefing room.

"I profoundly regret what happened," he added. "On behalf of the U.S. government, I offer our deepest apologies to the families."

Mr. Obama's remarks came shortly after the White House released an extraordinary statement revealing that intelligence officials had confirmed that Warren Weinstein, an American held by Al Qaeda since 2011, and Giovanni Lo Porto, an Italian held since 2012, died during a drone strike . The White House did not explain why it has taken three months to disclose the episode, although it typically takes some weeks after a strike to confirm the identities of casualties.

Two other Americans who belonged to Al Qaeda, Ahmed Farouq and Adam Gadahn, were also killed in American operations in the same region, the statement said. Neither had been specifically targeted and their presence at the sites of the operations was not known at the time, officials said.

Mr. Obama said he had ordered the incident declassified because the families of Mr. Weinstein and Mr. Lo Porto "deserve to know the truth."

"The United States is a democracy, committed to openness in good times and in bad," he said. "It is a cruel and bitter truth that in the fog of war generally, and our fight against terrorists specifically, that mistakes, sometimes deadly mistakes, can occur."

Mr. Obama said the operation that killed the two hostages was conducted "fully consistent with the guidelines" for such missions in the region. He said that it was conducted after hundreds of hours of surveillance had convinced American officials that they were targeting an Al Qaeda compound where no civilians were present, and that "capturing these terrorists was not possible."

What United States officials did not know, he said, was that Al Qaeda was "hiding" the captives at the site.

He said a full review was underway to identify any changes that should be made to avoid similar errors in the future.

"We will do our utmost to insure it is not repeated," Mr. Obama said.

Even though Mr. Obama announced that the two drone strikes had been declassified, there were limits to the White House's transparency about the two operations. Mr. Obama did not say that the Central Intelligence Agency had carried out the strikes, nor did he say that they occurred in Pakistan.

Under the terms of a secret arrangement brokered in 2004, the C.I.A. was allowed to conduct lethal strikes inside the tribal areas of Pakistan, but neither the American nor the Pakistani government could acknowledge their existence.

One senior American official said that the deaths occurred during two separate strikes in Pakistan in January. One strike killed the two hostages and Mr. Farouq. A second C.I.A. drone strike killed Mr. Gadahn. It is unclear who else was killed in the two operations.

The pace of drone operations in Pakistan has declined sharply in recent years. But even as the American military withdraws from Afghanistan, the C.I.A. has pushed to keep several of its bases in that country open so that operatives can run missions across the border in order to gather intelligence for drone strikes.

"The president directed that the information being shared today, which was properly classified until now, be declassified and shared with the American people," the White House statement said. "He takes full responsibility for these operations and believes it is important to provide the American people with as much information as possible about our counterterrorism operations, particularly when they take the lives of fellow citizens."

The White House said the operation that killed the two hostages "was lawful and conducted consistent with our counterterrorism policies" but nonetheless the government is conducting a "thorough independent review" to determine what happened and how such casualties could be avoided in the future.
Without knowing more details, which I'm certain will come out at some point, it's hard to make any judgments regarding what happened here, except that it does exemplify many of the problems with the drone warfare that has come to typify the Obama Administration's strategy in the War On Terror. Whether or not the strike is a good idea often depends on the reliability of the intelligence and, in this case, it's clear that the intelligence was faulty to the extent that we were unaware that the hostages were there at all, or even any real idea where those hostages were being held for that matter. Additionally, the fact that two of the targets taken out in the raids in question were American citizens raises the same questions regarding due process that arose when the Obama Administration targeted Anwar al-Alwaki, also an American citizen, for assassination several years ago. As it turned out, the determination to take out al-Alwaki was largely one made by the President and his advisers alone, and the Administration was able to successfully prevent Federal Courts from reviewing its decision in that case, or even requiring it to reveal any of the procedures or criteria it used in making the decision to kill al-Alwaki. One assumes the outcome would be the same if similar challenges were made to the killing of Farouq and Gadahn, although the Administration is currently denying that either man was specifically targeted in the raids that killed them,
The family of the American hostage, Warren Weinstein, released this statement:
"On behalf of myself, our two daughters, our son-in-law, and two grandchildren, we are devastated by this news and the knowledge that my husband will never safely return home. We were so hopeful that those in the U.S. and Pakistani governments with the power to take action and secure his release would have done everything possible to do so and there are no words to do justice to the disappointment and heartbreak we are going through. We do not yet fully understand all of the facts surrounding Warren's death but we do understand that the U.S. government will be conducting an independent investigation of the circumstances. We look forward to the results of that investigation. But those who took Warren captive over three years ago bear ultimate responsibility. I can assure you that he would still be alive and well if they had allowed him to return home after his time abroad working to help the people of Pakistan.

"The cowardly actions of those who took Warren captive and ultimately to the place and time of his death are not in keeping with Islam and they will have to face their God to answer for their actions," Mrs. Weinstein said.

"Warren spent his entire life working to benefit people across the globe and loved the work that he did to make people's lives better. In Pakistan, where he was working before he was abducted, he loved and respected the Pakistani people and their culture. He learned to speak Urdu and did everything he could to show his utmost and profound respect for the region.

"We cannot even begin to express the pain our family is going through and we ask for the respect of our privacy as we go through this devastating ordeal."

While working as an economic development advisor, Weinstein was captured from his home in Lahore, Pakistan on August 13, 2011, and was held hostage for more than three and a half years.

"I want to thank Congressman John Delaney, Senator Barbara Mikulski, and Senator Ben Cardin – as well as specific officials from the Federal Bureau of Investigation – for their relentless efforts to free my husband." Mrs. Weinstein added, "Unfortunately, the assistance we received from other elements of the U.S. Government was inconsistent and disappointing over the course of three and a half years. We hope that my husband's death and the others who have faced similar tragedies in recent months will finally prompt the U.S. Government to take its responsibilities seriously and establish a coordinated and consistent approach to supporting hostages and their families."

"I am disappointed in the government and military in Pakistan. Warren's safe return should have been a priority for them based on his contributions to their country, but they failed to take action earlier in his captivity when opportunity presented itself, instead treating Warren's captivity as more of an annoyance than a priority. I hope the nature of our future relationship with Pakistan is reflective of how they prioritize situations such as these."
Blogger Jeff Dunetz also has some personal remembrance of Weinstein, who he came to know as a study at the State University Of New York.
That last paragraph of the Weinstein family statement, of course, reflects one of the defining characteristics of the War On Terror since September 11th. While Pakistan has been an ostensible ally in both the war in Afghanistan and the broader war against al Qaeda, they have, at times, been less than cooperative in that regard. Whether there was more they could have done to help rescue these hostages is something I don't know, but the accusation that they dragged their feet would certainly be consistent with their previous behavior. That alone is one reason why disengaging from Afghanistan would be a good thing for the United States, the less we have to rely on the unreliable government in Islamabad, the better.