Harvey Weinstein Charged With Rape, Sexual Assault
Former Hollywood producer Harvey Weinstein has been charged with rape and sexual assault in a New York Court.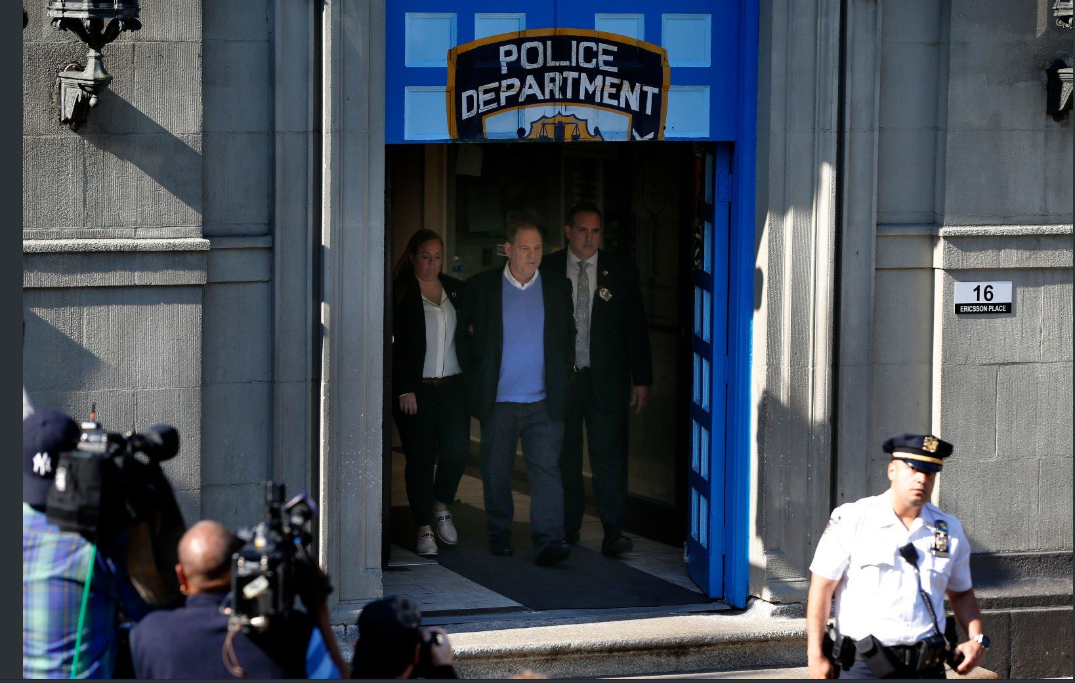 Former Hollywood producer Harvey Weinstein, the former Hollywood producer and movie mogul who fell from grace in the wake of reporting last fall that revealed charges of sexual harassment or assault stretching back more than fifteen years, has been charged with rape and other related charges in connection with the claims made against him by two women:
Harvey Weinstein turned himself in to New York City detectives and was arrested on Friday on charges that he raped one woman and forced another to perform oral sex, a watershed in a monthslong sex crimes investigation and in the #MeToo movement.

Around 7:30 a.m., Mr. Weinstein walked into a police station house in Lower Manhattan, flanked by several sex crimes detectives. Toting three large books under his right arm, he looked up without saying a word as a crush of reporters and onlookers yelled, "Harvey!"

With camera shutters clicking and reporters shouting questions, the scene was a mirror image of the red carpets where Mr. Weinstein presided for decades as a movie mogul and king of Hollywood.

But after decades of harnessing his wealth and his influence in the movie industry to buy or coerce silence from women, and after withstanding an investigation into groping allegations three years ago, Mr. Weinstein's reign ended behind bars in a police holding cell on Friday morning.

(…)

Prosecutors in the office of the Manhattan district attorney, Cyrus R. Vance Jr., conducted dozens of interviews in New York and elsewhere and issued hundreds of subpoenas, and their inquiry is not over. An investigative grand jury, still convened, will look into other sexual assault allegations against Mr. Weinstein as well as possible financial crimes relating to how he paid women to stay silent, people familiar with the proceedings said. Among other things, the grand jury is delving into whether Mr. Weinstein used employees of his former production company to identify women for him to assault, to set up meetings with the women or to discredit them if they complained.

Three years ago, the Manhattan district attorney's office decided not to prosecute Mr. Weinstein after an Italian model, Ambra Battilana, accused him of groping her breasts during a meeting in his office.

In the recent inquiry, detectives traveled to the United Kingdom and Canada to interview witnesses and investigators were in Los Angeles as recently as late April and early May, several people briefed on the matter have said. Prosecutors have also combed through Mr. Weinstein's financial records in an effort to uncover any possible improprieties, several people have said.
The accusations against Weinstein, which were first reported in The New Yorker by Ronan Farrow, an article for which he and his fellow reporters were recently awarded the Pulitzer Prize, go back decades and have led to his downfall from a peak that had made him own of the wealthiest and most powerful people in Hollywood. While each case is different, the women who have spoken out against him allege that Weinstein used his position as a top Hollywood producer to extort sex from aspiring actresses, to engage in acts against them that, if true, are clear examples of sexual assault, and to pay these woman off and cover up his wrongdoing. On the personal side, this avalanche of charges quickly led to the end of Weinstein's career at the company that bore his name and to that company being forced to seek the protection of the Bankruptcy Court to deal with the dozens of claims being made by women who said they were harassed, abused, assaulted, or raped by Weinstein over the years. Additionally, Weinstein and his former companies are facing numerous civil suits resulting from Weinstein's actions, including one from actress Ashley Judd who says that she was denied access to top roles because of her refusal to accede to Weinstein's sexual advances.
From a broader point of view, of course, Weinstein's case is significant because, in many respects, it represents the beginning of the #MeToo movement as a cultural phenomenon, something that has led many women, both famous and ordinary, to come forward with their own stories about having been sexually harassed, assaulted, or in the most extreme cases raped, either in an an employment or educational context, or by men whose public reputations were otherwise seemingly above reproach. To some degree, the trend began before the Weinstein with the accusations that came to light regarding men such as Roger Ailes, Bill Cosby, and Bill O'Reilly, and of course against President Trump in the form of the infamous Access Hollywood tape and the allegations of sexual assault and harassment against Donald Trump. The trend began to pick up steam, though, in the wake of the Weinstein allegations. It started, not surprisingly, in the entertainment industry with allegations against people such as Kevin Spacey, filmmaker Bruce Ratner, George Takei, Charlie Rose, political pundit Mark Halperin and Matt Lauer. In the political world, it led to accusations about men such as Roy Moore, Al Franken, John Conyers. and Texas Congressman Blake Farenthold. who apparently used $84,000 in taxpayer dollars to settle a sexual harassment claim by a former female staffer. At the end of December, Time Magazine recognized the significance of the movement that had come into existence just two months earlier by naming "The Silence Breakers" as their Person Of The Year for 2017. More recently, we've seen Bill Cosby convicted of sexual assault in a trial in suburban Philadelphia and, just this week, accusations of sexual impropriety being leveled against actor Morgan Freeman by eight different women. Weinstein being charged in these cases, then, represents yet another step forward for a movement that has had already had an impact on discussions regarding the law and regarding how charges of sexual harassment and assault have been treated in the past and what we can learn so there are no Harvey Weinstein's in the future.
As far as these charges goes, Weinstein has been released on his own recognizance after posting a bail of $1,000,000. He'll be permitted to commute between his home in New York City and his home in Connecticut but will be required to wear an electronic monitoring device, advise the proper authorities of his movements between those locations, and to obtain court permission for any other travel he may wish to take. He's also surrendered his passport and agreed to waive extradition if he did end up trying to jump bail, which seems unlikely under the circumstances. Weinstein is being represented in the criminal case by Benjamin Brafman, a renowned New York defense attorney who will no doubt put on a strong defense of his client.
As with the Bill Cosby case, one of the biggest pre-trial issues in this case will be the question of whether and to what extent the prosecutors will be able to put forward testimony by accusers whose claims against Weinstein occurred far too long ago to be the subject of viable criminal or civil claims at this point due to the expiration of the applicable statutes of limitation. This is, as I said back before the start of the second Cosby trial, this is a controversial issue that frequently comes up in criminal trials. As a general rule, courts limit the ability of the prosecution to introduce evidence of so-called "prior bad acts" due to the concern that allowing a jury to hear evidence of charges unrelated to the one before them could cause them to unfairly consider the Defendant's guilt or innocence based on evidence unrelated to the case before them. Broadly speaking, such evidence or testimony is barred unless it falls within some very limited exceptions. In the end, the Judge in the Cosby case allowed five other women to testify at his second trial, but since this is an area of law that varies from state to state, it's hard to say how the court may decide that issue when it is put before a Judge.
Leaving aside the legal issues, though, Weinstein's surrender and the bringing of charges against him is another step forward for a movement that has been long overdue. Hopefully, it will lead not only for justice in the cases against him, but also to more women coming forward to speak the truth regardless of the consequences doing so may have for the men, both powerful and not, who have assaulted them.