Unemployment, Education, and Voting
The unemployed are predominately poorly educated non-voters. Some argue that they are therefore getting far too little attention from the political class.
Ezra Klein provides this useful chart as a partial explanation for why "tax cuts for the nation's very richest residents are commanding more political energy and consensus than unemployment insurance."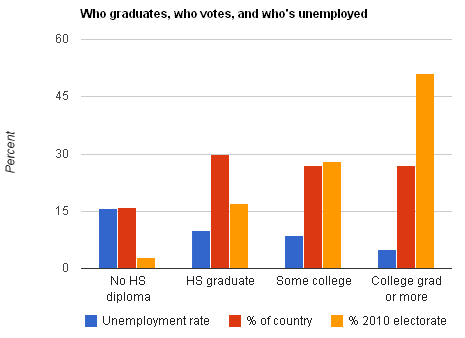 Kevin Drum improves the chart thusly: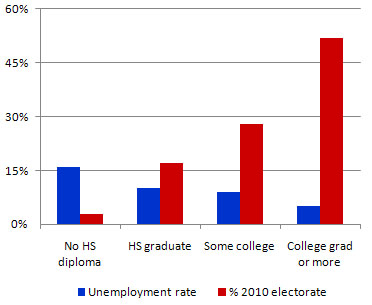 But Kevin overstates the case:
[T]his chart largely explains why sky-high unemployment hasn't produced any real sense of urgency in our political class. It's because unemployment is high among people who don't vote and low among people who do. If the stock market were crashing or corporate profits were down, that would be one thing. But unemployment? It's just not that big a deal.
While there's not much doubt that politicians respond more to issues that voters — and, especially, donors — care about, it's simply unfair to say that they think unemployment is "not that big a deal."  Even if we dehumanize them as caring only about re-election, the fact of the matter is that the high unemployment rate creates massive anxiety among those who are employed, depresses the mood of the market, and generally results in vulnerable incumbents losing their seats.
An alternative view of the charts is that the unemployed are mostly people who've done an incredibly poor job of managing their own lives.
Let's exclude from the discussion those over the age of, say, 60.  They came from an era when it was typical for working class men to drop out of school to help support the family and where one could expect to make a decent living working in a factory or doing manual labor.   But this cohort has to make up a tiny portion of the non-diploma unemployed.
In this day and age, it's simply irresponsible not to finish high school — or at least get a GED.   Hell, you're required by law to go to school through age 16.  How hard is it to hang around another year and get that diploma?
Further, it's not clear what urgent action Congress should take about this problem. Even among the 16 percent or so of the population who dropped out of school, the employment rate is still around 84 percent!
Surely, we don't want to devote substantial resources towards making low end jobs that don't require some minimal education.  I'd support some sort of retraining program — if nothing else, subsidizing GED courses for the unemployed — if it could be done at reasonable cost.  But we already spend massive amounts of money funding education and encouraging — indeed, forcing! — young people to take advantage of it.   How much energy should we expend on those who refuse to help themselves?