Vast Majority Of Sanders Supporters Backing Clinton
Ignore the focus on discord, most of Bernie's supporters are supporting Hillary.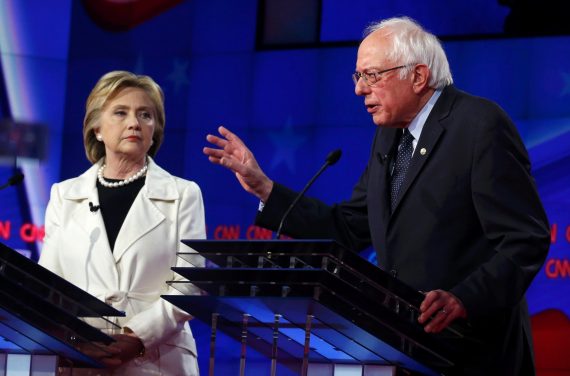 Heading into the evening and, thanks to the revelations regarding DNC emails and the subsequent resignation of DNC Chair Debbie Wasserman-Schultz, the first day of the Democratic National Convention looked like it was headed for chaos thanks to rebellions by Bernie Sanders supporters still upset by the outcome of the primary fight. As it turned out, though, the night went fairly well and was highlighted by speeches from Cory Booker, Michelle Obama, and, of course, Bernie Sanders, who once again gave a full-throated endorsement of Hillary Clinton's campaign for President and urged his supporters to unite behind her in order to defeat Donald Trump. As it turns out, notwithstanding the fact that much of the coverage of the Democratic convention is on the handful of Sanders supporters and protesters who are still vehemently against Clinton, the vast majority of Sanders supporters are doing just that:
Pew Research has been polling on the 2016 campaign for months, allowing it to track attitudes among voters over time. Nearly half of the Democratic electorate, 44 percent, changed their preference over the course of the three surveys Pew conducted. About 3 in 10 supported Clinton, wire-to-wire; about 20 percent Sanders.

Pew asked those consistent Sanders supporters whom they support in the general election. Ninety percent said they back Hillary Clinton.

(…)

There are plenty of Bernie Sanders supporters who are frustrated at Hillary Clinton, and some chunk of those voters will back Donald Trump in November. Most Democrats — even those who consistently supported Bernie Sanders in the primary — plan to back Hillary Clinton. Those Democrats are more likely to be moderate and, Pew's data suggests, more willing to accept compromise.

That, it seems clear, isn't the sort of person who would applaud a "Hillary Clinton for Prison" billboard.
On some level, it's not surprising that some sub-group of Sanders supporters are still stubbornly clinging to the idea of a viable Sanders campaign, or at least harboring resentment toward the opposition. This is especially true for people who volunteer or work on political campaigns, something I can attest to as someone who's been involved with winning and losing campaigns at various points in the past. Once you've spent the better part of a year working toward a goal, the fact that it all comes to an end so quickly and suddenly on Election Night quickly is something that it often takes some time to accept. This is as true of the supporters who show up at the rallies as it is of the volunteers and campaign workers. For many people, getting behind a candidate and getting caught up in a movement like the one that developed around Sanders over the course of the past year causes people to become emotionally invested in the outcome of the election to the point that it often takes some time for people to put those emotions behind them and change focus for a General Election Some small portion of people will never get over the outrage that supporting a candidate like Sanders stirred up for them, but for most people it's just a matter of time.
As the quoted article goes on to note, it's also important to note that the protesters and delegates at the convention this week aren't necessarily representative of Sanders supporters as a whole. Throughout the Democratic nomination process, Sanders received some twelve million votes, and the vast majority of these people clearly aren't the type of people inclined to take the position that they'd never vote for Hillary Clinton, or to adopt the political slogans of the Republican Party in a protest march, Instead, many of them are mainline Democrats who were attracted to Sanders largely because he was saying things that a lot of Americans have felt for quite a while when it comes to inequality, imbalances of power, and the perception that the government isn't working for the ordinary American the way that we've been told that it's supposed to. People like that aren't going to vote for Donald Trump and Mike Pence in November, instead as the polls indicate they are going to support the Democratic nominee. Anyone who expected otherwise just doesn't understand how politics works.