Veterans Didn't Like Being Used As Republican Political Props Yesterday
The presence of politicians like Sarah Palin at yesterday's "Million Veteran March" was not appreciated by the people who organized the protest.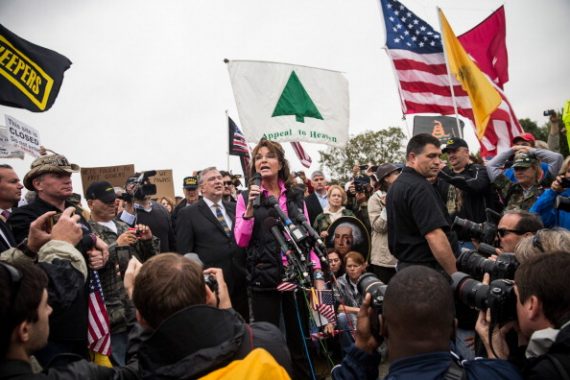 I made note yesterday of a rally down on the National Mall consistent of Veterans groups, Tea Party groups, and, of course, the usual Republican political suspects who used the opportunity to make speeches denouncing President Obama and pushing GOP talking points in connection with the government shutdown. Well, as it turns out, the veterans didn't really appreciate being used as political props:
Over the weekend, thousands of veterans descended upon the National Mall to protest the federal government shutdown and take down the barricades surrounding the World War II Memorial. The protest was billed as the Million Vet March on the Memorials, organized by a group of frustrated military veterans who have been organizing protests similar to this across the nation because, they felt that in this federal government shutdown, veterans "were unwillingly pitted as pawns in this crisis."
Consider, for example, what one group involved in organizing the protest posted on its Facebook page:
Official Stance of the Million Vet March on the Memorials:

The political agenda put forth by a local organizer in Washington DC yesterday was not in alignment with our message. We feel disheartened that some would seek to hijack the narrative for political gain. The core principle was and remains about all Americans honoring Veterans in a peaceful and apolitical manner. Our love for and our dedication to remains with Veterans, regardless of party affiliation or political leanings.
Additionally, The DCist notes this from the group's Mission Statement:
We do not care what political leanings you may be; be it liberal, conservative, Democrat, Republican, Libertarian, Independent or whatever.  The actions of the U.S. government this week with regard to barricading and shutting down the World War II Memorial to veterans, that may or may not be on their last trip to Washington DC, is a despicable act of cowardice.
Agree or disagree with this position as you wish, but it's clear that they aren't being partisan here. Too bad the likes of Palin, Cruz, and the Tea Party decided to hijack the event.