Walter Jones, Iraq War Supporter Who Became Anti-War, Dies At 76
Walter Jones, a former supporter of the Iraq War who became one of the most prominent anti-war voices in Congress, has passed away at the age of 76. He will be missed.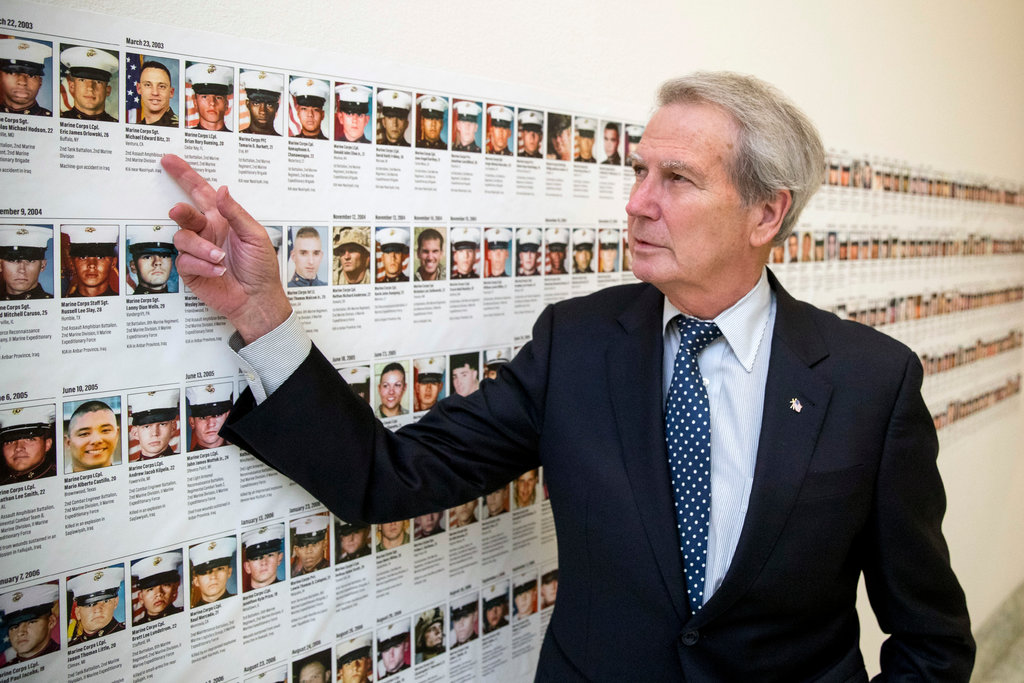 Walter Jones, a Congressman who represented a portion of North Carolina that includes one of the nation's largest military basis but nonetheless became a strong anti-war voice in his later years, has died at the age of 76
Walter B. Jones Jr., a Republican congressman from North Carolina whose district included Marine Corps Base Camp Lejeune, was a staunch supporter of the American-led invasion of Iraq in 2003. He had even helped rebrand french fries as "freedom fries," as a slap at France for opposing the war.

But he had an epiphany one day at a memorial ceremony at Camp Lejeune for Marine Sgt. Michael Bitz, 31, who had been killed in Iraq shortly after the invasion while trying to evacuate his wounded comrades.

During the ceremony, the sergeant's 2-year-old son, Joshua, dropped a toy. A young Marine in dress uniform reached down to pick it up and handed it back.

"And the boy looked up at him, and the Marine looked down, and then it hit me," Mr. Jones told Mother Jones magazine years later.

"This little boy would never know his daddy."

Mr. Jones's grief at this scene would lead to a dramatic political conversion against the war, putting him in opposition to his own party and President George W. Bush. It also led to years of trying to atone for his earlier support.

Mr. Jones died on Sunday, his 76th birthday, in Greenville, N.C., a statement by his office said. His health had been declining since September. Before he won re-election in November to his 12th term, he indicated that it would be his last. He then broke his hip in mid-January and was in hospice care at his death.

After witnessing that memorial ceremony, Mr. Jones decided to write letters to the families and extended families of every American killed in any conflict in which the United States had been involved since the terrorist attacks of Sept. 11, 2001.

"That was, for me, asking God to forgive me for my mistake," Mr. Jones told NPR in 2017. A deeply religious man, he had converted to Roman Catholicism after growing up a Southern Baptist.

At his death Mr. Jones had written more than 12,000 letters. (More than 4,500 American military personnel have been killed in Iraq and more than 2,400 in Afghanistan.)

"Gradually, one letter at a time, Jones's doubts about the war began to take shape," Mother Jones magazine wrote in 2006.

Mr. Jones also began putting up pictures in the hallway outside his Capitol Hill office of all the American military personnel who had been killed since 9/11. As those numbers climbed, Mr. Jones limited the pictures to those of Marines from Camp Lejeune.

A pivotal moment for him came when his daughter, Ashley, gave him the audiobook of James Bamford's "A Pretext for War" (2004).

In her review, The New York Times critic Michiko Kakutani wrote that the book "draws a scathing picture of ideologues in the Bush administration, manipulating dubious evidence about links between Al Qaeda and Saddam Hussein and flawed information about weapons of mass destruction in the push toward war."

Mr. Jones's sorrow over the loss of lives now gave way to outrage over the distortions and lies from the Bush administration that had led to the invasion. Feeling duped, he declared his opposition to the war in 2005 and pressed the administration for an exit strategy from Iraq.

Mr. Jones was particularly galled by Vice President Dick Cheney's false statements that Iraq had weapons of mass destruction.

"Lyndon Johnson's probably rotting in hell right now because of the Vietnam War, and he probably needs to move over for Dick Cheney," Mr. Jones said in 2013 at a meeting of the Young Americans for Liberty in Raleigh, N.C.

(…)

Walter Beaman Jones Jr. was born on Feb. 10, 1943, in Farmville, N.C., where he grew up and lived most of his life. His mother, Doris (Long) Jones, was a homemaker. His father, Walter Sr., worked for an office-supply company and served in the State Legislature before being elected to Congress in 1966. A Democrat, the elder Mr. Jones represented eastern North Carolina until he retired in 1992.

Walter Jr. graduated in 1961 from Hargrave Military Academy in Chatham, Va., and attended North Carolina State University from 1962 to 1965, when he transferred to Atlantic Christian College, now Barton College, in Wilson, N.C. He graduated with a bachelor's degree in history in 1966, the same year he married Joe Anne Whitehurst; she and their daughter survive him.

Out of college, Mr. Jones joined the National Guard and became a wine salesman as well as a Catholic. In 1982 he was drafted by local Democrats to fill out the term of a state representative who had died in office. Mr. Jones served for 10 years, and when his father retired from Congress, he ran for his seat.

Walter Jr. lost the 1992 Democratic primary. He tried again in a reconfigured district in 1994, by which time he had switched parties; a strong foe of abortion rights, he felt more comfortable as a Republican. He won that race and rode into office as part of a Republican wave led by the new speaker, Newt Gingrich.

Courtly and well-liked, Mr. Jones was voted the nicest member of the House of Representatives in a 2004 survey of top Capitol Hill staffers by The Washingtonian magazine.

His political impulses were basically libertarian, and he occasionally strayed from Republican orthodoxy. He fiercely opposed measures that would contribute to the national debt and voted against President Donald J. Trump's tax-cut bill for that reason. He denounced the influence of money in politics and urged Congress to counter the Supreme Court's Citizens United decision

But after the terrorist attacks of 9/11, when President Bush sought congressional authority to use military force in Iraq, Mr. Jones gave his wholehearted support.

Filled with patriotic fervor, he made perhaps his biggest publicity splash when he pushed for the menus in the Capitol cafeteria to be changed to read "freedom fries" instead of "french fries," an idea he borrowed from a North Carolina restaurant chain.

He was roundly applauded by Republicans and ridiculed by Democrats. (Tina Fey, on "Saturday Night Live," said that in France, "American cheese is now referred to as 'idiot cheese.' ")

It was only about a month later that Mr. Jones attended the Camp Lejeune memorial ceremony that would affect him so profoundly and lead him to apologize, many times, in public.
Jones's transformation was all the more extraordinary given the fact that he represented a district that was dominated by one of the largest Marine Corps bases in the country and whose residents include the families of active duty members of the military as well as retirees and others who depend on the military for work. Despite that, Jones retained the support of his constituents even after he turned against the Iraq War and became the anti-war critic that made him famous in his later years. He did face a primary challenge in 2008, the first election after his change of heart, but easily disposed of his opponent in the primary. Since then, he had been re-elected easily in each of his re-election bids, including a final bid in November 2018 when he was unopposed in the General Election.
There are few Members of Congress who one can call courageous and principled. One of them is, of course, Congressman John Lewis of Georgia who is an American hero thanks to his sacrifices during the Civil Rights Movement. On the Republican side, Michigan Congressman Justin Amash, while not in the same league as Lewis, is a principled libertarian-conservative who has not let himself fall into the Trumpidian trap that the rest of his party has. Another one of those people was Walter Jones. His change of heart on the Iraq War specifically and foreign and military policy generally was genuine and was reflected in his voting record during the rest of his Congressional career as well as the other efforts he undertook to make up for what he saw as the profound error of having supported the War in Iraq. Given the part of the country that he represented, he took a real political risk in doing so, but the people he represented must have recognized the genuineness and sincerity of his beliefs even if they didn't completely agree with him. A rarity in his own party, he was a vocal proponent of foreign policy restraint who stood as a counterpoint to the needlessly aggressive foreign policy many of his fellow Republicans advocated and he wasn't afraid to say so even if it meant being one of the only Republicans to vote against some pieces of legislation because of that. For that, he deserves both respect and thanks.