Was Obama's Syrian "Red Line" A Mistake?
President Obama may regret drawing a line in the sand over Syrian chemical weapons.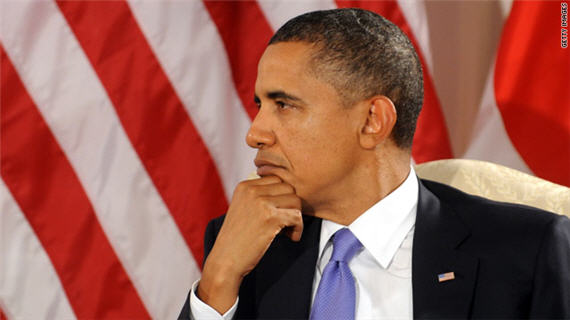 With the announcement yesterday that the United States had apparently confirmed the use of a small amount of chemical weapons, presumably by Syrian Government forces, those who have been advocating for greater American intervention in the Syrian civil war for some time now have been upping their efforts to pressure the Obama Administration to act. John McCain is renewing his calls for military aid to the Syrian rebels and the establishment of a no-fly zone over Syria, for example, and he's being joined by legislators like Sen. Lindsey Graham and House Intelligence Committee Mike Rogers both of whom are saying that the news, albeit unverified, means that the Administration has to act. Meanwhile, in the blogosphere, Jeffrey Goldberg seems to see the news as a hopeful sign that we'll see U.S. military action in Syria at some point in the near future:
If you recall, President Barack Obama drew a "red line" for you: no use of chemical weapons in your brutal attempt to put down the uprising against your regime. Any use of such weapons (even any "moving around" of such weapons) would "change my calculus," Obama said, "change my equation." In other words, welcome to the day in which the calculus might just be changing.

Hagel, speaking to reporters in Abu Dhabi, said that U.S. intelligence has come to believe — like the Israelis, the French and the British before them – that President Bashar al- Assad's regime seems to have used sarin "on a small scale."

(…)

Obama has some choices to make. He could use force to begin destroying or safeguarding Syria's chemical weapons stockpiles. This is dangerous, of course, and could even involve the insertion of U.S. special operations forces trained in such work. Obama's other options include establishing no-fly zones and openly arming Syria's rebels, steps that could lead to the quicker collapse of the regime. No-fly zones are expensive and hazardous to maintain, but they would go a long way toward degrading Assad's power. Arming the rebels is similarly fraught, because many of them are the sorts of people who seem likely to one day turn these weapons back on the U.S. or its friends.

There are no good choices — good outcomes in Syria are impossible to imagine. But if it is proved to a certainty that Assad is trying to kill his people with chemical weapons, then Obama may have no choice but to act, not only because he has put the country's credibility on the line (Iran and North Korea are undoubtedly watching closely), but also because the alternative — allowing human beings to be murdered by a monstrous regime using the world's most devilish weapons, when he has the power to stop it — is not a moral option for a moral man.
Jonathan Tobin made similar comments over at Commentary:
More to the point, this is a moment when the United States must reassert its responsibility to stop humanitarian disasters. While many, if not most, Americans don't care whether Assad or some other thug rules Syria, the notion of the West standing back and watching while mass murder is taking place is unacceptable. Having already said that the use of chemical weapons is a "red line" Assad cannot cross without triggering Western action, the president cannot continue to stay on the sidelines.

For too long, President Obama's Syria policy has been one of "leading from behind" and hoping that the problem will be solved before we are forced to do anything. But Assad won't be toppled without Western involvement. Nor will we be able to keep his chemical weapons out of the hands of extremists by praying that others will do the job for us.
Tobin's co-blogger Max Boot largely agrees with him as does, unsurprisingly, The Washington Post's Jennifer Rubin:
[W]hat should the administration do? A half-hearted gesture (e.g., increasing humanitarian aid to the rebels) is not commensurate with the atrocity or with the president's warning. If the president wants to change the calculus, just as chemical weapons changed the Syrian war, he will need to change U.S. policy. That may entail providing lethal aid to non-jihadist elements in the opposition, setting up a no-fly zone to protect civilians, and upping diplomatic and economic sanctions against Syria.

The president's foreign policy has to date consisted of wishful thinking (a world without nukes!); pummeling our friends (Israel); trying to engage dictators in China, Iran, Syria and elsewhere; and deferring to international bodies. These factors, plus a determination not to engage our enemies and instead avoid and withdraw from conflict without settling the underlying security situation (in Iraq, Afghanistan), have undercut our credibility. The president has a chance to recover lost ground, or he can make diplomatic noise, change the amount (but not type) of our aid and take no other steps to bring an end to the bloodbath. If so, he'll be signaling to Tehran and Pyongyang that an Obama ultimatum means nothing.
As a preliminary matter, I find the comparisons that Rubin, Tobin, and others are trying to make between Syria and possible future actions by Iran or North Korea to be a bit of a stretch. With regard to North Korea, we are bound by defense treaties to the protection of both South Korea and Japan. With regard to Iran, while we lack a formal treaty with Israel, the fact of the matter is that our relationship is close enough to be a de facto alliance to the point where if Iran did begin making serious threats that threatened the security of Israel and the rest of the Middle East, the United States would be compelled to act. The situation in Syria is far more complicated. For one thing, we cannot even be sure whether the anti-government side is, in the end, any better than the Assad regime itself. Indeed, it's pretty well known that elements of the rebel forces fighting in Syria now are linked to al Qaeda and similar jihadist groups such as Hezbollah. For that reason alone, it seems foolish to me to be enthusiastically back a rebellion in a nation that is centrally located in the Middle East, and which could have an impact on the political futures of Lebanon, Israel, Jordan, Iraq, and Turkey to name just five of its neighbors. We went into Iraq without any clear idea of what the post-Saddam picture would look like in Iraq and no real plan to handle it when it came into existence, do we really want to do that again in Syria and risk destabilizing more of the Middle East?
Additionally, I've got to wonder why it ought to be the case that what all reports indicate was a limited use of chemical weapons should necessarily mandate a change in American policy in Syria.  This war has been going on for more than two years now. Hundreds of thousands, if not millions, of people have been made refugees because of the fighting. Up to 70,000 people have died. Throughout it all, neither the United States nor the rest of the West has shown any inclination to step into the conflict except in the most limited of ways. Why should that change now? Some will cite the long-standing, since the end of World War One, international norms that have been created against the use of chemical weapons, but if we're talking about a small scale attack does that mean that we must treat it is as if it were a mass attack on the level of what Saddam Hussein did to the Kurds in the 1980s? This isn't to excuse the use of chemical weapons, of course, but I'm not sure that their use under these circumstances makes further U.S. involvement in a complicated civil war any less of a bad idea than it was the day before yesterday. Surely, there is a way to respond to this incident that doesn't involve further U.S. involvement and/or actions that hasten the collapse of the regime in Damascus. Especially since, as Daniel Larison notes, a collapsed Assad regime would make it more likely that those chemical weapons could fall into the hands of terrorists or rogue regimes.
President Obama's problem now, of course, is the fact that he's painted himself into a corner to some extent. By saying that any use of chemical weapons by the Syrians was a "red line," he created the impression that the U.S. would not tolerate even a single chemical shell being fired. The "red line" was vague  enough, though, that it was unclear exactly what the United States would do if the line was crossed,or even what kind of an act constituted crossing the line. Now that the Syrians have apparently engaged in the limited use of chemical weapons, the world expects the United States to do something and President Obama's domestic opponents stand ready to pounce if they perceive that he's backing down from the threat. Unfortunately for the President, backing down may be the smartest thing to do under the circumstances. For that reason, he may come to realize that drawing a "red line" over the use of chemical weapons wasn't really a good idea after all.