West Shamed Into Action
Actions deemed unthinkable days earlier are suddenly mandatory.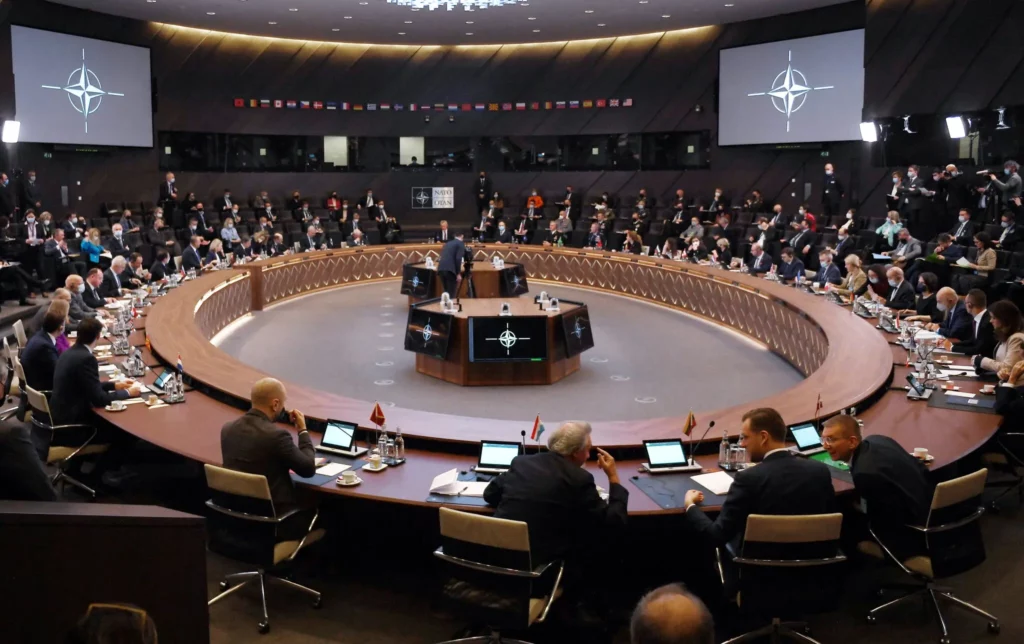 At NYT, Mark Landler, Katrin Bennhold and Matina Stevis-Gridneff seek to explain what I continue to believe is the most remarkable outcome of the Ukraine invasion: "How the West Marshaled a Stunning Show of Unity Against Russia."
The day after Russian tanks and troops poured across the Ukrainian border on Feb. 24, NATO leaders received a deeply frightening message. The alliance's secretary general, Jens Stoltenberg, opened an emergency video summit by warning that President Vladimir V. Putin had "shattered peace in Europe" and that from now on, he would openly contest the continent's security order.

However unlikely, Mr. Stoltenberg told the leaders, it was no longer unthinkable that Mr. Putin would attack a NATO member. Such a move would trigger the collective defense clause in the North Atlantic Treaty, opening the door to the ultimate nightmare scenario: a direct military conflict with Russia.

President Biden, who had dialed in from the White House Situation Room, spoke up swiftly. Article 5 was "sacrosanct," he said, referring to the "one for all, all for one" principle that has anchored NATO since its founding after World War II. Mr. Biden urged allied leaders to step up and send reinforcements to Europe's eastern flank, according to multiple officials briefed on the call.

Within hours, NATO had mobilized its rapid response force, a kind of military SWAT team, for the first time in history to deter an enemy. It was one in an avalanche of precedent-shattering moves, unfolding in ministries and boardrooms from Washington to London and Brussels to Berlin. In a few frantic days, the West threw out the standard playbook that it had used for decades and instead marshaled a stunning show of unity against Russia's brutal aggression in the heart of Europe.
We've discussed plenty the manifestations of this, including the Germans waking from a long slumber and sports leagues and businesses taking bold steps decidedly against their short-term interest. But how did it come about?
The report notes that Ukrainian President Volodymyr Zelensky practically begged Western leaders for help at the Munich Security Conference late last month and privately met with US Vice President Kamala Harris, who gave him no assurances.
But then, suddenly, the German Chancellor Olaf Scholz announced the end of Nord Stream 2 in reaction to Putin's declaration recognizing Donetsk and Luhansk. Two days later, when Putin announced his "special operation" in a bizarre speech, things seemed to click.
Until that moment, said Karen Pierce, the British ambassador to the United States: "I don't think everyone in Europe and around the world expected it to be full-blown. That was the moment that jolted everyone."

The European Union's belated recognition was evident in the initially plodding negotiations over sanctions. A decade of crises — from eurozone debt problems to Brexit and the pandemic — had created an almost ritualistic pursuit of self-interest when it came to hammering out Europe-wide policy in Brussels.

[…]

But their resolve quickly stiffened with the start of the war. Shortly before Germany, the Netherlands offered Ukraine Stinger missiles and other weapons. Last Saturday, the European Union set up a nearly $500 million fund for members to send weapons. It was the first time the bloc jointly purchased lethal weapons to arm another country's army under the E.U. banner — another Rubicon crossed.

"I don't remember a time when the target of Western sanctions was so economically integrated into the West," said Tom Keatinge, a senior researcher with the British Royal United Services Institute, a research group in London. Punishing Russia, he said, became an imperative for world leaders and everyday consumers. "It became about, 'What are you, man on the street, going to sacrifice for Ukraine?'"

[…]

It was before dinner on Feb. 24, on the evening after the invasion began, when Mr. Zelensky's image flickered on a video screen. European leaders were meeting under the highest level of secrecy, without advisers or electronic devices. Clad in suits and ties, they were seated in the comfort of a high-tech conference room in Brussels. Mr. Zelensky appeared to be in a bunker, somewhere in Kyiv, wearing his now-famous military-green T-shirt. The contrast was not lost on anyone in the room.

"This may be the last time you see me alive," Mr. Zelensky said in making yet another fervent plea for tougher sanctions and more weapons.

When the leaders emerged from the room, they were visibly shaken, several officials said. Some described Mr. Zelensky's appearance as a "catalyst" and a "game changer." Later that night and the next morning, they instructed their envoys in Brussels to freeze the assets of Mr. Putin and Mr. Lavrov, and to finally greenlight the severing of many Russian banks from the SWIFT platform — concerted action against a country that had long divided them.

"It's a quantum leap," said Rosa Balfour, the director of Carnegie Europe. "Putin's invasion of Ukraine has brought Europeans together on what probably has been the single most divisive foreign-policy issue since the start of the European Union."

There was a similar evolution in the thinking of the Biden administration. The United States also had initial concerns about using SWIFT as a weapon. There could be unintended consequences, some officials argued, like driving Russia closer to China financially.

At the NATO emergency summit on Feb. 25, Mr. Johnson, the British prime minister, urged other leaders to suspend Russian banks from SWIFT. He was seconded by leaders from Poland, Latvia and the Czech Republic.

By the next day, the United States was on board, along with the European Union: They would penalize Russia's central bank and remove some Russian institutions from the SWIFT system, choking off Russia's access to a cushion of international reserves it had built up since first invading Ukraine in 2014.

Like Germany's shuttering of the Nord Stream project, the action on SWIFT took Western penalties to an entirely new level.
It would seem that the contrast between Zelensky's courage and their own reticence shamed Western leaders into action. But, as I've noted before, nothing of this sort comes without strong leadership from the United States and, this time, it was forthcoming. Indeed, it had been quietly happening behind the scenes for months.
The annexation of Crimea hung over American officials. Over breakfast at the security conference in Munich, Secretary of State Antony J. Blinken vividly recalled the mistakes made in 2014, when Western allies were taken by surprise by Russia's lightning conquest. It took them nearly a year to cobble together sanctions, none of which were severe enough to force Mr. Putin to reverse himself.

Mr. Blinken, who worked for Mr. Biden, then the vice president, pushed for the United States to send Javelin antitank missiles to Ukrainian troops. But President Barack Obama, fearing a cycle of escalation with Moscow, resisted. Gathering foreign policy experts at a White House dinner in September 2014, Mr. Obama asked, "Will somebody tell me: What's the American stake in Ukraine?"

Those memories stuck with Mr. Biden, who as vice president had visited Kyiv several times. Now, as president, he viewed Ukraine as a chance to reassert the United States' leadership on the world stage — a role that had become tarnished after his administration's chaotic, bloodstained departure from Afghanistan.

American diplomats had held hundreds of meetings with European officials since Russia began massing troops in the fall. In a striking break from practice, the C.I.A. disclosed detailed intelligence about Mr. Putin's war plans, including so-called false-flag operations that Russia could use as a pretext to strike. That stripped Russia of any element of surprise, even if it did not cause Mr. Putin to rethink his course.
All of this seems to have set off a feeding frenzy in which those who had been feckless or indifferent in the past were suddenly racing to do more—and being shamed into doing more still.
As the images of burning buildings and fleeing Ukrainians filled screens around the world, the ripple effects of Russia's invasion spread far beyond government ministries. For multinational companies like Apple, Google, BP and Shell, the costs of doing business in Russia suddenly became untenable.

Apple halted sales of iPhones and iPads, prompting a social media video of a Russian man smashing his iPad with a hammer. Google's parent, Alphabet, said YouTube, which it owns, would suspend advertising on channels affiliated with state-funded Russian media groups. Google Maps stopped displaying real-time traffic information in Ukraine for fear that it could jeopardize the safety of people there.

It was a turnabout from previous episodes when Google and Apple acquiesced to Russia's demand to alter how their digital maps demarcated the disputed Crimean Peninsula after Russia annexed it. Last year, both yielded to Russian pressure and removed an app created by allies of the jailed dissident leader Aleksei A. Navalny that was meant to coordinate protest voting during a parliamentary election.

But Google's actions did not go far enough to satisfy European Union officials. In a video call, they urged Alphabet and YouTube's chief executives to remove two Russian state-owned news agencies, RT and Sputnik, from YouTube altogether. Two days later, they did so.

Western oil giants were coming to a similar recognition. BP's chief executive, Bernard Looney, knew his company would have to walk away from its $14 billion stake in Rosneft, a state-controlled Russian oil company, almost as soon as the invasion began, according to people with knowledge of the company.

Two days after Russia attacked, Mr. Looney held a videoconference with Britain's business minister, Kwasi Kwarteng, who expressed the government's concerns. By Sunday afternoon, BP's board voted to exit the Rosneft holding, ending a foray into the rough-and-tumble world of Russian oil and gas that dated to 2003.

The prospect of Mr. Looney serving on the same board as Igor Sechin, the chief executive of Rosneft and a longtime confidant of Mr. Putin's, would not have sat well with either the British government or people who fill up at BP's gas stations.
There's a lot more to the report but that's the core of the "how" piece of it. It's truly a stunning and remarkable development. And one that speaks to the power of norms in international relations.
Obama was being ruthlessly Realist eight years ago when he asked, "What's the American stake in Ukraine?" He assessed, correctly in my view, that it was not sufficient to risk war with Russia. Indeed, Biden and the NATO allies continue to share that assessment.
Countries, business firms, and sporting leagues all have their own interests and cutting off a powerful, if corrupt and dangerous, country like Russia is costly to them. While I think, for example, that Russia should long ago have been banned from the Olympics, I don't at all blame Apple or Google for being unwilling to deny themselves a lucrative market until now.
And yet, almost instantly, the perception of these interests changed for all these actors simultaneously.
The United States and its NATO allies are still not willing to go to war with Russia. Or even to declare Ukraine a no-fly zone, which is a step just shy of that. But they're suddenly willing to take measures they would have balked at even ten days ago. And, again, it seems that they have been shamed into it, seeing their honor as tied to standing up to Putin.