What If The Economy Never Really Gets Better?
The prospects for real economic recovery are not good.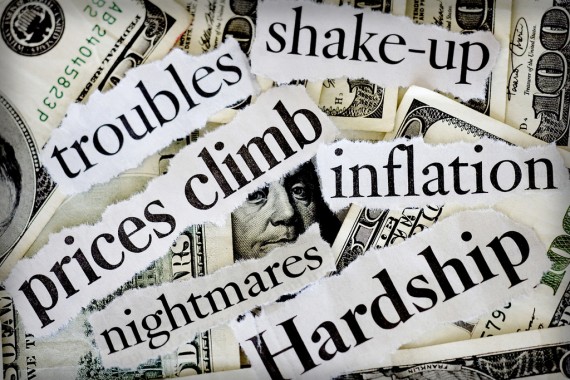 Today's news of the day may well be the report from the Census Bureau that Americans have actually suffered more since the "Great Recession" ended in the early summer of 2009 than they did during the actual recession itself:
WASHINGTON — In a grim sign of the enduring nature of the economic slump, household income declined more in the two years after the recession ended than it did during the recession itself, new research has found.

Between June 2009, when the recession officially ended, and June 2011, inflation-adjusted median household income fell 6.7 percent, to $49,909, according to a study by two former Census Bureau officials. During the recession — from December 2007 to June 2009 — household income fell 3.2 percent.

The finding helps explain why Americans' attitudes toward the economy, the country's direction and its political leaders have continued to sour even as the economy has been growing. Unhappiness and anger have come to dominate the political scene, including the early stages of the 2012 presidential campaign.

(…)

The full 9.8 percent drop in income from the start of the recession to this June — the most recent month in the study — appears to be the largest in several decades, according to other Census Bureau data. Gordon W. Green Jr., who wrote the report with John F. Coder, called the decline "a significant reduction in the American standard of living."

That reduction occurred even though the unemployment rate fell slightly, to 9.2 percent in June compared with 9.5 percent two years earlier. Two main forces appear to have held down pay: the number of people outside the labor force — neither working nor looking for work — has risen; and the hourly pay of employed people has failed to keep pace with inflation, as the prices of oil products and many foods have jumped.

During the recession itself, by contrast, wage gains outpaced inflation.

One reason pay has stagnated is that many people who lost their jobs in the recession — and remained out of work for months — have taken pay cuts in order to be hired again. In a separate study, Henry S. Farber, an economics professor at Princeton, found that people who lost jobs in the recession and later found work again made an average of 17.5 percent less than they had in their old jobs.

"As a labor economist, I do not think the recession has ended," Mr. Farber said. "Job losers are having more trouble than ever before finding full-time jobs."

Mr. Farber added that this downturn was "fundamentally different" from most previous ones. Historically, other economists say, financial crises and debt-caused bubbles have led to deeper, more protracted downturns.

Mr. Green and Mr. Coder said the persistently high rate of unemployment and the long duration of unemployment helped explain the decline in income during the recovery.

In the recession, the average length of time a person who lost a job was unemployed increased to 24.1 weeks in June 2009, from 16.6 weeks in December 2007, according to the federal Bureau of Labor Statistics. Since the end of the recession, that figure has continued to increase, reaching 40.5 weeks in September, the longest in more than 60 years.
When you see numbers like this, it becomes much easier to understand why economic pessimism continues to be the prevalent attitude in the country, why the public has so little faith in American political institutions regardless of which party is in charge, and why the vast majority of Americans believe that the country is on the wrong track. Even when the economy was supposedly in recovery, people were seeing their incomes shrink and those who were unemployed were finding it hard to find work, and continue to do so to this day. A bunch of academic economists may call this a "recovery" because we haven't had two consecutive quarters of negative GDP growth, but the difference between 1.3% growth and -.1% growth isn't all that great in the grand scheme of things, and when you're income is shrinking there's really no difference at all.
Today's news brings to mind a piece in yesterday's New York Times by David Leonhardt in which he makes the point that our current economic troubles are happening at the worst possible time:
The most worrisome aspect about our current slump is that it combines obvious short-term problems — from the financial crisis — with less obvious long-term problems. Those long-term problems include a decade-long slowdown in new-business formation, the stagnation of educational gains and the rapid growth of industries with mixed blessings, including finance and health care.

Together, these problems raise the possibility that the United States is not merely suffering through a normal, if severe, downturn. Instead, it may have entered a phase in which high unemployment is the norm.

On Friday, the Labor Department reported that job growth was mediocre in September and that unemployment remained at 9.1 percent. In a recent survey by the Federal Reserve Bank of Philadelphia, forecasters said the rate was not likely to fall below 7 percent until at least 2015. After that, they predicted, it would rarely fall below 6 percent, even in good times.

Not so long ago, 6 percent was considered a disappointingly high unemployment rate. From 1995 to 2007, the jobless rate exceeded 6 percent for only a single five-month period in 2003 — and it never topped 7 percent.

(…)

the reasons for concern today are serious. Even before the financial crisis began, the American economy was not healthy. Job growth was so weak during the economic expansion from 2001 to 2007 that employment failed to keep pace with the growing population, and the share of working adults declined. For the average person with a job, income growth barely exceeded inflation.

The closest thing to a unified explanation for these problems is a mirror image of what made the 1930s so important. Then, the United States was vastly increasing its productive capacity, as Mr. Field argued in his recent book, "A Great Leap Forward." Partly because the Depression was eliminating inefficiencies but mostly because of the emergence of new technologies, the economy was adding muscle and shedding fat. Those changes, combined with the vast industrialization for World War II, made possible the postwar boom.

In recent years, on the other hand, the economy has not done an especially good job of building its productive capacity. Yes, innovations like the iPad and Twitter have altered daily life. And, yes, companies have figured out how to produce just as many goods and services with fewer workers. But the country has not developed any major new industries that employ large and growing numbers of workers.

There is no contemporary version of the 1870s railroads, the 1920s auto industry or even the 1990s Internet sector. Total economic output over the last decade, as measured by the gross domestic product, has grown more slowly than in any 10-year period during the 1950s, '60s, '70s, '80s or '90s.
Leonhardt cites a number of factors for the current situation. Stagnant growth in the number of people with bachelor degrees, he argues, is one indicator of the overall decline of the skill level of the workforce. While it's certainly true that the unemployment rate among people with college degrees is, notwithstanding the media coverage of "Occupy Wall Street," far lower than it is among other groups, I'm not certain that the answer is getting more people into college is the answer, especially if they end up in majors that are just going to leave them with a boat load of student loan debt and a job waiting tables. Increased immigration from people with skills would also be helpful, but we live in a time when popular sentiment is very much against increasing immigration, and continued economic stagnation is only going to make that a more powerful sentiment. Finally, Leonhardt sees investment dollars being sucked out of the economy by housing, health care, and finance. Like Kevin Drum, but for different reasons, I'm not sure I completely agree with that last point.
Leonhardt's closing is sobering, but completely on point:
The United States has long overcome its less dynamic industries by replacing them with more dynamic ones. The decline of the horse and buggy, difficult as it may have been for people in the business, created no macroeconomic problems. The trouble today is that those new industries don't seem to be arriving very quickly.

The rate at which new companies are created has been falling for most of the last decade. So has the pace at which existing companies add positions. "The current problem is not that we have tons of layoffs," Mr. Katz says. "It's that we don't have much hiring."

If history repeats itself, this situation will eventually turn around. Maybe some American scientist in a laboratory somewhere is about to make a breakthrough. Maybe an entrepreneur is on the verge of creating a great new product. Maybe the recent health care and financial-regulation laws will squeeze the bloat.

For now, the evidence for such optimism remains scant. And the economy remains millions of jobs away from being even moderately healthy.
I've written about the possibility of a permanent, or near permanent, stagnation before. Most recently, back in April, I said this:
The old tools for stimulating the economy don't seem to work anymore. If nothing else, the obvious failure of President Obama's stimulus package to turn around the economy or halt the collapse of the jobs market would seem to be proof that the old Keynesian tools don't work anymore. With a Federal Budget that is increasingly diverted to paying interest on the National Debt and funding entitlement programs, neither one of which contribute all that much to economic growth, it's simply not possible to throw money at the problem anymore (which, I presume, would be Klein's favored solution). Of course, budget deficits also mean that tax cuts, the traditional Republican answer to slow economic growth, isn't really an option at the moment either. In fact, taxes will clearly have to be increased for some people, and that's likely to further depress economic growth.

Meanwhile, the factors that are holding the economy back, such as rising energy and commodity prices, don't seem to be going away anytime soon.

So, we may be headed for an era where our economic growth is more similar to Europe than we'd like. That means unemployment is likely to be high for some time to come, that American optimism will become a thing of the past, and that our political system is likely to become even more polarized than it already is.
If nothing else, the last six months have made that slow growth forecast come true, and the forecasts we're getting now tell us we're likely to see slow economic growth and higher-than-we've-been-used-to unemployment for many years to come. Perhaps Leonhardt is right and somewhere out there there's a new technological breakthrough that will change the world, but that's not something you can forecast, and it's not something the government can mandate either. In the starkest sense of the word, our future is out of our hands.