What Went Wrong With The GOP
How did Republicans get in this mess?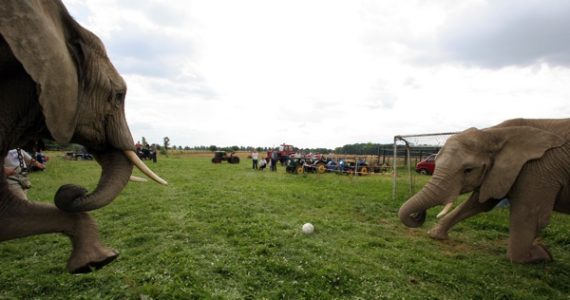 As Steven Taylor noted this morning, David Frum has an interesting piece at New York Magazine today in which he explores how he went from one of his party's most respected voices to persona non grata in most conservative circles:
America desperately needs a responsible and compassionate alternative to the Obama administration's path of bigger government at higher cost. And yet: This past summer, the GOP nearly forced America to the verge of default just to score a point in a budget debate. In the throes of the worst economic crisis since the Depression, Republican politicians demand massive budget cuts and shrug off the concerns of the unemployed. In the face of evidence of dwindling upward mobility and long-stagnating middle-class wages, my party's economic ideas sometimes seem to have shrunk to just one: more tax cuts for the very highest earners. When I entered Republican politics, during an earlier period of malaise, in the late seventies and early eighties, the movement got most of the big questions—crime, inflation, the Cold War—right. This time, the party is getting the big questions disastrously wrong.
Frum's article is long, and well worth your attention. In it he cites a number of factors that have shaped the Republican coalition in the post-Reagan, post-Cold war era, but one in particular struck my interest:
Extremism and conflict make for bad politics but great TV. Over the past two decades, conservatism has evolved from a political philosophy into a market segment. An industry has grown up to serve that segment—and its stars have become the true thought leaders of the conservative world. The business model of the conservative media is built on two elements: provoking the audience into a fever of indignation (to keep them watching) and fomenting mistrust of all other information sources (so that they never change the channel). As a commercial proposition, this model has worked brilliantly in the Obama era. As journalism, not so much. As a tool of political mobilization, it backfires, by inciting followers to the point at which they force leaders into confrontations where everybody loses, like the summertime showdown over the debt ceiling.

But the thought leaders on talk radio and Fox do more than shape opinion. Backed by their own wing of the book-publishing industry and supported by think tanks that increasingly function as public-relations agencies, conservatives have built a whole alternative knowledge system, with its own facts, its own history, its own laws of economics. Outside this alternative reality, the United States is a country dominated by a strong Christian religiosity. Within it, Christians are a persecuted minority. Outside the system, President Obama—whatever his policy ­errors—is a figure of imposing intellect and dignity. Within the system, he's a pitiful nothing, unable to speak without a teleprompter, an affirmative-action ­phony doomed to inevitable defeat. Outside the system, social scientists worry that the U.S. is hardening into one of the most rigid class societies in the Western world, in which the children of the poor have less chance of escape than in France, Germany, or even England. Inside the system, the U.S. remains (to borrow the words of Senator Marco Rubio) "the only place in the world where it doesn't matter who your parents were or where you came from.
Kathleen Parker made a similar point in a column looking at the GOP field that ran over the weekend:
[T]he conservative brain trust once led by William F. Buckley has been supplanted by talk radio hosts who love to quote Buckley (and boast of his friendship) but who do not share the man's pedigree or his nimble mind. Moreover, where Buckley tried to rid the GOP of fringe elements, notably the John Birch Society, today's conservatives have let them back in. The 2010 Conservative Political Action Conference was co-sponsored by the Birchers.

Meanwhile, the big tent fashioned by Ronald Reagan has become bilious with the hot air of religious fervor. No one was more devout than the very-Catholic Buckley, but you didn't see him convening revivals in the public square. Nor is it likely he would have embraced fundamentalist views that increasingly have forced the party into a corner where science and religion can't coexist.

Scientific skepticism, the engine that propels intellectual inquiry, has morphed into skepticism of science fueled by religious certitude. In this strange world, it is heresy to express concern about, for example, climate change — or even to suggest that human behavior may be a contributing factor. Jon Huntsman committed blasphemy when he told ABC's Jake Tapper that he trusts scientists on global warming.

What Huntsman next said, though refreshing and true, ensured that his poll numbers would remain in the basement: "When we take a position that isn't willing to embrace evolution, when we take a position that basically runs counter to what 98 of 100 climate scientists have said, what the National Academy of Sciences has said about what is causing climate change and man's contribution to it, I think we find ourselves on the wrong side of science and, therefore, in a losing position."

Of course, plenty of Republicans agree with this appraisal, including other presidential candidates. They understand that the challenge is to figure out to what extent humans contribute and what humans can reasonably do without bankrupting the planet.

Nevertheless, the Republican base requires that candidates tack away from science toward the theistic position — only God controls climate. More to the point, Rush Limbaugh says that climate change is a hoax and so it must be. Huntsman may as well be a Democrat. c

It takes courage to swim against the tide of know-nothingness that has become de rigueur among the anti-elite, anti-intellectual Republican base. Call it the Palinization of the GOP, in which the least informed earns the loudest applause.
No doubt, both Parker and Frum will get excoriated by commentators on the right for what they're saying here. Indeed, to a large degree, both of them have been written out of acceptable conservatism in much the same way that people like Bruce Bartlet and David Stockman have and in which Jon Huntsman has bizarrely been ignored in the 2012 race despite his record and his conservatism. Who exactly decides who gets written out of the movement isn't always clear. Sometimes it's Rush Limbaugh, sometimes it's one of the Tea Party groups. Sometimes, all it takes is for a politician or pundit to endorse Mitt Romney over the supposed "true conservative" alternative, whether that happens to be Michele Bachmann, Rick Perry, Herman Cain, or Newt Gingrich at the moment. The most important thing to note about this new brand of GOP conservatism, though, is that there's little ground for dissent from the party line as set by the talk radio culture that Frum refers to.
It's important to note, I think, that the primary purpose of the Limbaugh's and Hannity's of the world has almost nothing to do with politics, and even less to do with having an honest discussion of public policy issues. They exist primarily as entertainers, and their goal is to garner high ratings to allow their syndication companies and local radio stations to charge high advertising rates. They don't make money by being honest about the issues, they make money by getting people to listen. Because this is their goal,  they all tend to follow the same pattern of repeating, with little theoretical or evidentiary support, the talking points of conservatism as they happen to be at the time. Those talking points can change on a dime — remember how quickly Rush Limbaugh's utter disdain for John McCain during the Republican primaries turned to adulation once he won the nomination, only to turn back to disdain after he lost — with almost no recognition of the fact that the host may be contradicting themselves from one day to the next. All that matters is that they're mindlessly repeating something, day after day, to which the audience can respond "Hell, yeah" It also helps to be able to serve up what James Joyner once referred to as "healthy chunks of red meat, generating faux outrage, and flaming the passions of a single minded audience than to persuade people towards your point of view. "
John Derbyshire, who is certainly no squish, noted the problem back in 2009:
By yoking themselves to the clueless George W. Bush and his free-spending administration, they helped create the great debt bubble that has now burst so spectacularly. The big names, too, were all uncritical of the decade-long (at least) efforts to "build democracy" in no-account nations with politically primitive populations. Sean Hannity called the Iraq War a "massive success," and in January 2008 deemed the U.S. economy "phenomenal."

Much as their blind loyalty discredited the Right, perhaps the worst effect of Limbaugh et al. has been their draining away of political energy from what might have been a much more worthwhile project: the fostering of a middlebrow conservatism. There is nothing wrong with lowbrow conservatism. It's energizing and fun. What's wrong is the impression fixed in the minds of too many Americans that conservatism is always lowbrow, an impression our enemies gleefully reinforce when the opportunity arises. Thus a liberal like E.J. Dionne can write, "The cause of Edmund Burke, Leo Strauss, Robert Nisbet and William F. Buckley Jr. is now in the hands of Rush Limbaugh, Sean Hannity. … Reason has been overwhelmed by propaganda, ideas by slogans." Talk radio has contributed mightily to this development.
That's about as far away from the Firing Line style of conservatism as you can get, and the impact on the political culture of the right is quite apparent.
The biggest impact has been what Parker refers to in her column as the "Palinization" of the GOP. While Mitt Romney remains as the establishment Republican candidate to beat (an ironic place to be for the man who was the conservative golden boy in 2008), the GOP base and the Tea Party have spent the last  year hitching their banner to the likes of Sarah Palin, Donald Trump, Michele Bachmann, Rick Perry, Herman Cain, and now Newt Gingrich. Even when one points out the inadequacies of many of these candidates when it comes to the basic skills one would think a President needs, the response from supporters tended to be something along the lines of saying that their lack of intellectual heft was "refreshing," whatever that means. The rejection of basic science, or even scientific inquiry, seems to be a requirement to be considered part of the clib among this species of conservatism as well. So, we find that a movement that was founded by men like William F. Buckley and Russel Kirk, and celebrated intellectualism in more ways the one, has devolved into one where a phrase like "we don't need no fancy book learnin'" seems to be more of a badge of honor than a joke.
Frum ends his piece with by citing the hopeful fact that, even within the GOP, the Tea Party consists of at most 1/3 of self-identified Republicans. Hopefully, he says, the red meat conservatives, the people like Jon Huntsman and Mitch Daniels and Chris Christie, for example, will speak up and pull the conversation away from the nonsense that it seems to devolve into all the time. Of course, Daniels and Christie chose not to run and Huntsman is ignored by his party, largely I think because he committed the "sin" of accepting a job representing his country from Barack Obama. As long as the Limbaugh-Hannity-Coulter wing of the GOP is setting the agenda, then I don't see how the GOP reverts back to the kind of party it was under Ronald Reagan.