What Would It Take to Beat Trump for the Republican Nomination?
The former President has a 50 point lead. Is he unstoppable?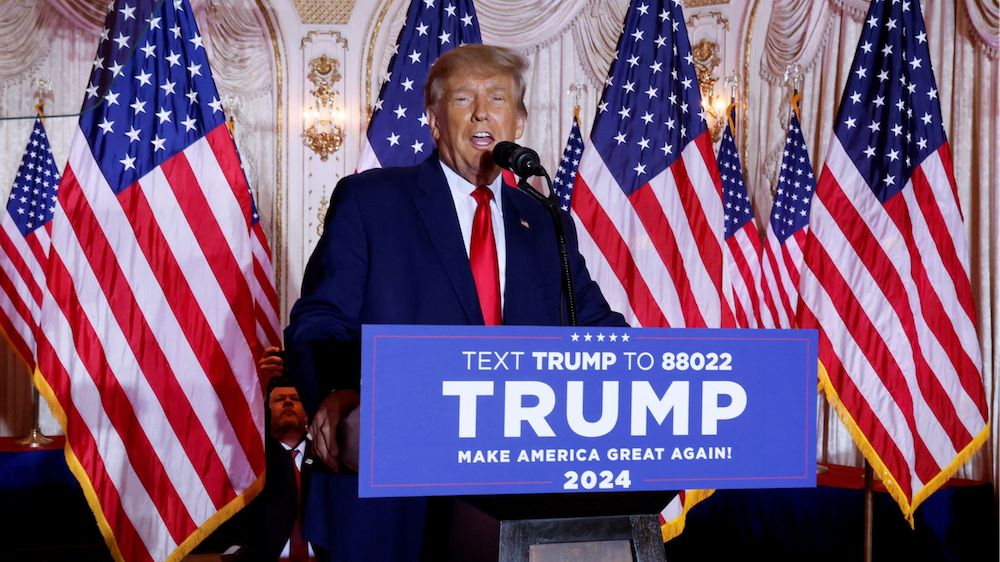 Former President Donald Trump continues to be the runaway leader for the 2024 Republican nomination. FiveThirtyEight shows Trump at 50.8%, DeSantis at 19.5%, and Ramaswmy at 6.8%, Pence at 6.6%, and everyone else under 4%. The RealClearPolitics average shows similar numbers. Further, the gap between Trump and DeSantis has grown considerably over the last few months.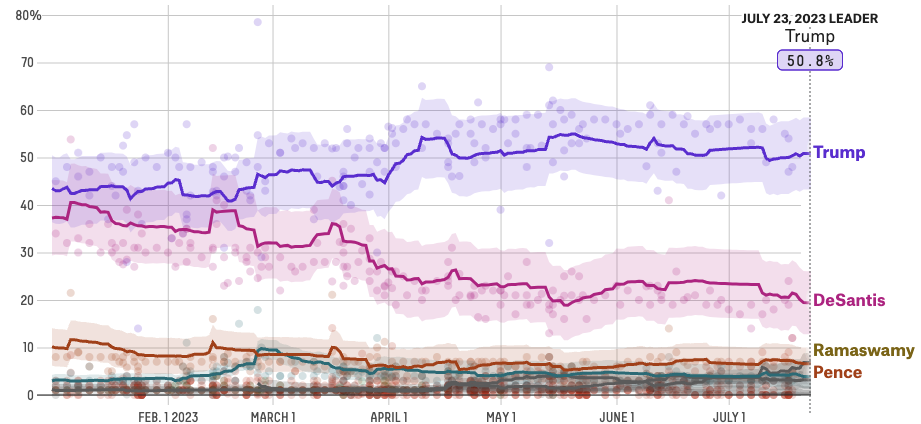 It seems about as likely that the Republicans will nominate someone other than Trump as the Democrats nominating someone other than President Biden.
Indeed, DeSantis' appeal seems to be cratering as he tries to out-MAGA Trump. He's smarter and more capable than Trump but lacks his charismatic appeal and ability to make crowds laugh with him.
And, as a WaPo report from yesterday morning ("Mike Pence struggles to gain attention and traction in longshot bid") makes clear, Trump's former vice president isn't exactly setting the world on fire.
As he finished up his remarks at an outdoor garden party hosted by a former state senator, Mike Pence made one final request to prospective voters.

"Even one dollar, although I want to emphasize you can give a lot more, would be a help tonight, even before you go to bed tonight, go online, send us a buck or whatever," the former vice president said, dressed in a crisp light-blue button-down and navy slacks on a hot summer day in the Granite State. "We're working around-the-clock to make sure we get enough donors to be up on that debate stage and I'll see you all at the inauguration."

One day later, nearly 80 miles away at the Wicwas Lake Grange in Meredith, N.H., state Sen. Timothy Lang Sr. stood alongside Pence at an evening town hall with a similar plea, encouraging attendees to grab a "Mike Pence for President" card with a QR code: "If you want to donate just a dollar, it counts toward the 40,000."

It's a remarkable request from a longtime and prominent Republican figure who, just 2½ years ago, was the second-highest official in the country under Donald Trump. But now, Pence is soliciting supporters for small-dollar donations in hopes of crossing the 40,000-donor threshold for participation in the first GOP debate in Milwaukee on Aug. 23.

While Pence's advisers are emphatic that he will make the debate stage, the mere uncertainty is emblematic of the early challenges the Indiana Republican is confronting in his nascent campaign. Pence has struggled to gain attention or traction by running a traditional and low-key conservative campaign in a race dominated by firebrands like Trump and Florida Gov. Ron DeSantis.

Vice presidents typically enter their party's nominating contest as strong contenders if not front-runners. Yet Pence is registering well behind Trump and DeSantis and much closer to long-shot candidates like tech entrepreneur Vivek Ramaswamy, while also being far outraised by his rivals.
Honestly, I'm not sure there was ever a time when Pence was considered presidential material. He's got the charisma of day-old white bread and no real accomplishments to speak of. He's a Trump toady who stopped toadying at a crucial time—and yet still remains largely loyal to Trump.
Pence's current standing in the race is in part due to the rare circumstance of competing against a former president, whom he served loyally for four years before publicly refusing Trump's demands that he attempt to overturn the 2020 election results, according to interviews with Republican strategists, pollsters and early-state voters. Pence's decision to certify the election results on Jan. 6, 2021, makes him unpalatable to many in the former president's base.

Now, as he touts his conservative credentials and his experience as a former governor and vice president, he faces the tricky dynamic of highlighting the Trump-Pence administration's accomplishments while simultaneously arguing that it's time to move on from Trump. His candidacy is also a test for whether there is any appetite left in the Republican primary electorate for the traditional, Reaganesque principles that influenced Pence's career.

"Mike Pence is caught between a rock and a hard place. He's too Trumpy for the non-Trumpies and not Trumpy enough for the Trumpies," said GOP pollster Whit Ayres. "If you say that Donald Trump is unfit for office, that puts people who voted for Trump in an uncomfortable position psychologically where they have to admit to themselves that they made a mistake. I suppose you could thread that needle by saying he was fit for office until Jan. 6th, and after that he wasn't. But that's really threading a needle with those folks."
CNN's Harry Enten ("Why Tim Scott may be one to watch in the GOP presidential race") points in a different direction:
While the South Carolina senator remains well behind front-runner Donald Trump in the national horserace polls, a number of key indicators – from favorability ratings to early-state polling to fundraising – suggest Scott may be the GOP candidate to watch besides the former president or Florida Gov. Ron DeSantis.

Right now, most of the Republican hopefuls are not well known. Many voters will start paying attention as the debates begin and the primaries draw closer.

To see how these voters may react down the line, it can be helpful to see what's going on among those who are already watching the race closely. Voters in this group seem to like what they're seeing and hearing from Scott.

Take a look at the most recent Quinnipiac University poll that asked about all the GOP candidates' favorable ratings. Among Republicans who had formed an opinion of DeSantis, Scott and Trump, Scott was the most popular. His favorability rating of 89% beat Trump's 82% and DeSantis' 81%.

A high favorability rating is far from a guarantee that a candidate will do well. After all, DeSantis and Trump have similar ratings on this score, and Trump is crushing the Florida governor in the polls.

But a high favorable rating often earns a candidate a closer inspection by voters. That happened to DeSantis earlier this year, helping him to climb in the polls. He has since fallen considerably behind Trump in national surveys, showing that such an examination doesn't always work out in a candidate's favor.

Scott, however, seems to be picking up some steam in the states that matter most at this point in the race: Iowa and New Hampshire. A candidate who is going to break through against Trump and DeSantis would need to do so in the Iowa caucuses and New Hampshire primary.

The polling from Iowa has been limited, but an interesting nugget has emerged from the data that have been released to the public. All of it, including a Fox Business poll released on Sunday, has Scott in third place.

Likewise, the polling from New Hampshire has been looking up for Scott. A University of New Hampshire poll conducted this month had the senator in third place at 8% in the state's GOP primary. Scott also had the best net favorability rating of any Republican candidate in the survey, regardless of name recognition. This is another indicator that the more voters get to know him, the more they'll like him.
There's more to the analysis, including the fact that Scott's doing pretty well in the fundraising department.
Were I forced to put my money on it, I'd bet that Trump wins it without much of a fight. But there are enough indictments swirling around him that it's possible that he'll be forced out of the race. And I think it'll take Trump being unable to run to prevent him from getting the nomination for a third straight cycle. (Indeed, all indications are that the indictments and surrounding evidence are having no effect on his support or actually bolstering it slightly.)
If that happens, though, I do think Scott or somebody like him is more likely to win it than DeSantis. It sure as hell won't be Pence. In addition to having the charisma and charm to appeal to voters, it would help considerably to be a relative outsider who didn't have to take a position on the big fights during the Trump era, including January 6th.
If not Scott, it may well be someone who's not even running right now. A field cleared of Trump would attract more candidates.