When Is A Candidate's Religious Faith A Political Issue?
Is it every appropriate to ask candidates about their religious faith? In some cases, yes it is.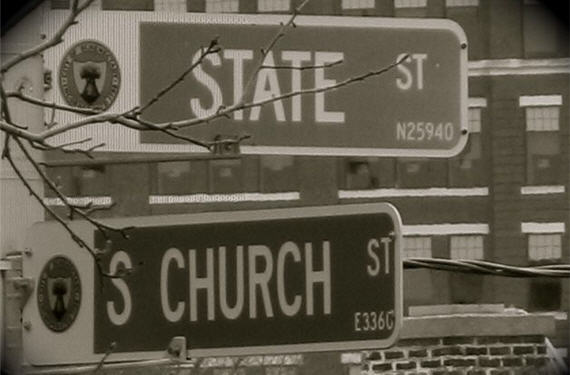 James Joyner's post today about religious extremism in politics brings to mind a piece by New York Times Executive Editor Bill Keller in yesterday's Times magazine section arguing that journalists should be more aggressive in asking politicians about the religious beliefs, especially in light of the rise of Michele Bachmann and Rick Perry:
If a candidate for president said he believed that space aliens dwell among us, would that affect your willingness to vote for him? Personally, I might not disqualify him out of hand; one out of three Americans believe we have had Visitors and, hey, who knows? But I would certainly want to ask a few questions. Like, where does he get his information? Does he talk to the aliens? Do they have an economic plan?

Yet when it comes to the religious beliefs of our would-be presidents, we are a little squeamish about probing too aggressively. Michele Bachmann was asked during the Iowa G.O.P. debate what she meant when she said the Bible obliged her to "be submissive" to her husband, and there was an audible wave of boos — for the question, not the answer. There is a sense, encouraged by the candidates, that what goes on between a candidate and his or her God is a sensitive, even privileged domain, except when it is useful for mobilizing the religious base and prying open their wallets.

This year's Republican primary season offers us an important opportunity to confront our scruples about the privacy of faith in public life — and to get over them. We have an unusually large number of candidates, including putative front-runners, who belong to churches that are mysterious or suspect to many Americans. Mitt Romney and Jon Huntsman are Mormons, a faith that many conservative Christians have been taught is a "cult" and that many others think is just weird. (Huntsman says he is not "overly religious.") Rick Perry and Michele Bachmann are both affiliated with fervid subsets of evangelical Christianity — and Rick Santorum comes out of the most conservative wing of Catholicism — which has raised concerns about their respect for the separation of church and state, not to mention the separation of fact and fiction.

I honestly don't care if Mitt Romney wears Mormon undergarments beneath his Gap skinny jeans, or if he believes that the stories of ancient American prophets were engraved on gold tablets and buried in upstate New York, or that Mormonism's founding prophet practiced polygamy (which was disavowed by the church in 1890). Every faith has its baggage, and every faith holds beliefs that will seem bizarre to outsiders. I grew up believing that a priest could turn a bread wafer into the actual flesh of Christ.

But I do want to know if a candidate places fealty to the Bible, the Book of Mormon (the text, not the Broadway musical) or some other authority higher than the Constitution and laws of this country. It matters to me whether a president respects serious science and verifiable history — in short, belongs to what an official in a previous administration once scornfully described as "the reality-based community." I do care if religious doctrine becomes an excuse to exclude my fellow citizens from the rights and protections our country promises.

And I care a lot if a candidate is going to be a Trojan horse for a sect that believes it has divine instructions on how we should be governed.
Keller posted the questions that he sent to each candidate on his blog, and says that he'll post responses if and when he receives them. If the reaction in the conservative blogosphere is any indication, though, I would advise Keller not to hold his breath waiting for a response.
Not surprisingly, several bloggers responded to Keller's discussion about scrutinizing the religious beliefs of certain Republican candidates by bringing up the old controversy from the 2008 campaign, President Obama's relationship with Rev. Jermiah Wright. John Sexton came up with his own list of "question for President Obama," most of which were based on the Wright controversy, but some of which also bring up the old canard of Obama being a "secret Muslim" ("Do you believe the God of the Christian Bible is the same as the God of the Koran? Does this view influence your foreign policy?," asks one question). Resurrecting the Wright canard is an inevitable, and in the end not very original, response to Keller's piece. The fact of the matter is that President Obama did answer questions regarding his relationship with Rev. Wright when he repudiated Wright's most notorious comments, and when Wright re-emerged in public and made more outrageous statements, he personally repudiated the man who had conducted his wedding and baptized his children. None of that was good enough for the right, though.
The bloggers at Power Line came up with their own questions for Minnesota Congressman Keith Ellison, the first and at present only Muslim Member of Congress. Why a back bench Congressman from Minnesota should be an issue of national concern is beyond me, though. If his constituents want to ask him those questions, or others, they can and no doubt will.
Other reactions reacted to Keller's column, as well as his "space aliens" comparison, with disdain and suggested that it was inappropriate, bigoted, or biased, to even ask such questions as those Keller is position. Personally, after reviewing the questions themselves, I've got problems with them both because I find some of them inappropriate, and because I think they get fundamental details about religious faith completely wrong. Tommy Christopher and Ed Morrissey both do a very good job of pointing out some of the problems with Keller's questions, and I recommend you read their posts. The first question that Keller asks, however, is the one that I think is most important:
1. Is it fair to question presidential candidates about details of their faith?
I've written about this issue before. In June, when stories were starting to circulate once again about Mitt Romney's Mormonism being a problem for some voters, I said the following:
People are entitled to vote for or against someone for whatever reasons they choose, including their religion and even their race. That doesn't mean, however, that their reasons are respectable or worthy of serious debate. I'm no expert in theology, so I can't comment on the authors claims about Mormon theology. However, I do know religious intolerance when I see it and what he and others have said about Romney and Mormons is not much different from what was being said about Catholics when Al Smith ran for President in 1928 and even in 1960 when John F. Kennedy faced anti-Catholic bigotry in places like West Virginia. In both cases, I think that self-assuredness about one's own religious beliefs combines with ignorance about other faiths (Catholicism up until Vatican II was in some was as mysterious to non-Catholics as Mormonism is to non-Mormons) and the result is a form of religious intolerance that really has no place in politics.
On further reflection, I should probably clarify this by saying that questioning someone about their faith and rejecting them merely because they are a member of a specific faith is different from what Keller appears to be calling for, which is a more thorough examination of the relationship between a candidates religious beliefs and how they would govern if elected. The extent to which someone's beliefs influence the policies they implement is surely a relevant question for reporters, and citizens to ask candidates. I don't necessarily care, for example, what a political candidate believes about the theory of evolution (although I would have serious doubts about the judgment of someone who rejects a fundamental building block of biology and anthropology), I care about whether they would favor forcing a religious doctrine, call it "creation science" or "intelligent design," in science classrooms. I don't necessarily care if a candidate believes that homosexual behavior is a sin against God, but I do care if they advocate policies that would discriminate against people and deny them equal treatment under the law. It doesn't matter to me how religious a candidate is, but it does matter to me if they reject the very idea of separation of church and state. In the end, I don't care if a candidate believes that their life should be guided by God, Allah, Bhudda, or the Flying Spaghetti Monster. What matters, what should matter to reporters and citizens, is the extent to which those candidates believe that the government should be used to enforce their religion's doctrines of morality on the rest of society. Those are the kind of questions that Keller should have asked, and the kind of questions all of us should ask.