White House Expects Shutdown To Last Into January
With Congress out of town until at least Thursday and negotiations apparently deadlocked, the White House is saying it's likely the shutdown will last into 2019.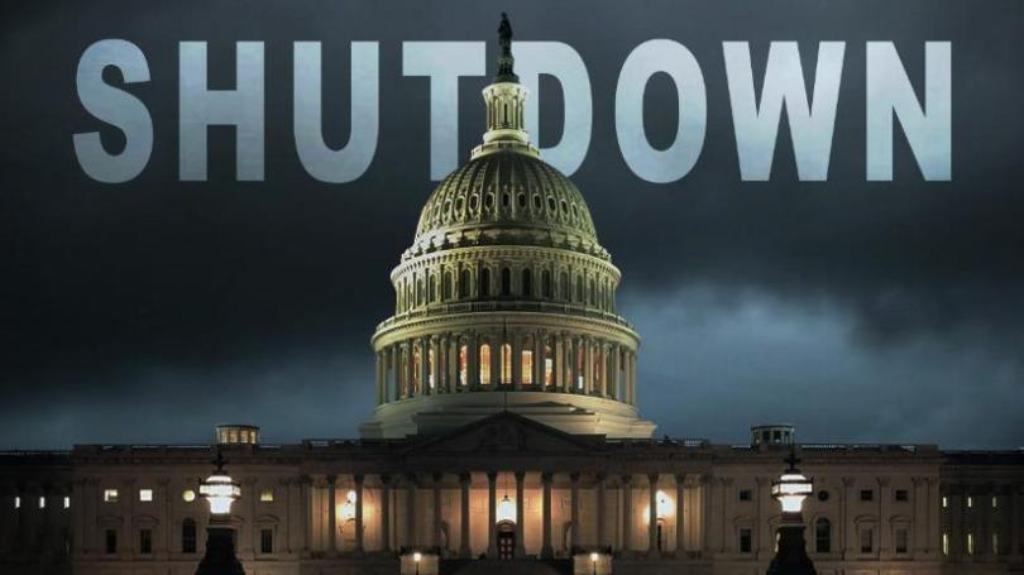 With Congress out of session until at least Thursday, Mick Mulvaney, who is currently serving as both Director of the Office of Management and Budget and Acting Chief of Staff, said that the government shutdown could extend into January:
Mick Mulvaney, the White House budget director, said on Sunday that it was "very possible" that the impasse over funding that has shuttered large parts of the federal government would continue into January, when the new Congress is seated.

The government partially shut down Saturday morning, and hours later the lawmakers still in Washington returned home for the Christmas holiday, as President Trump and Democrats remained at loggerheads over Mr. Trump's demand for a $5 billion down payment for a wall along the southern border.

Mr. Mulvaney, who is also the incoming White House chief of staff, said that Mr. Trump's aides had made Democrats an offer on Saturday between the $5 billion figure and the $1.6 billion previously offered by Democratic leaders.

But there was not yet a solution. "We gave them an offer late yesterday afternoon, and we're waiting to hear back from them right now," Mr. Mulvaney said on ABC's "This Week."

The remarks, after days of on-and-off negotiations, suggested that Mr. Trump remained unwilling to reopen the government without a significant concession by Democrats.

On Twitter, Mr. Trump continued to hammer home his case, writing that "the only way to stop drugs, gangs, human trafficking, criminal elements and much else from coming into our Country is with a Wall or Barrier." He appeared to directly reject Democrats' offer to fund additional border security measures as long as they were not a physical barrier.

Democrats, it seemed, remained just as dug in. They have little incentive to meet Mr. Trump's demands before Jan. 3, when they will assume control of the House, giving them additional negotiating leverage to oppose a border wall that Senator Richard J. Durbin of Illinois, the No. 2 Senate Democrat, called "medieval" on Sunday.

Mr. Durbin said Democrats were open to negotiating over additional funds for border security, if Mr. Trump would drop his demand for the wall itself.

"I can tell you that I think there is an appetite among Democrats to do something sensible at the border," he said on NBC's "Meet the Press."

"It really is in the presidents's hands to decide," Mr. Durbin added. "He says it is an issue of border security. I think we know better it's an issue of his own political insecurity. When the right-wingers start screaming at him, he just backs off and dissembles in front of us."

Mr. Mulvaney outright rejected Mr. Durbin's offer. "The president is not going to not accept money for a border wall," he said.
More from Politico:
The partial government shutdown that began Friday could stretch for more than two weeks, with negotiations at a stalemate and congressional leaders leaving town to spend Christmas with family.

Mick Mulvaney, the White House's acting chief of staff, predicted on Sunday that it was "very possible" the funding lapse would drag on through New Year's and into the next Congress, when Democrats retake control of the House of Representatives.

"I think it's a really good question here as to whether or not this deal can be cut before the new Congress comes in," Mulvaney said in an interview on "Fox News Sunday." "I don't think things are going to move very quickly here for the next couple of days."

Mulvaney, backed by several other Trump allies, has blamed Democrats for rejecting the administration's attempts to reach a deal over the weekend. But the White House has only escalated its demands for funding the president's border wall since the shutdown started at midnight on Friday, forcing roughly 420,000 federal employees to work without pay over the holidays.

Vice President Mike Pence on Saturday presented a funding deal that would include $2.5 billion for border security, including new fencing and $400 million for other immigration priorities, according to a Democratic aide.

Senate Minority Leader Chuck Schumer (D-N.Y.) rejected that offer, and a Schumer spokesman said Sunday the two remained "very far apart." The details were first reported by The Washington Post.

Democrats in both chambers have already agreed to $1.3 billion for border fencing, the same amount that's already been signed into law.

Democrats say they've had "real discussions" with Sen. Richard Shelby (R-Ala.), chairman of the Appropriations Committee, who initially struck the deal for $1.6 billion back in June, according to a person familiar with negotiations. That progress has been dismissed by the White House, the person said, because officials are "being guided" by the House Freedom Caucus.
Naturally, Trump had something to say about this on Twitter:
The crisis of illegal activity at our Southern Border is real and will not stop until we build a great Steel Barrier or Wall. Let work begin!

— Donald J. Trump (@realDonaldTrump) December 22, 2018
The only way to stop drugs, gangs, human trafficking, criminal elements and much else from coming into our Country is with a Wall or Barrier. Drones and all of the rest are wonderful and lots of fun, but it is only a good old fashioned Wall that works!

— Donald J. Trump (@realDonaldTrump) December 23, 2018
Mulvaney's assessment, while grim, appears to be a pretty apt summary of where things stand right now. As I noted in my post late on Saturday afternoon we're in a position at this point where the President is unwilling to accept anything that doesn't include specific funding for his border wall and Democrats in the Senate are insisting that any bill that has any money that goes toward border wall funding will not pass that body, a threat they can follow through on since Republicans need sixty votes to get past a cloture vote on the spending bill before they can proceed to a final vote. As long as this is the case we're at a classic standoff between the two sides that will only break when one side or the other ends up blinking, or they find a way to come up with a deal that allows both sides to save face. In a rational world, that wouldn't be difficult at all, but this is far from a rational world. It's Donald Trump's America.
The irony of all this, of course, is that Trump doesn't seem to realize that it's in his interest to cut a deal now rather than allowing this to stretch into 2019. If the second option ends up being what happens, then he finds himself in a world where the Democrats control the House of Representatives. This means two things. First, it becomes even less likely that he will get any funding at all for his border wall or for "border security" than it is right now. Second, once the Democrats take control of the House it's likely that they will end up being the ones who get the political credit for solving the shutdown crisis regardless of what that solution ends up being. If the President had any political self-awareness at all, he would find a way to settle this before January 3rd. But this is Donald Trump and he's listening to the likes of Ann Coulter and Rush Limbaugh, so the odds are that he will dig in and refuse to make a deal, believing in the foolish notion that the longer he holds out the better position he'll be in.