Trump Names Budget Director Mick Mulvaney "Acting" Chief Of Staff
Trump has selected current Budget Director Mick Mulvaney to replace John Kelly as Chief of Staff, but that's unlikely to change how the West Wing operates.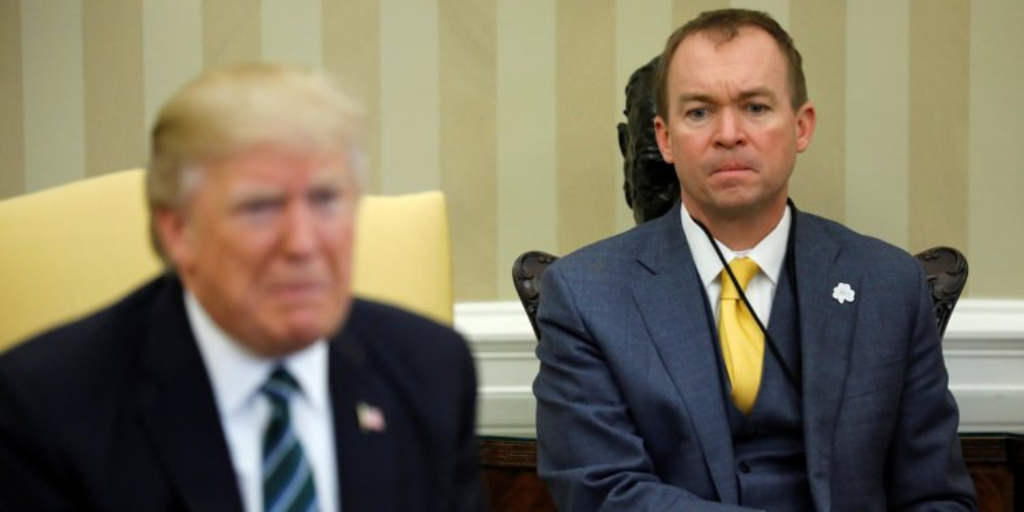 After a period during which it seemed as if he couldn't find anyone willing to serve as his next Chief of Staff, President Trump has selected his current Budget Director, former Congressman Mick Mulvaney, to be his new Chief of Staff, although Mulvaney is apparently insisting that he be referred to as the Acting Chief of Staff, a position that raises questions about how long he might be in power:
WASHINGTON — President Trump announced on Friday that he had selected Mick Mulvaney, his budget director, to serve as acting White House chief of staff, putting a halt — at least for now — to his consideration of a parade of possible candidates, including several who turned him down, to take over one of the most important positions in the federal government.

In Mr. Mulvaney, Mr. Trump made a safe choice for a Republican administration — a hard-line conservative and former congressman from South Carolina with a deep understanding of how Congress works and a personal chemistry with the president. Among some senior White House officials, Mr. Mulvaney had long been considered the "Original Plan B."

Mr. Trump made the announcement on Twitter, one week after his first choice for the job, Nick Ayers, a Georgia political operative who is now Vice President Mike Pence's chief of staff, took himself out of the running, citing family considerations. The sometimes chaotic search process that went on in between served as another measure of the often frenetic manner of decision making in the Trump White House.

"For the record," the president tweeted later Friday evening, "there were MANY people who wanted to be the White House Chief of Staff. Mick M will do a GREAT job!"

At the beginning of the week, the president said there were 10 to 12 candidates actively vying for the position, but that list seemed to shrink by the day during what was often a highly public audition. Just hours before the announcement about Mr. Mulvaney, Chris Christie, the former governor of New Jersey, whom the president was strongly considering, took himself out of contention.

Mr. Trump met with members of his family and one of his top political advisers, Brad Parscale, before making his decision on Mr. Mulvaney.

For whatever period he serves, Mr. Mulvaney will be trying to succeed where John F. Kelly, the current chief of staff, and Reince Priebus, Mr. Trump's first, struggled. Mr. Kelly is set to leave the White House by the end of the year.

While Mr. Kelly, a retired Marine general, was initially seen as someone who could work well with Democrats and Republicans, Mr. Mulvaney has a reputation as a sharp-elbowed partisan, who as both the director of the Office of Management and Budget and the acting director of the Consumer Financial Protection Bureau pursued a strongly conservative agenda.

Senator Richard Blumenthal, Democrat of Connecticut, said Mr. Mulvaney was "hardly the kind of peacemaker" needed to smooth relations between the White House and Democrats on Capitol Hill.

"What he did at the Consumer Financial Protection Bureau was destroy an agency and undermine its mission," Mr. Blumenthal said in an interview. "He seems to be a Trump surrogate with a clear agenda, and my fear is he will exacerbate divisions at a time when they need to be bridged."

Last year, Mr. Trump asked him to oversee the consumer bureau, an agency the president was bent on diminishing. That led to a messy public spat and court hearing as the Trump administration wrested control over the financial watchdog from an Obama-era holdover.
Here are the President's Tweets on the appointment:
I am pleased to announce that Mick Mulvaney, Director of the Office of Management & Budget, will be named Acting White House Chief of Staff, replacing General John Kelly, who has served our Country with distinction. Mick has done an outstanding job while in the Administration….

— Donald J. Trump (@realDonaldTrump) December 14, 2018
….I look forward to working with him in this new capacity as we continue to MAKE AMERICA GREAT AGAIN! John will be staying until the end of the year. He is a GREAT PATRIOT and I want to personally thank him for his service!

— Donald J. Trump (@realDonaldTrump) December 14, 2018
For the record, there were MANY people who wanted to be the White House Chief of Staff. Mick M will do a GREAT job!

— Donald J. Trump (@realDonaldTrump) December 15, 2018
It was just a week ago when it was announced by the White House that retired General John Kelly, who had been Chief of Staff since being appointed to succeed Reince Priebus in July 2017 would be leaving the White House at the end of the year, marking the end of a long period during which it was clear that the relationship between the President and Kelly had broken down to the point where, according to several reports, the two men rarely spoke to each other. At the time, the top prospect to replace Kelly was Nick Ayers, the Chief of Staff to Vice-President Mike Pence. Ayers, however, quickly took his name out of contention and announced that he too would be leaving the White House at the end of the year. After that, the process seemed to break down as it was suggested that several people were avoiding being associated with the Trump Administration altogether.
Among the names that Trump reportedly cycled through this week were North Carolina Congressman Mark Meadows, a member of the House Freedom Caucus who has been a strong Trump supporter in the past. However, Trump apparently ruled Meadows out after concluding he would be more helpful to the Administration staying in the House. Later in the week, former New Jersey Governor and Presidential candidate Chris Christie reportedly met with Trump and was believed to be near the top of Trump's short list for the position. However, the day after that meeting, Christie asked that he be taken out of contention. At the same time, there was speculation that Trump would name his son-in-law Jared Kushner, who currently serves as a Senior Advisor to the President, to be his Chief of Staff.
The selection of Mulvaney makes sense on some level in large part because it has long been evident that he and Trump do seem to get along quite well, something that is evident from the fact that Trump has already appointed him to several positions in the Administration and relied upon him as his chief spokesperson on fiscal matters. That being said, The Washington Post's Colby Itkowitz is correct to point out that whoever serves as Trump's Chief of Staff is being set up to fail:
The problem with appointing an "acting" chief is it suggests it's a temporary posting, which is "almost a contradiction" of the job's intended role, said Christopher Whipple, author of The Gatekeepers: How the White House Chiefs of Staff Define Every Presidency.

Under normal circumstances, Whipple explained, the importance of the chief of staff to the president is enormous. He not only is the gatekeeper to the president, but also acts as his mouthpiece in the West Wing, on Capitol Hill and with foreign leaders.

"He's the javelin catcher, taking all of the incoming flak for the president," Whipple said. "He's the person who executes the president's agenda and at the end of the day he's the person who can walk into the Oval Office and tell the president what he does not want to hear. That's the most important thing a White House chief of staff does. It's a huge job requiring an incredibly diverse skill set. It is not for the faint of heart. It remains a real question whether anyone can do that job for Donald Trump."

It can be a thankless job in the best of times, so it's little wonder Trump struggled to find someone who wanted to do it under less ideal conditions. No one speaks for Trump, but Trump. Being his chief of staff means standing idly by, being contradicted by your boss while having to defend the more outrageous things he says.

Whipple said that Erksine Bowles, President Clinton's chief of staff from 1997 to 1998 when he helped negotiate a balanced budget deal with Congress, told him people in Washington can sense when you don't truly speak for the president. And if that's the case "you're no better than an overblown scheduler."

"That's been a problem with Trump's presidency, no one believes that anyone can speak for him, when no one believes that the chief of staff speaks for you then he can't get anything done," Whipple said. "The moment people suspect you're a caretaker and don't have real authority you're a dead man or woman walking in that job."

There's an added dimension to being invited inside Trump's inner orbit: liability. Being that close to the president, even if just by physical proximity, opens that person up to intense scrutiny from the media, lawmakers on Capitol Hill and law enforcement. Trump's presidency is headed for some rocky waters, and getting aboard now means being willing to go down with the ship.

"This is not only nearly mission impossible, but it's also risky, because any candidate has to think about lawyering up," Whipple said. "This White House is headed into a world of trouble with a Democratic House, Mueller closing in and a brutal reelection. The White House chief of staff has to be ready for all of that."
Prior to joining the Trump Administration in 2017, Mulvaney had been a Member of Congress since being elected to represent North Carolina's Fifth Congressional District in 2010. Prior to that, he had served in the North Carolina House of Representatives and State Senate since 2007. That legislative experience could give Mulvaney and advantage that both Priebus and Kelly lacked in that he will have a better knowledge of the legislative process and relationships with members of the House and Senate on both sides of the aisle that could make communication between the White House and Capitol Hill easier than they have been over the past two years. That being said, Mulvaney is likely to quickly run into the same issues that his predecessors did during their tenure as Chief of Staff. Primarily, of course, there's the fact that Trump is not going to change the way he behaves no matter who the Chief of Staff. This means that he'll continue to tweet and otherwise speak out in a manner that likely diverts the White House from its intended message. Second, no matter how hard he tries, Mulvaney will never be as close to the President as Jared and Ivanka are even though, technically, they are supposed to be underneath him on any sane organizational chart. Finally, with the Republicans losing control of the House and the Administration clearly headed into a period between now and the 2020 election when it is going to be on the defensive, it's not clear that he's going to be any more effective than either Priebus or Kelly. In any case, good luck to Mulvaney I suppose. He's going to need it.