White House Photographers Bristle At Lack Of Access
Another conflict between the Obama Administration and a news media that is frustrated about the extent they are being controlled by being refused access.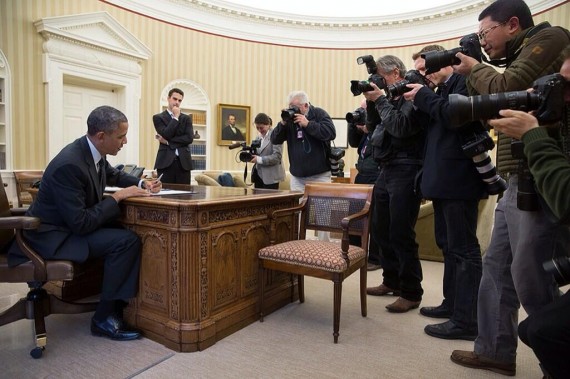 Photographers covering the White House are starting to cry foul over the lack of access they've been getting from the Obama White House:
WASHINGTON — A mutiny has erupted among photographers who cover President Obama over what they say is the White House's increasing practice of excluding them from events involving the president and then releasing its own photos or video.

On Thursday, the White House Correspondents' Association and 37 news organizations submitted a letter to the press secretary, Jay Carney, protesting what photographers said amounted to the establishment of the White House's own Soviet-style news service, which gets privileged access to Mr. Obama at the expense of journalists who cover the president.

"As surely as if they were placing a hand over a journalist's camera lens," the three-page letter said, "officials in this administration are blocking the public from having an independent view of important functions of the executive branch of government."

The Obama administration has embraced social media as a way to get its message to the public beyond the traditional news media. Senior officials post tweets and blog items, while the chief White House photographer, Pete Souza, posts photos of the president on Facebook, Flickr and Instagram, often minutes after they are taken.

The White House defended its policy, arguing it is not logistically feasible to give photographers access to every event. The deputy spokesman, Josh Earnest, said, "We've taken advantage of new technology to give the American public even greater access to behind-the-scenes footage or photographs of the president doing his job."

"I understand why that is a source of some consternation to the people in this room," Mr. Earnest said during the daily White House briefing. "But to the American public, that is a clear win."

Mr. Earnest faced persistent questioning from reporters who said the White House was setting a precedent on access and was substituting a government photographer for those from news agencies. Mr. Souza, a former photographer for The Chicago Tribune who became close to Mr. Obama when he was a senator from Illinois, referred questions to Mr. Earnest.

The letter cited seven recent examples of newsworthy events from which photographers were banned, including an outdoor lunch for Mr. Obama and former Secretary of State Hillary Rodham Clinton, a meeting with Israeli and Palestinian negotiators, and a session in the Oval Office at which Malala Yousafzai, a young Pakistani human rights campaigner, spoke with Mr. Obama, his wife, Michelle, and their daughter Malia.

Administration officials have said these were private meetings. But in all of the cases, a White House photographer recorded the event and posted the pictures on Flickr or other social media sites. Major news organizations regularly publish the photos.

"They're excluding photographers from events at the White House, which is a problem in and of itself," said Steve Thomma, the president of the White House Correspondents' Association. "But now they're sending in their photographers and video crews and then releasing the photos and video. That sets up their own media operation."

Tensions between the photographers and the White House have simmered for months. They flared during Mr. Obama's visit to South Africa last summer, when photographers were allowed to take a single shot of the president in Nelson Mandela's jail cell on Robben Island, but were excluded from the cell when he hugged his daughter Sasha. That moment was caught by Mr. Souza and widely distributed.
Associated Press Director of Photography Santiago Lynn explains what the photojournalists are upset about:
The AP and other media organizations are seeking more regular photo access to the President in the Oval Office and elsewhere as he performs official duties or meets with staff. While photographers are granted some access to Oval Office meetings and other activities, it has decreased markedly under the Obama administration when compared to previous presidents. We believe we should have access to a wider selection of presidential events where we know access to be possible.

(…)

[I]ncreasingly the Obama administration labels events as "private" before then releasing official photos shot by White House photographers such as Pete Souza.

These images are posted on the White House Flickr page - http://www.flickr.com/photos/whitehouse - where they are available for free.

The photos on that page are visual press releases and are carefully vetted by administration employees before distribution. Such images are increasingly offered to the media by the White House in lieu of real journalistic access and we and other media organizations find this unacceptable. Media organizations generally do not reproduce written press releases verbatim, so why should we settle for these official images?
Kevin Drum is sympathetic:
This is part of a troubling trend, as presidential administrations have all gotten successively more and more single-minded about managing their image. By itself, it's hard to get too worked up about photographers not being allowed into a few meetings here and there, but this is yet another step in the direction of obsessive White House media management. It's the wrong direction, and it's also kind of pointless. Whether he likes hordes of photographers around or not, Obama should know that it's all part of the job. He should let the photographers back in.
These complaints by White House photographs aren't very dissimilar from complaints that have been made by White House beat reporters who have complained for some time now that the White House has been far more closed off to access, both to the President and to White House aides at nearly any level, than previous Administrations have been. Instead, they have preferred to "go over the heads" of the traditional White House media so to speak by utilizing social media, the vast resources that are now available at the White House Press Office's section of the White House website, and granting interviews with the President and Vice-President to local news media around the country on a greater basis than previous Administrations and seemingly more than they've granted similar access to White House reporters and major network reporters. This Administration has taken practices that previous Administrations have used regarding press access and honed them to an incredibly fine degree to the point where the image the Administration creates becomes the only story the public seems to be getting. In this case, the Administration appears to be making a conscious decision to limit media photographic access to the President in favor of the "official" (read: usually staged) photographs that are released by White House Photographer Pete Souza.
Jazz Shaw puts it this way:
It's not just a matter of the White House holding certain events which they define as "private" and barring access to photographers. (There are certainly some events, particularly those dealing with national security, where they might not want photos splashed all over the press.) What seems to really have put a bee in the media's collective bonnet is when Obama shuts their photographers out of these "private" events, but then immediately takes their own pictures and sends them out on Twitter and posts them on the official White House web site. The photo above is one example of that, being an official White House picture of their own. It's not hard to see why that one comes off as a bit of a middle finger salute to those doing the complaining.
What Jazz is referring to there is the photograph above, which was released on Pete Souza's Twitter feed shortly after the media letter to Jay Carney became public. If that's now a gigantic "Screw You" to the press, I don't know what is.
In some sense, it's easy to dismiss this as little more than a case of professional jealousy, and perhaps there is an element of that going on here. At the same time, though, Drum is correct to note that this is yet another example of the extent to which Presidential Administrations have attempted to block press access in recent years as part of a strategy to manage the image of the President, the Administration, and the First Family. Obviously, the President shouldn't expected to agree to have a flock of photographers, or even the small group of photographers that make up the Press Pool that often covers events for all news organizations as part of a cooperative agreement, following around all the time. Especially during family moments and on vacations, he deserves some degree of privacy considering the fact that he's in a job that is lived every day under the all watching eye of a 365/24/7 news media.
At the same time, though, Presidents cannot have their cake and eat it too. In the specific case of photography, the past four and 3/4 years have seen Pete Souza capture some great moments, as anyone who follows his Twitter feed or the White House Flickr account can attest. However, it's worth remembering that Souza is a government employee and that, to a large degree and part of the President's personal staff. More often than not, he's being given access to moments for the specific purpose of crafting an image of the President behind the scenes that is clearly intended to show the nation's Chief Executive in the best possible light. It's no more appropriate to say that he is a sufficient substitute for an independent media than it would be to say that Jay Carney reading out press releases every night would be a sufficient substitute for a national news media questioning the official government story as they should.
This is perhaps not the most important issue out there, but I do think that it's worth being concerned about the extent to which Presidents and their handlers continue to try to shield themselves from the press and reassure the public that we can trust them. If there's anything history has taught us, it's that we most certainly cannot trust the men and women in power, and that an independent news media is the best possible tonic to the secrecy that politicians reflexively try to enforce over even the most trivial of matters.