Why Are Biden's Polls So Awful?
A pretty good President has numbers comparable to his historically bad predecessor.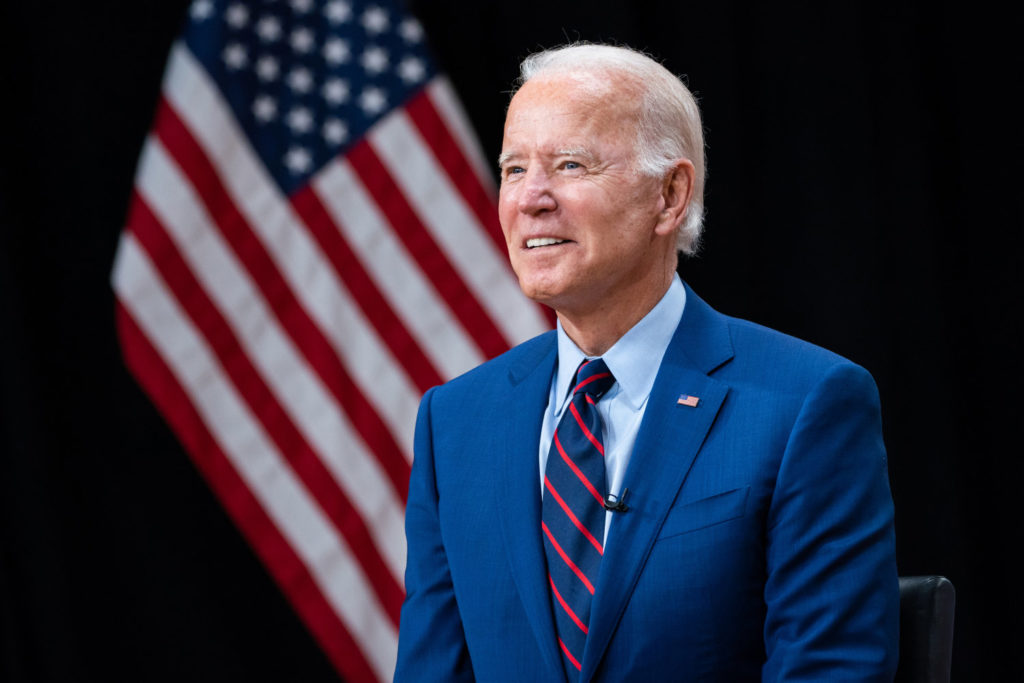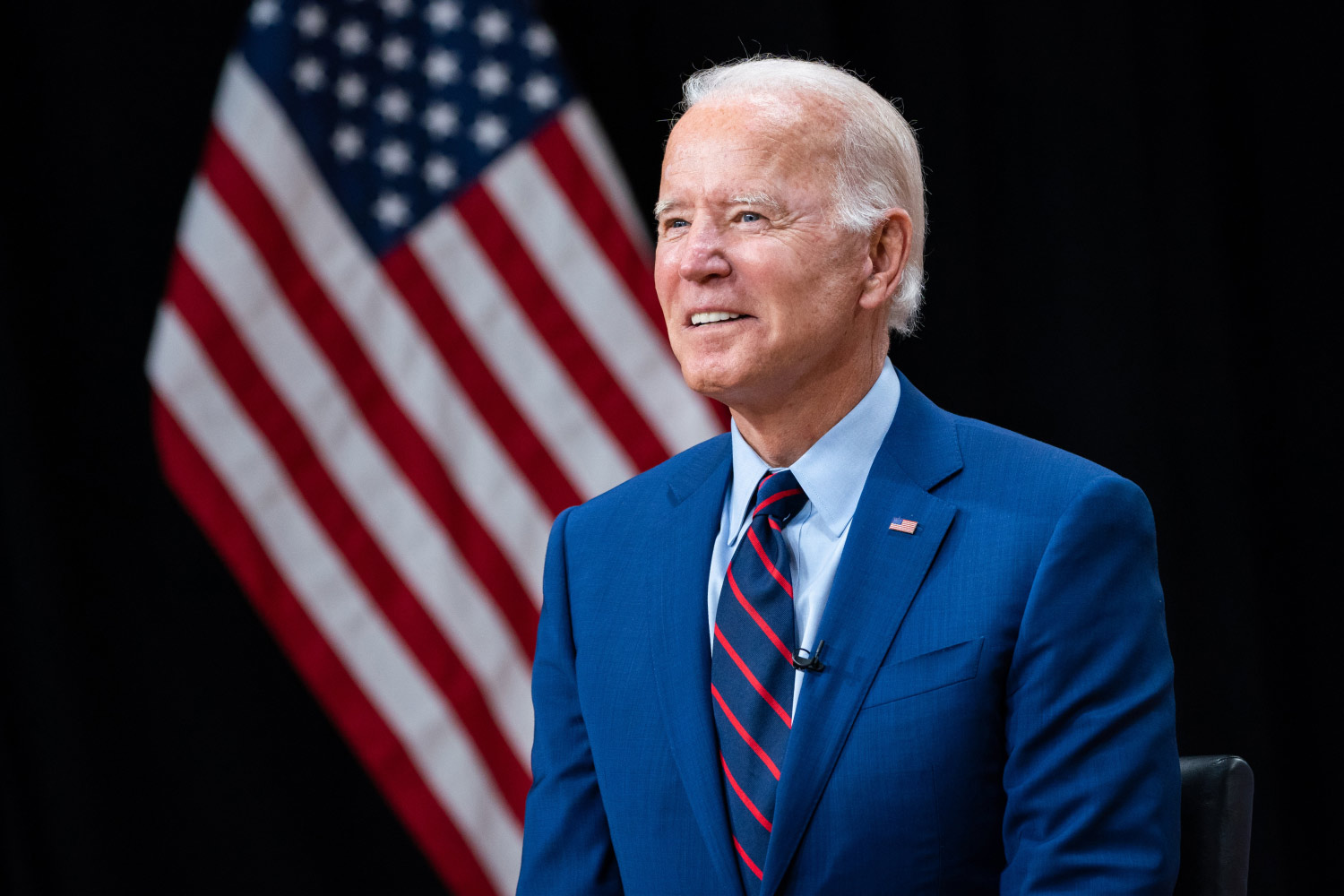 The headline on the latest NBC News/Meet the Press poll, "'Downhill,' 'divisive': Americans sour on nation's direction," is certainly alarming. It is, alas, accurate.
Overwhelming majorities of Americans believe the country is headed in the wrong direction, that their household income is falling behind the cost of living, that political polarization will only continue and that there's a real threat to the nation's democracy and majority rule.

What's more, the nation's top politicians and political parties are more unpopular than popular, and interest in the upcoming November midterms is down — not up.

And when Americans were asked to describe where they believe America is today, the top answers were "downhill," "divisive," "negative," "struggling," "lost" and "bad."

Those are the grim findings of a new national NBC News poll conducted less than 10 months before the midterm elections, when control of the U.S. Senate, U.S. House and governors' mansions across the country will be up for grabs.

"Downhill, divided, doubting democracy, falling behind, and tuning out — this is how Americans are feeling as they're heading into 2022," said Democratic pollster Jeff Horwitt of Hart Research Associates, who conducted this survey with Republican pollster Bill McInturff of Public Opinion Strategies.

That pessimism and gloom isn't helping the party in control of the White House and Congress.

While the poll shows Democrats enjoying a narrow 1 point advantage over Republicans as the party that should control Congress, it also shows President Joe Biden's job approval rating remaining in the low 40s, Republicans holding a double-digit edge in enthusiasm and key Democratic groups losing interest in the upcoming election.

"There is nothing but flashing red flights and warning signs for Democrats," said McInturff, the Republican pollster.

According to the poll, 72 percent of Americans say the country is headed in the wrong direction — essentially unchanged from the 71 percent who held this view in October's NBC News poll.

It marks just the sixth time in the poll's history when 70 percent or more have said the nation is on the wrong track in back-to-back surveys.

"In the three instances when this sustained dark outlook coincided with an election year, it foreshadowed bad news for the party in power — 1992, 2008 and 2016," said Horwitt, the Democratic pollster.

On the economy, while job creation is up and the unemployment rate is down, 61 percent of respondents in the poll say their family's income is falling behind the cost of living.

That's compared with 30 percent who say they're staying about even and 7 percent who say their income is going up faster than the cost of living.
It's notable that these findings are consistent with other polling.
Here's FiveThirtyEight: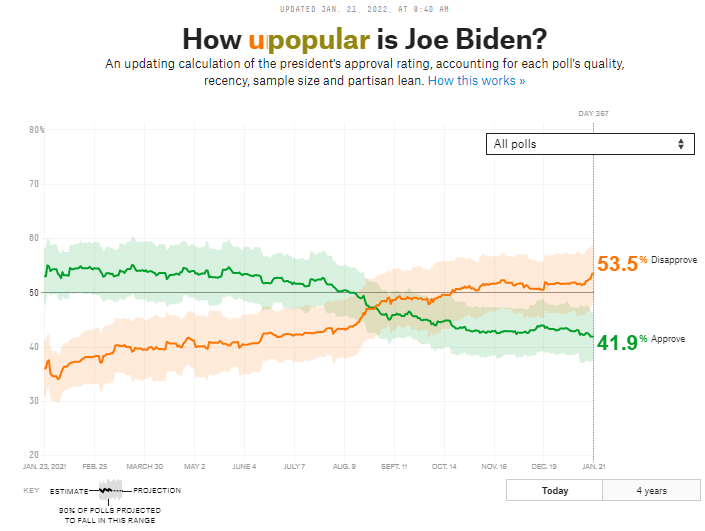 And, for the old-timers, RealClearPolitics: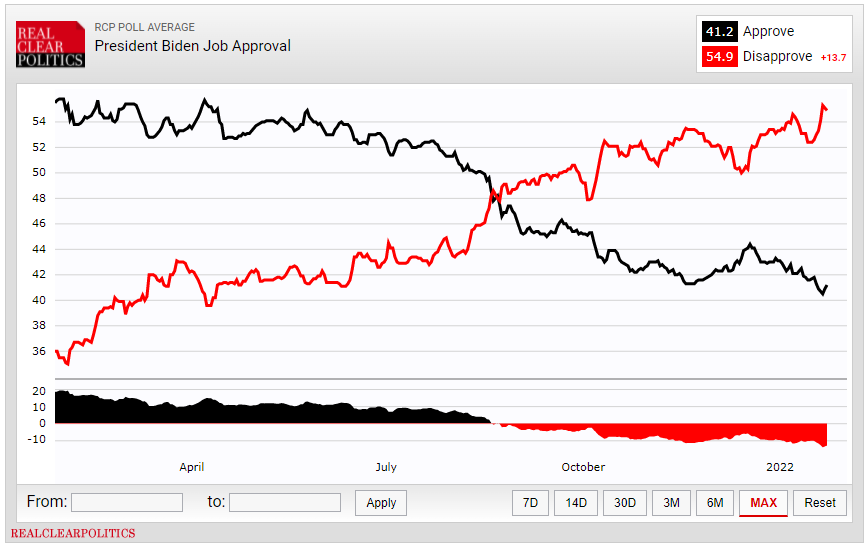 The extent to which this is predictive of the November midterms is naturally the focus of the political press. But I'm really more interested in the sheer bleakness of the numbers. Biden is a likable guy who has gotten some good things done and is a massive improvement over his predecessor. Yet, while started with much more popularity than Trump, he's roughly at the same point a year in.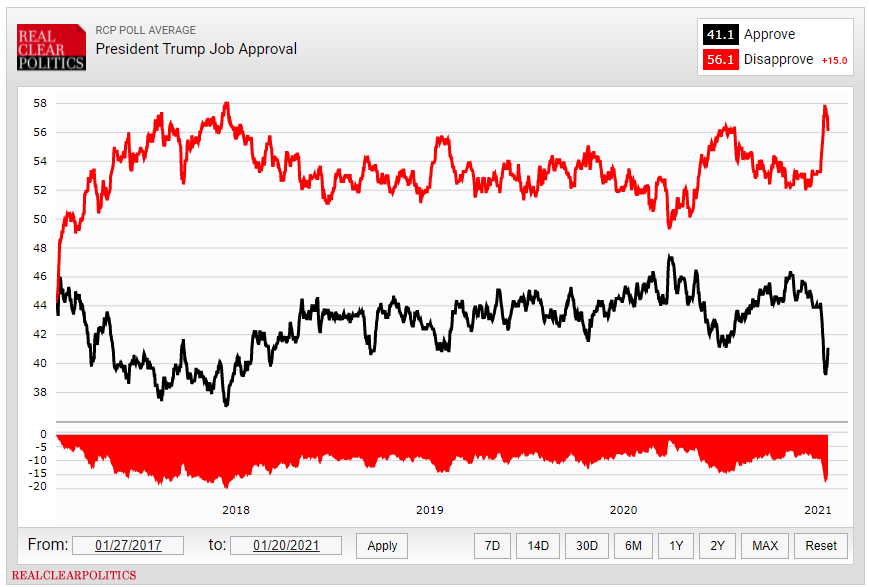 It can't simply be a function of polarization/partisanship, the most obvious explanation. After all, while Trump was underwater essentially his whole administration, Biden was riding pretty high his first seven months. He got a massive, and fairly popular, "rescue package" passed through Congress and did a pretty impressive job early on getting COVID vaccinations rolled out.
Clearly, though, something happened.
Back to the poll:
Asked their two most important issues facing the country, the top responses from Americans were jobs and the economy (a combined 42 percent), the coronavirus (29 percent), voting rights and election integrity (25 percent), the cost of living (23 percent) and border security and immigration (22 percent).

Among Democrats, the top issues were the coronavirus, voting rights and election integrity, social and racial justice, jobs/economy and climate change.

Among Republicans, the top issues were jobs/economy, border security/immigration, taxes and spending and the cost of living.
It turns out, Biden's approval on the top two issues is tanking:

He's gone from sky-high approval on COVID to considerably underwater. And the fall on the economy is almost as steep.
As we've discussed many times, Americans are clearly ready to be "done" with COVID and Biden clearly seems to be taking the blame for the frustration that we're not. Yes, it's unfair because Republican politicians and their related infotainment network continue to politicize vaccination and masking, making Biden's job harder. (Although, oddly, our compliance rates on these issues isn't wildly different than it is around the developed world.) But inconsistent messaging certainly hasn't helped matters.
On the economy, we've been witnessing the Great Resignation unfold. Not to mention levels of inflation that we haven't seen in four decades cutting into our standard of living. That, combined with various supply chain issues, the collapse of sectors of the service economy, and a bunch of related issues makes the dour outlook perfectly reasonable.
The fact that these issues are global, not local, would seem rather strong evidence that they're not Biden's fault. But, as I've maintained for decades, we give Presidents too much credit for good economies and too much blame for bad. If things rebound by 2024—as we would certainly expect—he'll get unearned credit for the recovery that will help his re-election prospects.