Why Romney?
Why I supported Mitt Romney despite his constant flip-flopping, fibbing, and fecklessness.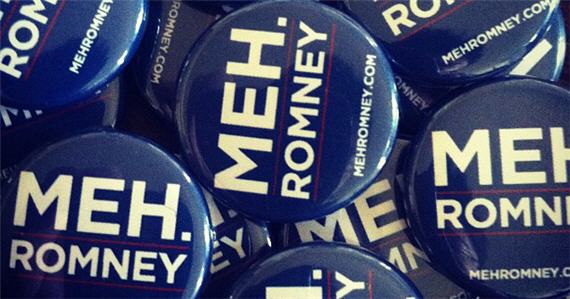 I've been asked more than once how it was that I could continue to support the Republican Party given that I disagree with them on so many policy issues and have condemned their tactics of brinksmanship and voter suppression. Similarly, people wonder how I could have supported Mitt Romney despite his constant flip-flopping, fibbing, and fecklessness.
While I've been given enormous freedom to publish my own opinions, one specific limitation imposed on me by my employer was that I'm not allowed to endorse candidates for partisan office. While this post barely constitutes an endorsement, publishing it after the voting is over places it firmly in the analysis column.
In my early morning posting "America Not a Center-Right Nation Anymore," I alluded to a "complex web of personal loyalties that are unlikely to exist in 2016."  The following fleshes that out significantly, although little of it will be of news to regular readers.
Inertia: I came of political age during the Carter Administration and, specifically, the Iran Hostage Crisis. I've voted for every Republican nominee since 1984, the first time I was eligible to vote. I've never been less enthusiastic about a Republican nominee or found a Democratic nominee less objectionable than this cycle.
Loyalty: Two elections in a row, I wound up supporting, from very early in the primaries, a candidate who I had enormous misgivings about in the cycle before: John McCain and Mitt Romney. In both cases, they were the eventual winner of the Republican nomination after beating back challenges from contenders I wouldn't have been able to vote for. McCain came very close to losing my vote after selecting the ignoramus Sarah Palin as his running mate but Barack Obama was sufficiently green and quixotic to make changing sides hard to justify.
In the early days of this primary season, I noted privately that I would be forced to endorse Obama* if any non-Mormon got the Republican nomination. (By that time, Tim Pawlenty was out of the race, several solid Republicans made it clear they would not be running this cycle, and Gary Johnson was clearly a non-entity.) Jon Huntsman was my favorite candidate but it was obvious he had no shot at the nomination. So, Romney became my default preference from the beginning. Despite a cynical and disappointing campaign since then, it's hard to switch parties when it nominates the guy you backed.
Complicating things further is the fact that, as I've noted many times, my late wife's company were Romney's pollsters. Some really good family friends who were extraordinarily kind and helpful in the days and weeks after her passing have  put their heart and soul into getting Romney elected for more than a year. Endorsing Obama—and I couldn't well vote for Obama and not endorse him, given what I do here—would have seemed like an act of betrayal. Nothing in Obama's four years as president warranted that.
The Real Romney: In light of the above, it was pretty easy to convince myself that the "Moderate Mitt" that governed Massachusetts and showed up at the first presidential debate to the amusement of Bill Clinton, not the poor sap bobbing and weaving through two years of perhaps the most mendacious major party presidential run in memory, was the Real Mitt Romney. His foreign policy, and even much of his domestic policy, was something of a cipher. But I figured his practical managerial style and the need to get things through a Democratic Senate would lead to solid, reasonable governance.
The Fiscal Cliff: Relatedly, a President Romney would have been far better positioned than a lame duck Obama in dealing with the tremendous array of challenges that lie ahead, including the fiscal cliff, sequestration, and entitlement reform.  He would have had the House majority and Senate minority in his corner and been able to force deals amenable to the Senate majority through the system. Obama, on the other hand, faces a Republican House, enough Senate Republicans to filibuster anything, and a dozen** Senate Democrats who are thinking hard about running for his job.  It's going to be harder than ever for Obama to get things done.
Fixing the GOP: Four years of Moderate Mitt governing the country while making sane compromises with Democrats had the very real promise of fixing the problems of the Republican Party I outlined this morning.  We would be on a course to a full economic recovery by 2012 and Romney would have been a virtual shoe-in for re-election. By 2016, the damage to the Republican brand done during the Bush administration would be behind us. So would the worst elements of the Tea Party movement: the part motivated by animus towards Barack Obama.
Now, of course, the party will have to do it the hard way: in the wilderness. Will the party decide that it needs to broaden its appeal if it wants to win the White House again? Will it forever concede the Hispanic vote and thus California, Florida, New Mexico and eventually Texas and Arizona?   It's hard to say. Overnight, many of the conservatives I follow on blogs, Twitter, and Facebook are recriminating about the evils of nominating a moderate. But that's the natural reaction while the loss is still fresh. We'll see what the longer term fallout is within a few months, as candidates start lining up for the 2014 midterms.
______________
*I told my employer this at the time when the "no endorsements" policy was issued. I accepted with the caveat that there was a real chance that I'd be forced to break it. Not "endorsing" the Republican nominee is easy enough when readers can presume it. Not endorsing the Democratic nominee when readers presume you're endorsing the Republican nominee is intellectually dishonest.
**I made this number up out of thin air, so don't have a source to link to. If anything, it's a conservative estimate.