Wonder Woman 1984
A very low-spoilers review.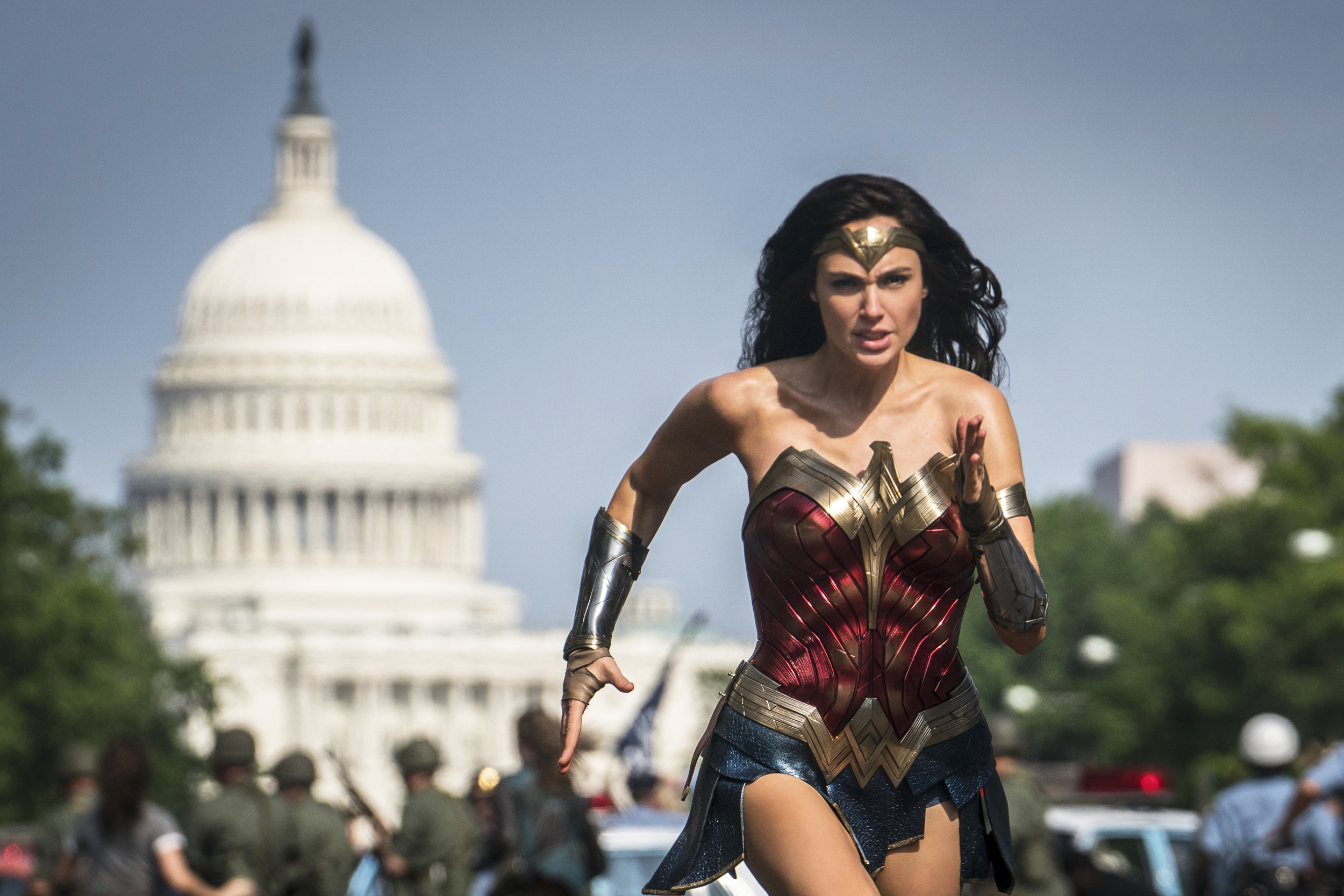 The much-awaited sequel to the 2017 origin story of the first and most prominent female superhero debuted on Christmas Day in theaters and HBO Max. While we saw the original in a cineplex, we watched this one in the comfort of our home theater owing to the pandemic. And we waited a day because the girls wanted to see a Christmas movie (the quite good 2018 remake of "The Grinch") instead.
The downside of waiting even a day to see the most-ballyhooed movie of the year is that one couldn't escape the buzz without eschewing social media altogether. And it was almost universally disappointment.
The sequel lacked the magic of the original—almost certainly the best film in the DC Extended Universe series—and plodded at times. Even though it had almost exactly the same runtime as the first, it seemed far, far too long. The plot was much more confusing and required substantial suspension of disbelief even by superhero and fantasy standards. Still, it was perfectly enjoyable and Gadot remains the most compelling lead in the DCEU.
The reviews have mostly been bad.
Rotten Tomatoes currently gives it a 65 (although the Audience Score is a more promising 73). Its Critics Consensus:
Wonder Woman 1984 struggles with sequel overload, but still offers enough vibrant escapism to satisfy fans of the franchise and its classic central character.
Manohla Dargis of the NYT ("'Wonder Woman 1984' Review: It's Not About What We Deserve"):
When Wonder Woman first hit the big screen in 2017, the possibilities for the character felt endless. After 76 years without a blockbuster to call her own — she muscled into comics, bracelets flashing, in 1941 — she had made it, becoming a box-office sensation. And, yay! The movies love sexpot vixens vamping in fetish wear (meow) and nice girls simpering in the wings, so it was relief that this Wonder Woman was neither. She was sovereign, powerful and lightly charming, and even when the movie had teasing fun with her it took the character, her mighty sword and cultural significance seriously.

The first movie is set largely during World War I, which set a lofty bar for the scope and the import of future adventures. The sequel's title, "Wonder Woman 1984," suggests that some juicy Orwellian intrigues are in the offing. Will Wonder Woman, a.k.a. Diana Prince (Gal Gadot), hijack a Soviet cruise missile, toss jelly beans at Ronald Reagan? As it turns out, the year mostly proves an excuse to pile on side ponytails, fanny packs and nostalgic nods to the kind of Hollywood blowouts that feature cartoonish violence and hard-bodied macho types. What is Wonder Woman doing in these campy, recycled digs? Who knows? Clearly not the filmmakers.

Patty Jenkins is behind the camera again, but this time without the confidence. Certainly some of the problems can be pinned on the uninterestingly janky script, a mess of goofy jokes, storytelling clichés and dubious politics. (It was written by Jenkins, Geoff Johns and Dave Callaham.) There's a mystical artifact; an evildoer seeking world domination (bonus: he's a bad dad); and one of those comic-book wallflowers who morphs into a sexy supervillain — you know, the usual. It's a whole lot of unoriginality, but the used parts aren't what sink "Wonder Woman 1984." Familiarity, after all, is one of the foundations (and pleasures) of cinematic genres and franchises.

What matters is how awkwardly these elements — the heroes and villains, the jokes and action sequences — are put together.

[…]

In the end, this movie never makes the case for why Wonder Woman is back in action beyond the obvious commercial imperatives. It's a given that franchises are produced to make bank, etc., but the best chapters have life, personality, a reason for being and for fighting. They expand on their characters' mythologies, using the past to explore the present. Three years ago, Wonder Woman emerged amid a reckoning on male abuse and power; the timing was coincidental, but it also made the character feel meaningful. In 2017, when Wonder Woman was done saving the world, her horizons seemed limitless. I didn't expect that her next big adult battle would be at the mall.
Variety's Peter Debruge ("'Wonder Woman 1984' Review: Escapist Superhero Sequel Whisks Us Away From Real-World Disaster"):
For the past nine months, since a real-world viral pandemic swept the planet and forced the shutdown of civilization as we know it, we've been reading about how this or that motion picture is "the movie we need right now." Movies don't solve global health crises, but they can distract and inspire us. They can bring us together when we're apart and heal the divisions that define our times.

[…]

For nearly two hours of its 151-minute runtime, "Wonder Woman 1984" accomplishes what we look to Hollywood tentpoles to do: It whisks us away from our worries, erasing them with pure escapism. For those old enough to remember the '80s, it's like going home for Christmas and discovering a box full of childhood toys in your parents' attic. This is what it felt like to watch Richard Donner's "Superman" for the first time, or to marvel at the strong female role models of such vintage TV shows as "Wonder Woman" and "The Bionic Woman." Even if the '80s seem as distant to you as the World War I setting of Patty Jenkins' history-making "Wonder Woman" feature three years ago, the sequel offers an amusing tour through that tackiest of decades, when shoulder pads and permed hair were all the rage.

[…]

Like Jenkins' original "Wonder Woman," this sequel spins out of control once the villains gain their full power, shifting from engaging character-based comedy to eye-crossing, CGI-bloated super-battle. (Cue Hans Zimmer's typically overzealous thunder score.)

[…]

"Wonder Woman 1984" works better when it's focused on just a handful of characters. The film offers a distinctly female perspective on how 20th-century gender dynamics shift when women assume a little extra confidence and strength, since disrespectful men are constantly hitting on and harassing Barbara and Diana. The key exception is Chris Pine's gallant pilot character, Steve, who's there to follow Diana's lead — and also to marvel at such '80s innovations as futon couches, Easy Cheese and the space shuttle.
RogerEbert.com's Christy Lemire gives it two stars out of four:
When "Wonder Woman" came out in 2017, it was a thrilling breath of fresh air, both within the darker realm of DC Comics adaptations and the larger context of bloated summer blockbusters. Director Patty Jenkins' film offered equal parts muscle and heart, with a perfect tonal balance between transporting action and gentle humor, dazzling spectacle and charming romance. Crucially at its center was the impossibly charismatic Gal Gadot, who was more than just a gorgeous and statuesque stunner. She radiated goodness, light, and hope in a way that was infectious, that made you believe in the power of superheroes beyond facile platitudes about doing what's right and protecting mankind.

Gadot remains a winning and winsome figure in "Wonder Woman 1984," and she retains her authentic connection with the audience, but the machinery around her has grown larger and unwieldy. Maybe that was inevitable, the urge in crafting a sequel to make everything wilder and brasher, more sprawling and complicated. In the process, though, the quality that made the original film such a delight has been squashed almost entirely. And yet, the foundation of the script Jenkins co-wrote with Geoff Johns and Dave Callaham, based on William Moulton Marston's original characters, is a pretty simple one: It's an indictment of greed, of our entitled desire to have what we want and have it now. The story takes place at the height of Reagan-era conspicuous consumption, hence the title, but the point "WW84" is making about the destructive nature of avarice is certainly relevant today.

[…]

At the end of this Dumpster fire of a year, though, "Wonder Woman 1984" does deliver a welcome escape, as well as a much-needed message of hope. We'll take such diversions where we can get them these days, either spread out at a theater or from the safety of your couch at home. It's fine. Sometimes, it even soars. But it could have been wondrous.
By far the weirdest review comes from National Review's Armond White ("Wonder Woman 1984 Is a Comic-Book Movie for Every Liberal"):
Hollywood liberals are in a tizzy because their frustrations about losing and winning overwhelm their judgment and greed. That's the clear lesson of Wonder Woman 1984, a sequel to the 2017 DC Comics origin story of the Amazonian superhero (played by Gal Gadot) that was sold — and praised — as a Hillary Clinton analogy. Feminist director Patty Jenkins, along with her co-screenwriters Geoff Johns and Dave Callaham and her co-producers, including Gadot, are back to get revenge by making a Trump-bashing follow-up.

[…]

This over-plotted mess resembles Democratic Party overreach. Jenkins and team project their political fears onto the film's story through petty point-making: A prologue about Diana's childhood in ancient Themyscira introduces the idea of gender superiority; adult Diana's co-worker Barbara Minerva (Kristen Wiig) suffers from sexism and her own inferiority complex; and both women are tricked into romantic foolery when Max Lord exploits their insecurity and selfishness — recalling the self-destructive madness that President Trump's adversaries blame on him.

[…]

Despite its title, Wonder Woman 1984 has little to do with George Orwell's prophetic novel. Why specify that year? Jenkins has said she "was curious to collide our Wonder Woman into the height of our current modern belief system, and what kind of villains come out of that." Her mindless reference to today's era, for which Orwell's cautionary tale is taken to be a political handbook, ignores the actual tide of rising totalitarianism and submission (what Amazonian goddess Asteria calls "the tide of men"). It's no mere coincidence that in this film Diana works at the Smithsonian Museum; that her Washington, D.C., apartment overlooks the Watergate Hotel; or that Max Lord's greed eventually lays waste to the world, especially the American capital, which lies in smoking ruins. Not even this inadvertent swamp-draining image is much fun, given Jenkins's inability to make Diana's commitment to love and peace emotionally persuasive.
There's a lot more, but you get the idea.
The antagonist (arguably, he's not even a real villain) is clearly at least partly inspired by 1984-era Trump. And I didn't enjoy the portrayal of Reagan as a bumbling idiot obsessed with nuclear weapons. But the larger message of the movie is fairly standard comics/fantasy/sci-fi trope.
As alluded to in some of the reviews, the central plot device, a mysterious artifact that grants wishes but at a steep price, is rather poorly thought out.
Moreover, Gadot's Wonder Woman has now appeared in four films: Batman v Superman: Dawn of Justice, set circa 2016; Wonder Woman, set in 1918; Justice League, set circa 2017; and WW1984, set in, well, 1984. Little to no explanation is given to her disappearances in between—especially in the large gap between 1918 and 1984. After all, there was another World War in there—and the comics version of the character appeared in 1941 and fought against Adolf Hitler. Not to mention why she suddenly has new costunes.
Regardless, a perfectly entertaining movie but I'll agree with two of the reviewers above that there was a lot of wasted potential here.
If you've seen it, share your thoughts in the comments. Keep spoilers to a minimum, please—it's been out less than 48 hours.