Yep, Time To Prepare For The Shutdown
It's now clear that, absent an unlikely miracle, there will be a government shutdown.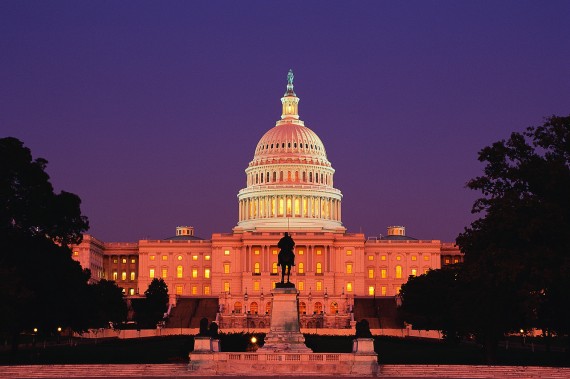 Sometime later today, probably not until well after the dinner hour when most Americans are at the movies, watching college football or MLB games that will decide the final makeup of the post-season, or just relaxing like normal people, the House will take up, and likely pass on a party line votes, legislation designed to respond to the Senate's action yesterday. Already, Senate Majority Leader Harry Reid has made clear that the new CR will be dead on arrival in the Senate:
(Reuters) – Senate Majority Leader Harry Reid said on Saturday his Democratic-led chamber was certain to kill legislation moving through the House of Representatives to delay "Obamacare" for one year and repeal a medical device tax that would be attached to a government-funding bill.

"After weeks of futile political games from Republicans, we are still at square one: Republicans must decide whether to pass the Senate's clean CR (continuing resolution to fund the government beyond September 30), or force a Republican government shutdown," Reid, a Nevada Democrat, said in a statement.
This indicates that Reid will either bring the new House CR up on a Motion To Table, which only requires a majority to pass and cannot be filibustered, or simply not bring the bill up at all. In either case, the matter would the be very quickly back in the House's hands. At that point, as I explained earlier today, the House will have the option of either passing the Senate's "clean" CR that was sent to them on Friday, passing a "clean" but short term (one or two weeks) CR in an effort to increase the time for negotiation while simultaneously avoiding a shutdown, or letting the government shutdown and seeing where the chips fall. The first option would require Speaker Boehner to bring to the floor a piece of legislation that will pass over significant Republican opposition, and only because most of the Democratic caucus ends up voting for it in violation of the so-called "Hastert Rule." While Boehner has done this before, most recently was disaster relief for Hurricane Sandy victims, it would be a significant threat to his status with GOP Conference members and could conceivably lead to a challenge to his leadership. The second option would only be possible if it could also be passed by the Senate via unanimous consent, which is by no means assured thanks to people like Messers. Cruz and Lee. And, of course, the final option is the one that poses the most political risk for Republicans and Democrats alike because polls have been inconsistent on this issue. Some polls have said that the public would blame both sides relatively equally for a shutdown, others have said that the GOP would get more of the blame. In the end, how that plays out would depend on what happens after the shutdown and how both sides react. If it appears that one party is less willing to take the steps necessary to resolve the crisis, then they will likely take the most blame. Based on recent history, I've got to say that I think it's more likely that it will be Republicans who are perceived this way regardless of whether it is a "fair" assessment or not.  This is why I'm skeptical about the idea that a shutdown, if it happens, will be a short term one or two day affair. Of course, just a week ago I was agreeing with the idea that there probably wouldn't be a shutdown so I'm not going to claim to have any special prognostication abilities here.
What happens after the shutdown is the open question.
For reasons that I can't honestly say that I understand completely, President Obama has chosen to stay mostly distant from the goings on up on Capitol Hill other than to make speeches wherein he says he isn't going to negotiate over threats to the economy. While I tend to agree that Republican efforts to tie the Affordable Care Act to either the passage of a Continuing Resolution or the debt ceiling are foolish political ploys that ignore the reality of the 2012 election results, it's equally absurd for the President to essentially withdraw himself from an important legislative battle. It's not just the President, though; based on reports, there is no indication of any contact between the White House and anyone in Congress throughout the past week. At some point, the opposing sides are going to have to sit down and try to hammer out a deal of some kind. It would be even more essential for that to happen once a government shutdown occurs and we are approaching the October 16th deadline for the debt ceiling. Far too many times, President Obama has left himself detached from what happens on Capitol Hill, and more importantly failed to develop anything resembling a working relationship with the leadership there, even the leadership in his own party. This is something that has been documented in countless accounts of the first five years of his Administration. Now as we stand on the precipice of another crisis, he seems content to remain withdrawn yet again and the result may well be that it becomes harder to resolve this crisis then it really ought to be. Yes, the Republicans deserve a large part of the blame here but if Ronald Reagan and Tip O"Neill, and Bill Clinton and Newt Gingrich, could end up talking and working together, then there's no reason the President can't at least make the effort to do so with Speaker Boehner and Minority Leader McConnell. At some point, that's going to be the only way that this current crisis gets resolved.
Of course, that will require Republicans to accept once and for all that their efforts to repeal, defund, or delay Obamacare cannot succeed. If they want to do that, they are going to have to win elections in 2014 and 2016. Until then, they're just engaging in silly quixotic exercises.