Yes, The First Amendment Does Protect So-Called 'Hate Speech'
Even the most offensive speech is protected by the First Amendment.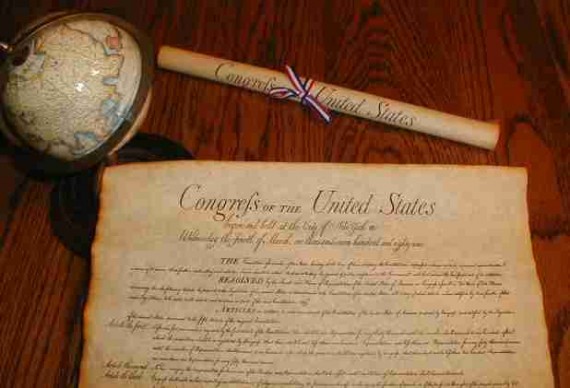 Former Vermont Governor Howard Dean, who ran for President in 2004 and later served as Chairman of the Democratic National Committee from 2005 until 2009, stirred up a debate on Twitter last night with this Tweet:
Hate speech is not protected by the first amendment. https://t.co/DOct3xcLoY

— Howard Dean (@GovHowardDean) April 21, 2017
This set off many responses to the contrary, including one from yours truly:
Yes it is Governor https://t.co/BWeiYCarF8

— Doug Mataconis (@dmataconis) April 21, 2017
UCLA Law Professor Eugene Volokh, meanwhile, responded at length at The Volokh Conspiracy:
This leads me to repeat what I've said before: There is no hate speech exception to the First Amendment. Hateful ideas (whatever exactly that might mean) are just as protected under the First Amendment as other ideas. One is as free to condemn, for instance, Islam — or Muslims, or Jews, or blacks, or whites, or illegal immigrants, or native-born citizens — as one is to condemn capitalism or socialism or Democrats or Republicans. As the Supreme Court noted in Christian Legal Society v. Martinez (2010), "this Court's tradition of 'protect[ing] the freedom to express 'the thought that we hate"" includes the right to express even "discriminatory" "viewpoint[s]." (The quote comes from the four liberal justices, plus Justice Anthony Kennedy, but the four more conservative justices would have entirely agreed with this, though also extended it to university-recognized student groups' freedom to exclude members, and not just their freedom to express their thoughts.)

To be sure, there are some kinds of speech that are unprotected by the First Amendment. But those narrow exceptions have nothing to do with "hate speech" in any conventionally used sense of the term. For instance, there is an exception for "fighting words" — face-to-face personal insults addressed to a specific person, of the sort that are likely to start an immediate fight. But this exception isn't limited to racial or religious insults, nor does it cover all racially or religiously offensive statements. Indeed, when the City of St. Paul tried to specifically punish bigoted fighting words, the Supreme Court held that this selective prohibition was unconstitutional (R.A.V. v. City of St. Paul (1992)), even though a broad ban on all fighting words would indeed be permissible.

The same is true of the other narrow exceptions, such as for true threats of illegal conduct or incitement intended to and likely to produce imminent illegal conduct — i.e., illegal conduct in the next few hours or maybe days, as opposed to some illegal conduct some time in the future. But these are very narrow exceptions. Dean's post came in response to a Steven Greenhouse tweet saying, "Free Speech Defenders Don't Forget: Ann Coulter once said: My only regret w/ Timothy McVeigh is he did not go to the New York Times building"; but if Dean meant that such speech by Coulter is constitutionally unprotected, he's wrong. Indeed, even if Coulter was speaking seriously (which I doubt), such speech isn't unprotected incitement, because it isn't intended to promote imminent illegal conduct. Compare, e.g., Rankin v. McPherson (1987), which upheld the right to say, after President Ronald Reagan was wounded in an assassination attempt, "If they go for him again, I hope they get him" — and that was in a case involving a government employee being fired for her speech; the First Amendment offers even stronger protection to ordinary citizens whose speech is more directly restricted by the government.

Returning to bigoted speech, which is what most people use "hate speech" to mean, threatening to kill someone because he's black (or white), or intentionally inciting someone to a likely and immediate attack on someone because he's Muslim (or Christian or Jewish), can be made a crime. But this isn't because it's "hate speech"; it's because it's illegal to make true threats and incite imminent crimes against anyone and for any reason, for instance because they are police officers or capitalists or just someone who is sleeping with the speaker's ex-girlfriend.

(…)

[T]hose who want to make such arguments should acknowledge that they are calling for a change in First Amendment law and should explain just what that change would be, so people can thoughtfully evaluate it. Calls for a new First Amendment exception for "hate speech" shouldn't rely just on the undefined term "hate speech" — they should explain just what viewpoints the government would be allowed to suppress, what viewpoints would remain protected and how judges, juries and prosecutors are supposed to distinguish the two. And claiming that hate speech is already "not protected by the first amendment," as if one is just restating settled law, does not suffice.
Volokh is, of course, absolutely correct. The idea that so-called 'hate speech," a term which is incapable of being adequately defined objectively and seems to depend entirely on the subjective reactions of listeners, is not protected by the First Amendment goes against the entire history of the First Amendment itself as well as numerous landmark Court decisions that have put the definition of 'freedom of speech' to the test. One of the most famous of those, or course, was National Socialist Party Of America v. Village of Skokie, a 1972 case that involved an effort by a predominantly Jewish Chicago suburb's efforts to block a group of Nazis from staging a march through the town. In that case, the Illinois Supreme Court, acting after a reversal of an injunction against the march issued by the United States Supreme Court, ruled that the use of a swastika in the march was precisely the kind of symbolic speech protected by the First Amendment and that the government could not enact a prior restraint against such speech just based on the fear that it could provoke a violent response from on-lookers. More recently, in Snyder v. Phelps, the Supreme Court set aside a civil judgment issued by a jury in Maryland against the Westboro Baptist Church in favor of the father of a fallen Marine whose funeral was protested by Westboro with its all-too-familiar signs and rhetoric. In its ruling, the Court held that the fact that Westboro's rhetoric was highly offensive and hateful was not, in and of itself sufficient reason to exempt it from the protection of the First Amendment. In these and other cases, the Supreme Court has made clear that the mere fact that speech is offensive is not, in and of itself, sufficient justification for banning it or punishing those who might utter it in either criminal or civil Court.
This debate is also relevant not only to Dean's comment on Twitter, but also to ongoing controversies across America involving the efforts by some groups to prevent people they disagree with from even speaking at all, and the extent to which some public institutions are aiding and abetting these attempts at censorship. The most common venue for this recently has been America's college campuses, once known as bastions of free speech and expression that have now become the primary battleground between so-called "social justice warriors" and people with opposing points of view, typically people on the right. At the University of California at Berkley, for example, a speech by the controversial former Breitbart News writer Milo Yiannopoulos was cancelled after protests against him on the night of the speech turned violent, with students setting fires and causing thousands of dollars of damage to campus once known as the birthplace of the "Free Speech Movement" in the 1960s. More recently at the same campus, an appearance by the equally controversial Ann Coulter was canceled and then rescheduled after students promised to throw similar protests to the ones that accompanied Yiannopoulos's visit earlier this year. While these students have as much right to protest Coulter and Yiannopoulos as those two individuals do to address the groups that invite them, they don't have the right to cause physical damage to property, and public institutions such as Berkley are infringing on the First Amendment when the force speakers to cancel events merely because of the existence or fear of protesters.
If the First Amendment stands for anything, it stands for the proposition that even the most offensive and hateful speech is protected from being punished or silenced by the state. While it may offend some people deeply, or even hurt their feelings, that is a small price to pay for the protections it grants to all forms of speech by extension. After all, the Bill of Rights exists not to protect popular beliefs or the favored members of society, but precisely to protect the minority, including most importantly the individual, the smallest minority of all. This applies whether they are saying something pleasant and popular, or something unpopular and allegedly "hateful." While I can understand that Dr. Dean is not a trained attorney, one would think that he'd at least be sufficiently aware of the status of the law to be aware of this fact.
Update: Governor Dean responded to his critics, by doubling down:
For WAPO and others raising issues about hate speech not being constitutionally protected, read "Chaplinsky v New Hampshire SCOTUS 1942

— Howard Dean (@GovHowardDean) April 22, 2017
We've been discussing the issues raised by Chaplinsky v. New Hampshire, which is a case familiar to many lay people for the so-called "fighting words" doctrine, in the comments. While the case is still technically good law, the scope of its holding has been seriously limited by subsequent case law, including Brandenburg v. Ohio, Cohen v. California, R.A.V. v, City of St. Paul. Additionally, Eugene Volokh addressed Dean's response, and Chaplinsky, in a blog post that I highly recommend.