Yes, The Trump/Clinton Polls Are Tightening. No, It Doesn't Mean Much Of Anything
Several recent polls have shown the race between Donald Trump and Hillary Clinton tightening, but it likely means far less than the media hype makes it sound like.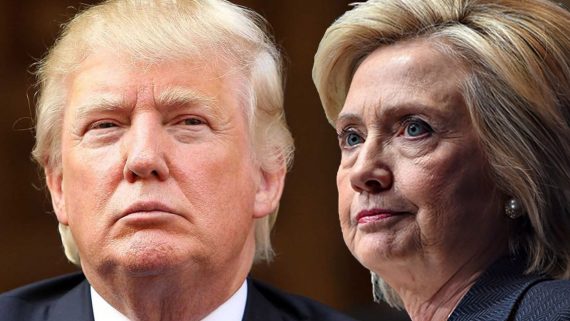 The General Election campaign between Donald Trump and Hillary Clinton has barely begun, and we've already seen the media, political pundits, and political bloggers, jumping on poll results that may not actually tells us much of anything. In just the past two weeks, we've seen a series of state level polls from Quinnipiac that appear to show a tight race between the two candidates in states such as a Ohio, Pennsylvania, and Florida. This week, the news has been dominated by national polls from Fox News Channel and CBS News/The New York Times that purports to show Trump with a narrow lead in one case and Clinton with a narrow, and diminished, lead in the other. In addition to these polls, there are tracking polls from Reuters, Rasmussen, and other sources that are already publishing tracking polls that purport to show the state of the race on a day to day basis even before either candidate has officially clinched their party's nomination, and while the race in the Democratic Party is continuing and the acrimony remains as high as ever. Each time one of these polls is released, the media treats it as major "Breaking News" in the campaign even when it really doesn't tell us much of anything, and this reaction is magnified when the poll in question that the media outlet itself released. The release of a new poll by NBC News or MSNBC, for example, is worth a day's worth of "Breaking News" alerts even when the "news" is hours old and doesn't tell us very much.
It's understandable, I suppose, but as Norman Orenstein and Alan Abramowitz remind us, it pays to be circumspect when reacting to all the polls that are pouring in, especially five months before the election:
In this highly charged election, it's no surprise that the news media see every poll like an addict sees a new fix. That is especially true of polls that show large and unexpected changes. Those polls get intense coverage and analysis, adding to their presumed validity.

The problem is that the polls that make the news are also the ones most likely to be wrong. And to folks like us, who know the polling game and can sort out real trends from normal perturbations, too many of this year's polls, and their coverage, have been cringeworthy.

(…)

With low response rates and other issues, pollsters try to massage their data to reflect the population as a whole, weighting their samples by age, race and sex. But that makes polling far more of an art than a science, and some surveys build in distortions, having too many Democrats or Republicans, or too many or too few minorities. If polling these days is an art, there are a lot of mediocre or bad artists.

When polling aficionados see results that seem surprising or unusual, the first instinct is to look under the hood at things like demographic and partisan distributions. When cable news hosts and talking heads see these kinds of results, they exult, report and analyze ad nauseam. Caveats or cautions are rarely included.

To be sure, with a few exceptions, like the Democratic primary in Michigan, polls have done a good job of predicting the outcomes of the presidential primaries. For the general election, however, the challenge confronting the pollsters is different and in some ways greater.

The demographic composition of the American electorate is changing rapidly, becoming more racially diverse with every election cycle, and these changes are most evident among the youngest generation of voters. Because there is a deep racial and generational divide between the parties, underrepresenting younger voters and racial minorities can seriously bias poll results. This problem is likely to be exacerbated by the presence at the top of the Republican ticket of Mr. Trump, whose electoral strategy is based on appealing to older white voters.

At the same time, we have no strong sense of how to sort out likely voters from nonvoters when a relentlessly negative campaign can frighten people into voting or depress them into staying home.

Smart analysts are working to sort out distorting effects of questions and poll design. In the meantime, voters and analysts alike should beware of polls that show implausible, eye-catching results. Look for polling averages and use gold-standard surveys, like Pew. Everyone needs to be better at reading polls — to first look deeper into the quality and nature of a poll before assessing the results.
Much of this is similar to what Nate Silver had to say about the media already starting to obsess over General Election polling last week, and it's clear that the media didn't listen then and are unlikely to listen this time. As I noted when I wrote about Silver's remarks, it is not surprising at all to see Trump rising in the polls right now. He's just concluded a primary battle and, while there does appear to be some segment of the Republican electorate that continues to make clear that they won't vote for Trump under any circumstances, the majority of the party is, predictably, rallying around Trump as their nominee and will support him in the poll if for no other reason than because he isn't Hillary Clinton. Clinton, by contrast, is still in the middle of a primary battle with Bernie Sanders even though it's clear that she will win enough delegates to clinch the nomination no later than June 7th and that there's nothing Sanders can do to stop her. Polling a head-to-head race while one or both sides are still in the middle of an acrimonious primary battle makes little sense because it's likely that at least some portion of the frontrunner's opponents' supporters will end up saying that they won't support the frontrunner in the General Election. This will skew the numbers in the poll because it will make it appear as if Clinton's support in her own party is lower than it is likely to actually be. Once the primary battle is over and tensions have cooled, we'll have a much better idea of where the race stands. In other words, Clinton will get her post-primary bump in the polls just as Trump is presently getting his, and then each candidate will likely benefit from the coverage of their respective party conventions. None of these bumps will last very long, and it likely won't be until Labor Day before we start getting a real picture of the state of the race. Finally, it's worth noting that nearly all of the recent polling has been polls of Registered Voters. These polls tell us very little about what Election Day is likely to look like, and it won't be until pollsters start rolling out polls of Likely Voters that we'll be getting anything reliable.
So let's try not to freak out over every new poll that comes out and every fluctuation that manifests itself, okay?