Yet More Ukraine Peace Talks
Bargaining continues amidst poisoning and mass killing.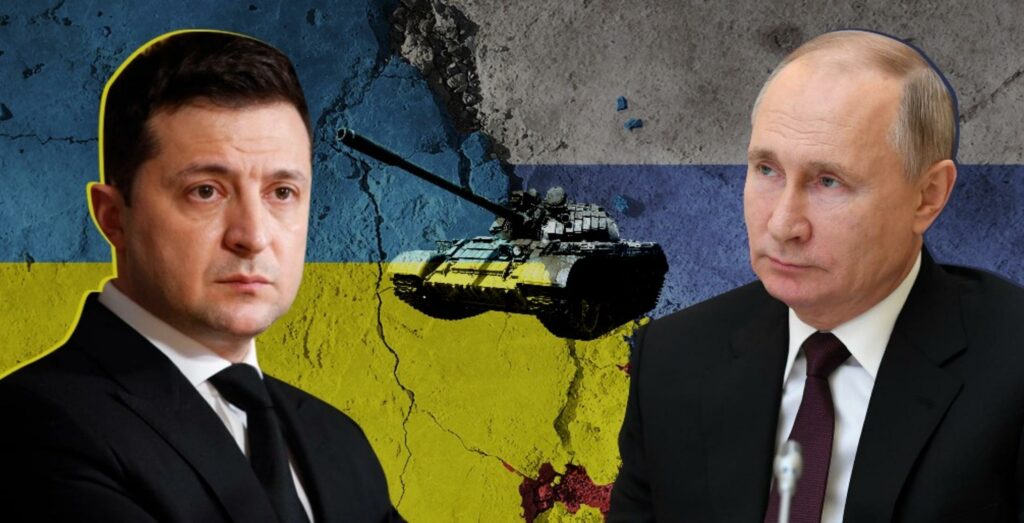 The News:
WSJ ("Ukraine outlines peace proposals; Russia says it will reduce Kyiv, Chernihiv attacks"):
Russia and Ukraine prepared to hold cease-fire talks in Turkey to try to end more than a month of war while intense fighting continued, with Ukrainian forces pressing to retake territory north of the capital Kyiv after Russian forces fired missiles at several Ukrainian cities overnight.

Russian negotiators were due to arrive in Istanbul late on Monday, followed by a Ukrainian delegation during the night, for cease-fire talks scheduled for Tuesday morning. Ukrainian President Volodymyr Zelensky over the weekend outlined the conditions under which Ukraine might accept neutral status as part of a peace settlement with Russia, saying his country could hold a referendum on neutrality, but only after Russian occupation forces leave Ukraine's territory.

The Kremlin said negotiations so far haven't yielded any breakthroughs, and Western officials have expressed doubts about whether Russia is ready to halt hostilities in Ukraine.
WSJ ("Roman Abramovich and Ukrainian Peace Negotiators Suffer Suspected Poisoning"):
Russian oligarch Roman Abramovich and Ukrainian peace negotiators suffered symptoms of suspected poisoning after a meeting in Kyiv earlier this month, people familiar with the matter said.

Mr. Abramovich, Ukrainian lawmaker Rustem Umerov and another negotiator developed symptoms following the March 3 meeting in Kyiv that included red eyes, constant and painful tearing, and peeling skin on their faces and hands, the people said. Mr. Abramovich has shuttled between Moscow, Belarus and other negotiating venues since Russia invaded Ukraine.

Mr. Abramovich was blinded for a few hours and later had trouble eating, according to a person familiar with the matter.

Some of the people familiar with the matter blamed the suspected attack on hard-liners in Moscow who they said wanted to sabotage talks to end the war. A person close to Mr. Abramovich said it wasn't clear who had targeted the group.

Mr. Abramovich and others involved in the incident since have improved, and their lives aren't in danger, the people said. Ukraine's president, Volodymyr Zelensky, who has met with Mr. Abramovich, wasn't affected, they said. Mr. Zelensky's spokesman said he had no information about any suspected poisoning. "I'm fine," Mr. Umerov tweeted on Monday.
WaPo ("Ukraine claws back territory in country's north ahead of talks in Istanbul"):
Ukrainian forces have reclaimed control of a few small fronts in the country's north, officials said Monday, as Russia appears to be directing its fiercest attacks on besieged areas in the country's east and south, including Mariupol.

As the war grinds into its second month, Ukrainian and Russian delegations are set to meet in Turkey on Tuesday for in-person negotiations. Kremlin officials have delivered icy remarks ahead of the talks, however, dampening prospects of a meaningful outcome. Russian Foreign Minister Sergei Lavrov on Monday said his government should "stop indulging the Ukrainians" in negotiations.

[…]

Western intelligence officials and others say Moscow seems to be changing tactics to focus most intensely on the eastern Donbas region where the invasion began, after attempts to topple capital Kyiv and other key cities have stalled.

Ukrainian forces have taken back Trostianets, a town south of Sumy that is about 20 miles from Ukraine's northeastern border with Russia, a senior U.S. defense official said. Ukrainian officials said the government had regained control of Irpin, a suburb of capital Kyiv.

[…]

Despite the modest gains, Ukraine's Defense Ministry said there was no indication that Russia has fully reversed plans to take over or attack Kyiv. "According to our information, the Russian Federation has not 100 percent dropped their attempts if not to take at least to besiege the capital of Ukraine," Ukrainian Defense Ministry official Sergey Rudskoy told reporters.
Some Opinions:
Dan Drezner, WaPo, "How robust is the global opposition to Russia's invasion of Ukraine?"
As the war in Ukraine rages on, the Biden administration has earned praise for building a multilateral coalition to push back on Russia's re-invasion of its sovereign neighbor. That said, not every country is on board with this coalition. U.S. allies in the Middle East have been reluctant to sanction Russia. India, a key member of the Quad alliance, has refused to sanction Russia and stepped up its purchases of Russian oil. China, of course, has blasted the sanctions. Chinese firms have signaled they will continue to buy Russian commodities.

[…]

[T]he global south's opposition to Russia's actions might not be quite as vigorous as in the global north. Any small country caught in the middle of great-power tensions has a powerful incentive to sit on the sideline when perceived heavyweights duke it out.

The thing is, the global south had its chance to stay on the fence, or even side with Russia, when the U.N. General Assembly voted on this issue in March. And most decidedly chose not to do that […]

Russia mustered the support of Belarus, the Democratic People's Republic of Korea, Eritrea and Syria. Thirty-five countries (including China and India) abstained; 141 countries voted in favor. A more recent General Assembly vote broke down along similar lines, so it is not like the global south changed its collective mind over the past month. Indeed, last week, U.N. Secretary General António Guterres called on Russia to end its "absurd war" in Ukraine.

[…]

Consistent with the logic of weaponized interdependence, the global south is adhering to the U.S.-led sanctions regime because its leaders have no desire to be excluded from these networks. This is why India is not using rupees to buy Russian oil. This is also why, according to Reuters, even China's Sinopec companies have curbed their investments into Russia: "The move by Asia's biggest oil refiner to hit the brakes on a potentially half-billion-dollar investment in a gas chemical plant and a venture to market Russian gas in China highlights the risks, even to Russia's most important diplomatic partner, of unexpectedly heavy Western-led sanctions."

[Bloomberg's Pankaj] Mishra's predictions about the continued decline of the United States might be proved true in time. But if Russia finds itself stymied in its invasion of Ukraine, U.S. statecraft will have played an important supporting role. The global south might conclude that U.S. support counts for more than they had previously believed.
Max Boot, WaPo, "Stop overestimating the Russian military and underestimating Ukrainians."
The United States had excellent intelligence about the Russian plan to invade Ukraine but terrible intelligence about how the invasion would fare. At the start of the war, officials expected that Kyiv would fall within two days. That was more than 30 days ago. This wildly off-target assessment is the mirror image of the U.S. mistake in Afghanistan, where the intelligence community was surprised by the speed of the government's collapse.

Spectacular Russian setbacks are changing that view, but there still appears to be a residual assumption that sooner or later Moscow will get its act together and crush Ukrainian resistance. While the Russians have shown an appalling willingness to commit war crimes, there is no indication that they are breaking Ukraine's will to fight. More than a month into the war, the invaders are losing — and there is no reason to expect a sudden reversal of fortune.

The Ukrainians have shown themselves to be skilled and courageous defenders who are taking full advantage of Western-supplied weapons. They retreated into the cities — where the power of Russian armor and air power is dissipated — and set about wearing down the invaders by targeting their supply lines and commanders.
My Two Cents:
Not much has changed over the past few days from the 30,000-foot view. Putin will almost certainly not achieve his maximalist goals from the invasion but nor are we likely to be able to relish in the utter and humiliating defeat that justice requires. Any negotiated peace at this point would almost certainly leave Russia with more Ukrainian territory under its effective control than the status quo ante. Whether Zelensky is willing to pay that price to stop the slaughter—and whether Western leaders would be willing to remove crippling sanctions on Putin and his cronies under that scenario—remains to be seen.
The widely-reported poisoning episode is par for the course, alas, and speaks to the awfulness of Putin and his regime. Why anyone would trust that a negotiated settlement would be anything like a permanent peace, with all terms adhered to, is a mystery.