20 Dead In Bangladesh Attack Claimed By ISIS
A third major ISIS-inspired or planned attack in three weeks.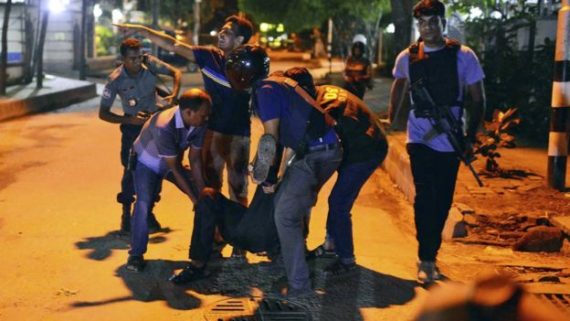 Late Friday night in the diplomatic sector of the Bangladeshi capital Dhaka, a group of gunman stormed into an upscale restaurant and began a siege that ended some eleven hours later when Bangladeshi forces stormed the restaurant, saving thirteen patrons and killing six gunmen, but also discovering at least twenty people who had been brutally killed during the course of the standoff:
DHAKA, Bangladesh — Bangladeshi troops stormed an upscale restaurant in Dhaka's diplomatic quarter on Saturday, ending an 11-hour standoff with gunmen who had hacked patrons to death and sent photos of the carnage to the Islamic State.

The authorities said 20 hostages, many of them foreigners, had been killed in the siege, the deadliest and boldest in an accelerating series of attacks by Islamist militants that have shaken the country's secular underpinnings.

Most of the victims were "ferociously" attacked with sharp weapons, a military spokesman said. A kitchen worker who had escaped said the attackers were armed with pistols, swords and bombs.

A team of elite army commandos rescued 13 hostages and killed six attackers in the raid on Saturday morning, the military said. A seventh attacker was arrested.

The identities and nationalities of the attackers were not released.

The Islamic State claimed responsibility for the attack, in which at least 30 people were wounded, mostly from shrapnel. Two police officers were killed in the initial standoff.

"Islamic State commandos attack a restaurant frequented by foreigners in the city of Dhaka in Bangladesh," Amaq, an information outlet linked to the Islamic State, said Friday.

Early on Saturday, the group posted photographs of what it said were the bodies of foreigners killed in the attack.

The Bangladeshi soldiers, backed by armored vehicles, swept in to the restaurant at 7:40 a.m. on Saturday.

(…)

Armed men entered the restaurant, where about 20 foreigners were dining, around 8:45 p.m. on Friday, Sumon Reza, the kitchen worker, told reporters. The attackers shouted "God is great" before opening fire and detonating several explosives, he said.

Nasirul Alam Porag, a co-owner of the restaurant, said about 20 staff members had been trapped in the restaurant, along with 15 to 20 patrons.

On a normal Friday evening during Ramadan the restaurant would have had 30 to 50 staff members, suggesting that many had escaped.

"Our Italian chef, he was able to escape," Mr. Porag said by phone from Bangkok, where he runs a sister restaurant. "I had a little communication with him. He was able to go out on the roof and jumped onto the next building where he was still hiding. He's safe now."
More from The Washington Post:
DHAKA, Bangladesh — Bangladeshi forces stormed an upscale Dhaka restaurant to end a hostage-taking by heavily armed militants early Saturday, killing six of the attackers and rescuing 13 captives including foreigners. The military said 20 hostages were killed during the 10-hour standoff, and a survivor's father said the attackers spared people who could recite verses from the Quran.

The attack marks an escalation in militant violence that has hit the traditionally moderate Muslim-majority nation with increasing frequency in recent months. Previous attacks involved machete-wielding men singling out individual activists, foreigners and religious minorities.

About 35 people were taken hostage Friday night when gunmen stormed the popular Holey Artisan Bakery in Dhaka's Gulshan area, a diplomatic zone, during the Ramadan holy month. Two police officers were killed at the start of the attack.

Paramilitary troops who mounted the rescue operations in the morning killed six attackers and recovered explosive devices and sharp weapons from the scene, Brig. Gen. Nayeem Ashfaq Chowdhury said. He did not identify the hostages.

Prime Minister Sheikh Hasina condemned the attack, which was claimed by the Islamic State group, and she said security officials arrested one of the militants.

"Because of the effort of the joint force, the terrorists could not flee," Hasina said in a nationally televised speech, vowing to fight militant attacks in the country and urged people to come forward.

"Anyone who believes in religion cannot do such act," Hasina said. "They do not have any religion, their only religion is terrorism."

Japan's government said a Japanese hostage was rescued with a gunshot wound but seven others are unaccounted for. Deputy Chief Cabinet Secretary Koichi Hagiuda said the eight were together at the restaurant during the attack.

India's External Affairs Mnister Sushma Swaraj confirmed that a young Indian woman was among those killed in the attack.

"Extremely pained to share that the terrorists have killed Tarushi, an Indian girl who was taken hostage in the terror attack in Dhaka," Swaraj tweeted, adding that she had spoken with the girl's father.

Rapid Action Battalion that conducted the rescue operations. Others included an Argentine and two Bangladeshis, local media reported.

The Islamic State group claimed responsibility for the attack, according to the SITE Intelligence Group, which monitors jihadist activity online. The Amaq news agency, affiliated with IS, also posted photos purportedly showing hostages' bodies. The authenticity of the images could not be confirmed.

With the sound of gunfire and explosions, local TV stations reported that the rescue operation began at 7:40 a.m. It included army personnel with automatic weapons and at least seven armored vehicles and ambulances. The attackers did not respond to authorities' calls for negotiation, Masud said.

The audacious attack came during Ramadan, when devout Muslims fast during the day and eat after dark.
It also comes in the midst of other attacks that have occurred during Ramadan this year in the wake of a call by ISIS at the beginning of the season for attackers to carry out attacks during Ramadan. The most notable of these, of course, have been the attack in Orlando, Florida that resulted in 49 people and the gunman being killed, and the attack just days ago at the Ataturk Airport in Istanbul that resulted in at least 41 deaths. With the holy period lasting through at least next Tuesday, there are rather obvious concerns that ISIS or groups and individuals inspired by it may attempt to pull off more attacks in the coming days. As a result, security forces have heightened their states of alert in Europe, as well as here in the United States, which is entering the long 4th of July holiday weekend, although it's important to note that there is no evidence of an imminent attack in either location.
As for Bangladesh, this attack is just the latest example of increased militant violence that the government seems ill-prepared to deal with. Since 2013, some 40 people have died in attacks for which ISIS or groups claiming to be inspired by ISIS has claimed responsibility. These attacks began with attacks on atheist bloggers but quickly spread and, unlike attacks in the Middle East have often been particularly brutal in that they have used machetes in attacks that essentially involved people being hacked to death. According to reports, the 20 hostages who were killed, all of them foreigners, were hacked to death as well. As The Guardian's Jason Burke notes, the government in Dhaka has been seemingly hamstrung in its response to the increased violence, and this has only helped to make the situation in a once peaceful country increasingly dangerous:
For many observers of radical Islam, the first reaction to the attack on the diplomatic zone of Bangladesh's capital, Dhaka, is that it was utterly predictable.

Over the past year, Bangladesh – an overwhelmingly Muslim country of 150 million people – has seen growing violence against both foreigners and locals deemed to be enemies of extremist Islam: secular bloggers, outspoken critics of fundamentalism, members of religious minorities such as Hindus and Christians, police officers and others.

Until now, the violence has taken the form of largely low-tech attacks involving small groups of militants or even individuals armed with knives or small arms.

Friday's attack, however, was an operation of a much greater magnitude. Early reports suggest at least five gunmen, armed with sufficient automatic weapons and grenades to repel at least one assault by local police.

Western intelligence have been nervous about a major operation for at least 18 months. Indications of a complex plan to attack a diplomatic ball last year prompted much alarm – and pressure from western capitals on Dhaka to move effectively against the militant networks existing in the unstable south Asian nation.

This did not happen. The Awami League government of Hasina Sheikh has instead looked to extract political advantage from the situation, either blaming what is left of the political opposition in Bangladesh, or denying outright that militant networks linked to organisations such as Islamic State or al-Qaida even existed in the country, despite their claims of responsibility for successive killings.

Instead of cracking down on the hardline groups which encouraged, or even sponsored, the attacks on local bloggers and minorities, the government effectively made concessions to the conservatives, with the prime minister implying those who had insulted religious sensibilities were in part responsible for their fate. Bloggers seeking police protection were ignored.

(…)

The violence in Bangladesh over recent years has attracted some interest from the press but very little from policymakers around the world. Bangladesh, though in a key pivotal position between the Asia Pacific region and South Asia, has not been a priority in Washington, London or elsewhere. There has been some focus on the economy – which remains relatively healthy – but few have paid much attention to the increasingly restricted space in the troubled country for political dissent, pluralism or traditional moderate strands of observance.
Given Bangladesh's location, close to both India, where conflict between Hindus and Muslims has a long history, and Indonesia, the world's most populous Muslim majority country, it may well be time that the world will be forced to pat attention to a part of the world that usually only gets attention during one of the many natural disaster that seems to strike that country on a regular basis. With ISIS now apparently able to extend its reach this far, it seems as though it's going to be time that we'll have to pay more attention to this part of the world than we have in the past. In the meantime, many in the world are wondering if the final days of Ramadan will bring more violence. Given that we had no warning of the last two major attacks, it's not an invalid concern.