ISIS Attack Kills More Than 140 In Baghdad
A third major terrorist attack inside of a week.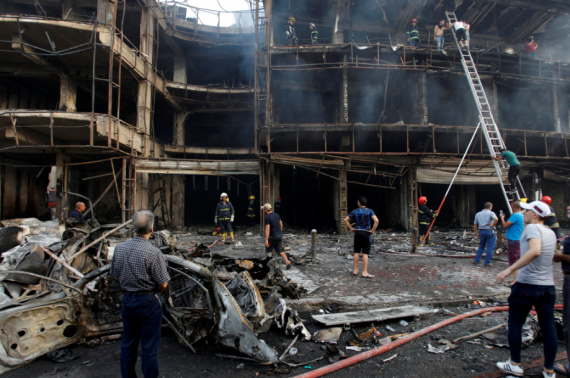 A bombing attack in Baghdad for which ISIS has already claimed responsibility has left more than 140 people dead and hundreds more injured:
BAGHDAD — As Iraqis gathered late on Saturday night in central Baghdad to eat, shop and just be together to celebrate one of the last evenings of the Muslim holy month of Ramadan, a huge bomb exploded and killed at least 143 people, the third mass slaughter of civilians in three countries carried out by the Islamic State in recent days.

The attack, which occurred shortly after midnight in the middle-class neighborhood of Karrada, a busy area of cafes, shops and hotels, was the deadliest single attack in Baghdad this year and was the first major assault in the capital since Iraqi forces retook Falluja from the Islamic State late last month. Falluja had been in the hands of the Islamic State for two-and-a-half years, longer than any other in Iraq or Syria, and many Iraqis had feared that after its liberation the Islamic State would strike back with more terror attacks in Baghdad.

The Sunni extremists of the Islamic State almost immediately claimed responsibility for the bombing, saying it had killed a gathering of Shiite Muslims. But Karrada is a mixed area where Iraqis of all identities gather to do ordinary things: mainly to shop and eat.

The bombing came just after the Islamic State, also known as ISIS or ISIL, took responsibility for an attack on a restaurant in Bangladesh that left 20 people dead, some of them hacked apart by swords and knives. And it followed by a few days the coordinated suicide attack on Istanbul's main airport that killed more than 40 people, for which Turkish authorities blamed the Islamic State, although the terrorist group itself did not claim responsibility.

By daybreak on Sunday in Baghdad, fires were still burning at the bombing site, while hospitals tended to the wounded, and mourners prepared for funerals. Some bodies were believed to be still buried in the rubble of a shopping mall. Along with the deaths, at least 195 people were injured, officials said Sunday afternoon. Baghdad Operations Command, which is in charge of security in the capital, was quick to announce that it had arrested a terrorist "cell" in the city that was linked to the bombing.

Many of the victims were children — the explosion struck near a three-story complex of cafes and shops where families were celebrating a successful end of the school year, residents said — and on Sunday dozens of people were still unaccounted for. One man named Omar Adil said that his two brothers, Ghaith and Mustafa, were missing. Five people from a single family in Sadr City, a large, poor Shiite neighborhood in eastern Baghdad, were also missing.

The scenes were another brutal illustration of the paradox Iraq faces as its security forces, backed by American airstrikes, make gains against the Islamic State: As more territory is won back, the group is reverting to its roots as a guerrilla insurgency, turning Baghdad once again into an urban killing field.

The bombing was an abrupt ending to the brief victory lap that Iraq's beleaguered prime minister, Haider al-Abadi, was enjoying following the recapture of Falluja.

When he visited the bombing site on Sunday morning, people threw rocks and shoes — a particular insult in the Arab world — at his convoy and yelled "thief," an epithet directed as much at Iraq's dysfunctional and corrupt political class as it was to Mr. Abadi personally.

Ali Ahmed, 25, who owns a shop close to where the attack happened, said he had carried the bodies of children out of the rubble. He voiced anger at the security forces for failing to stop the bomber, and questioned why the street, which had been closed off earlier in the evening, was reopened around midnight.

"Thank God I managed to hit Abadi with stones to take revenge for the kids," he said.

The anger swelling on Sunday perhaps presaged a resumption of street unrest in Baghdad that had calmed amid Ramadan and the military operations in Falluja.
In addition to possibly marking the resumption of the unrest and bombing attacks in Baghdad that had subsided somewhat in recent months, the attack marked the the third major ISIS-inspired or planned attack in less than a week in an area that stretches from Istanbul, Turkey to Dhaka, Bangladesh, leaving nearly 200 people dead and more than 200 injured. Add in the casualties from the ISIS-inspired Orlando attack just a few weeks ago and that bumps the death toll to well over 200 inside of just about three weeks. As I noted in connection with the Dhaka attack, ISIS had called for increased attacks around the world during the final weeks of Ramadan, and it appears that ISIS supporters have taken up the call.
If nothing else, the sheer geographic reach of these attacks shows just how difficult this war against ISIS has become, and it calls into question the strategy that the U.S. has adopted against the group. If ISIS has reached the point where it can inspire attacks in places as as diverse as Paris, San Bernardino, Brussels, Istanbul, Dhaka, and Baghdad, then one has to wonder exactly how much is going to be accomplished by attacking ISIS on the ground in Iraq and Syria and how doing so is going to combat terror attacks in Europe and elsewhere around the world. Additionally, the fact that an increasing number of these attacks seem to be "lone wolf" attacks rather than something planned and supported by ISIS directly makes one wonder just how successful the current strategy is going to be.
The argument that the Obama Administration seems to make is that is that it is the existence of the Islamic State and its quasi-state nature serve as some sort of inspiration to these lone wolves and that if it were defeated that inspiration would go away. While the first point is likely true to some extent, I'm not at all sure that the conclusion about the consequences of an ISIS defeat in Iraq and Syria are accurate at all. First of all, there's the fact that ISIS appears to be preparing for territorial losses in Iraq and Syria, including the possible loss of its putative, capital, by establishing beachheads in other parts of the world as backup sites from which in can continue to operate. These sites have been reported to be in locations as diverse as Libya, where post-Gaddafi chaos continues to make it easy for them to establish control among much weaker forces, many of which have already pledged loyalty to ISIS in any case, Yemen, which gives them access to Saudi Arabia and the rest of the Middle East, and Afghanistan. Even if we defeat ISIS decisively in Iraq and Syria, which is a project that will take years in all likelihood, we may wake up to find that the organization has metastasized to be something that is a problem in multiple places at once. In that event, the perception that the organization has survived even a "defeat" at the hands of the West is unfortunately likely to inspire lone wolves as much as the status quo does. Additionally, a defeat could easily be turned by propaganda from whatever survives an ISIS defeat to inspire home-grown terrorist attacks as a form of revenge.
Meanwhile, the geographic reach of ISIS continues to grow. This latest attack in Bangladesh raises the question of where they might spread next, and the two most likely options would be either India, where long-standing Muslim-Hindu conflict could be ripe for exploitation, or Indonesia, the world's most populous majority Muslim county. Attacks in either one would raise serious concerns, obviously, and the current trend seems to suggest they could pull something off almost anywhere they wish at this point. Perhaps this fact will lead the nation's of the world into some kind of alliance against ISIS, which seems to be exactly what they want even though it seems like that would a conflict they couldn't possibly win. Whatever the answer is, we're likely to see more attacks like those we've seen in the past month in other parts of the world, as well as continued efforts to pull of similar operations in the United States.